In every society, there are laws governing the way of life of the people and these laws are interpreted by Attorneys like Judge Tanya Acker. She is an African-American lawyer, television celebrity, and host, that has been able to carve out a stellar legal career in civil and business litigations, as well as being an avid contributor in the news and talk shows like, the CNN, Sky News, CNBC, Good Morning America among others.
Although she is not ordinarily a Judge, she was, however, drafted as a Judge in 2014, by Judge Judy Sheindlin into The Hot Bench Court Reality Show. The show is an appellant legal court of arbitration set up in a non-conventional way on television, where small legal claims/matters are deliberated on, with binding verdicts given to litigants by the panel.
The show became an instant success as it was rated as the number one daytime show on TV the same year. As of 2017/ 2018, it was No. 3, with millions of views. Learn more about Judge Tanya Acker in the paragraphs that follow.
What Is Judge Tanya Acker's Age – Biography
The brainy beautiful black American was born to African-American parents; Bill and Aretha Acker, on the 13th of March 1970, in Los Angeles, the US. She was raised in Fernando Valley, Lake View Terrace, in Los Angeles by her parents who were post office workers. She proudly flaunts them on her social media page alongside her two cute dogs named Max and Isis.
The well-read lawyer received summa cum laude in Bachelor degree, from the Howard University in 1992. Her academic exploits at the school got her a Luard scholarship award to study briefly at the Saint Anne's College, Oxford University. Whilst at the Oxford University she joined the editorial team of the Oxford University Women's Magazine before she proceeded to the Yale Law School to study Law. Her excellent academic acumen earned her the Earl Warren Scholarship Award and a Coker Fellowship award.
Judge Tanya Acker right from college started her legal representation for family cases for women who were low-income earners while doubling as a tutor as a Constitutional Law and Civil procedure courses. Although the aspiring young lawyer also worked part-time at the White House, United States Department of Justice in the Civil Right section, she still graduated top of her class at the Yale University.
Upon her graduation, she took up a job as Judicial Law Clerk for Honourable Dorothy Wright Nelson at the Ninth US Circuit Court of Appeal. With Hon. Dorothy Wright Nelson, Acker gave her inputs and recommended courses of actions for rulings on various cases and also prepared the oral arguments on cases for Judge Dorothy Nelson.
Judge Tanya Acker's impressive work saw her honored with the Bristow Fellowship, which afforded her work opportunity at the Office of the Solicitor General, US Department of Justice. As part of her duties there, she drafted Supreme Court Briefs for cases and prepared arguments for the Solicitor General at the High Court.
Moreover, the delectable attorney has worked in different private practice, like Irell and Manella, O'Melveny and Myers and Williams and Connolly law firms at different times. Judge Tanya Acker had litigated on several matters bothering from civil litigation cases involving the individuals and corporate bodies. Providing legal counsel to her various clients, her fantastic voluntary services (pro bono Publico) to the public, especially on the matter between the homeless versus the City of Santa Barbara, got her the First Amendment award by the American Civil Liberties Union (ACLU).
See Also: Who is Brett Kavanaugh, SCOTUS Judge Nominee Being Accused of Sexual Assault?
The Los Angeles born litigator is politically sound and has been in the political campaign trains of Kerry Edwards and Bernard C. Parks. The dispenser of justice is a board member of a handful of public boards such as the Western Justice Center, Los Angeles, The Western Los Angeles County Council of Boys Scouts of America (WLACC) and the board that provides alternative shelter for people who have suffered domestic violence – the Rainbow Services.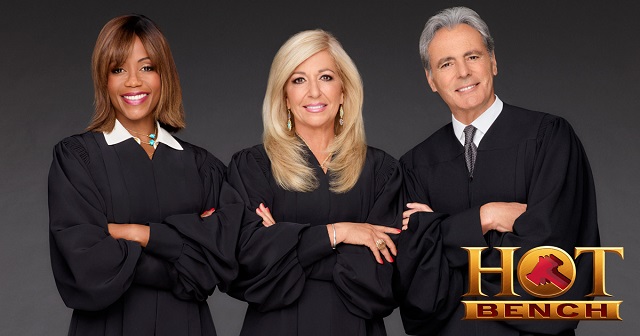 Her exceptional remarkable resume got her hired alongside two other fantastic legal personalities Judges Patricia DiMango and Larry Bakman whose expertise is in the persecutory law. The three of them became the three-man judge panel of Judge Judy's non-traditional courtroom creation, Hot Bench Show in 2014. However, Larry Bakman exited the reality show after making two season appearances, in October 2016 in order to focus on his legal practice. He was replaced by former Executive Director of Big Brothers Big sisters NGO, Michael Corriero. The television court reality show has since spanned five seasons racking up good ratings with millions of views and still counting.
Prior to the Hot Bench Court show, Tanya had been an avid contributor in various platforms including the Huffington Post, Sky News, CNN Reports, CNBC, O'Reilly Factor, Good Morning America, Wendy Williams, Larry King among others. She served as a co-host of the Power Lunch segment show on CNBC before she started hosting her own Podcast on iTunes called the Tanya Acker's show.
Is She Married? Who is Her Husband?
When it comes to Judge Tanya Acker's love life, the Hot Bench Judge is extremely private, although she rocks a beautiful wedding band on her wedding finger which indicates she is married. However, a Twitter post with her friend named Rita Bellows, in December 2015 gave her away as she confirmed that she is indeed married. It is also gathered in an interview she gave that Judge Dorothy Nelson officiated at her wedding. However, the identity of her husband remains a mystery to the media.