Julia Carey is a philanthropist, actress, television producer, supportive and affectionate wife, as well as a very loving mother to her children. Even though Julia has made a name for herself in the entertainment circles, she is better known as the wife of a very popular singer, actor, comedian, and television show host in the United Kingdom, and now in the United States of America – James Corden.
In a world where most individuals are self-centered – only looking out for their own interests, Julia has chosen to be better than most people by putting the needs, aspirations, and success of others above her own interests. She has given back to society through her charity works and has sacrificed a lot to support her husband and care for the kids they've had.
Julia Carey Met the Popular Television Host Through a Mutual Friend in 2009
Julia is happily married and has children. Sometime in 2009, a friend of Julia, actor Dominic Cooper, brought a friend who happened to be James Corden along to a dinner party organized by the charity organization "Save the Children", which Julia was working with at the time. Cooper introduced his friend to Julia, and unknowingly to Julia, the recently dumped and disconsolate friend, James, fell in love with her instantly.
James asked Julia to sit at a table near the bar with him, and the two spent the entire evening talking and jokingly planning what their future family and life would look like if they were to somehow get hooked. They ended the night with James asking Julia out to a homemade dinner.
He cooked her a meal of steak and fries, and won her heart over, with his amiable personality and boyhood charm, as well as his excellent culinary skills. The two began seriously dating thereafter.
The Couple Got Married In 2012 and are Now Parents to Three Children
Things happened quickly between Julia and the popular comedian. In 2010, when Julia was expecting her first child with her boyfriend, James Corden; he made up his mind that it was the best time to make their relationship permanent, and he proposed to her. They got engaged over the Christmas holiday of the said year.
They eventually got married at the exclusive Babington House hotel in Somerset, United Kingdom on September 15, 2012. Reports have it that they spent £250,000 for a classy wedding witnessed by their family and friends, including celebrities like Gary Lightbody, Michael Mclntyre, and Lara Stone.
Their marriage has been blessed, blissful, scandal and infidelity free, and her husband still loves her like the very first day he laid his eyes on her ravishing beauty and grace. Julia and James were part of the few celebrities privileged to be invited to the royal wedding between Prince Harry and Meghan Markle at the Windsor Castle in 2018. Only 800 guests were invited to this event.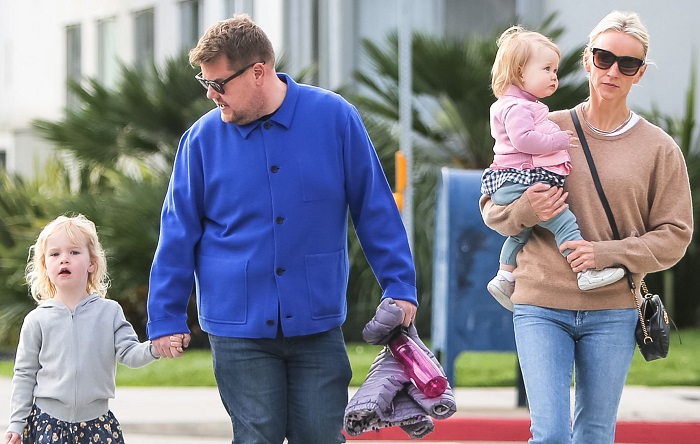 The couple had their first child, a son named Max, on March 22, 2011. A daughter soon followed and they named her Carey, she was born on October 27, 2014. Another daughter named Charlotte came into the world on Dec 12, 2017 – she was very eager to join the Corden family and came a few weeks early, on the very day James was taping his show; he had to miss that episode to support his wife and welcome their new child to the world.
Her Incredible Devotion to Her Family is the Secret of their Successful Marriage
One can easily tell that Julia Carey loves her family so much. Since she married James, she has put aside her own acting career and has devoted herself to helping her husband succeed against all odds.
James has used every opportunity available to acknowledge the sacrifice his wife, Julia, has made for him to continue to pursue his own ambitions and has always loved her for it, thanking her publicly several times.
She has also devoted her time to raising their 3 lovely children the right way, as her husband's busy schedules keep him occupied. When Corden was tapped to replace Craig Ferguson on The Late Late Show, it necessitated the family to move to America. Despite she had put to bed five weeks earlier, she took on the responsibility of moving the family, allowing her husband to focus on his career obligations.
The family lives in a lavish, five-bedrooms, and eight-bathroom mansion in L.A. As James' time on The Late Late Show is coming to an end, it has been speculated that the family may move back to their native England to reunite with their extended relatives.
James Corden's Wife Began Her Career in Showbiz as an Actress
Julia was born sometime in 1976 in a loving home, unfortunately, she is a very private person, and has decided not to share information about her family, growing up years, past relationships, and so on. She has never made mention of her parents, her siblings – if she has any – or the schools she attended.
All personal information relating to her life before she became popular on television is non-existent. And before her marriage to the famous TV host dragged her into the limelight, Julia was quite a popular face in showbiz. As you would easily find, she had featured in a few television shows over the years, some of which include Within These Walls, A Bunch Of Fives, Wings, and Enemy at the Door.
Julie Carey Is Now a TV Producer
In recent years, she has been described as a TV producer. Although we can't tell when exactly she delved into production, it is known that around the time her relationship with James Corden kicked off, she moved behind the cameras.
She typically teams up with companies in Los Angeles and other television producers in creating shows, and they have worked on a number of television programs together.
It remains to be seen what the future holds for her in the industry but through what she has been able to accomplish thereof thus far, she has accumulated a fortune estimated at around $10 million in several quarters. Her husband is worth that much thrice as trusted sources have placed the total value of his wealth at $30 million.