Our lady of the moment is the renowned American actress, comedian, and producer; Julia Louis-Dreyfus. She has starred in a lot of movies, drama series, and television series and is also regarded as one of the most awarded actors in the history of America television. In total, she has received 11 Emmy Awards, 8 for acting and three for her roles as a producer. She has also received one golden globe award, 9 Screen Actors Guild Award, 5 American Comedy awards, and two Critics Choice award. Evidently, Julia has proven her relevance towards her career and is still making waves till date.
Julia Louis-Dreyfus' Bio
It was on 13th January 1961 that she came to be in New York City. She was born to a writer and special needs tutor; Judith. Her father, Gérard Louis-Dreyfus inherited the family heirloom as the chairman to Louis Dreyfus Energy Services. Irrespective of the fact that, her parents gave up on their marriage in 1962, when she was barely a year, she had everything she wanted in a platter of gold. Also, Julia moved to Washington DC with her mom after the divorce. After her eighth birthday, her mother found love again with L. Thompson Bowles who later played most of the fatherly role in her life. After her mother's marriage, Julia barely settled in a town as her stepfather traveled with them through the globe because of his Project; Hope.
Julia Louis-Dreyfus was raised as a Christian and was regular at the Unitarian Church Service when she was a kid. She was a scholar at the Holton-Arms School. Her intellect in acting began to unfold after she enrolled at Northwestern University where she studied theatre arts. However, she opted out of the school in her junior year and joined the Saturday Night Live crew. Nevertheless, she later received an honorary doctor of arts degree from Northwestern University in 2007.
After opting out from college, she went ahead and made her first audience with The Practical Theatre Company in Chicago. Her performances with the company landed her a deal with the Saturday Night Live crew in 1982. During her days at SNL, she shared the platform with the likes of Eddie Murphy, Ji Belushi, Billy Crystal, and so many other prominent comedians. She stayed with the crew for four years before choosing to work with other platforms in order to enhance the growth of her career.
Julia Louis-Dreyfus further blew her trumpet in 1989 after she played as Elaine Benes on the popular sitcom, Seinfeld. Her other remarkable works on TV include The New Adventures of Old Christine (2005) and Veep (2011). Apart from playing in small roles, she has also shown her acting skills in the following movies; Hannah and Her Sisters (1986), National Lampoon's Christmas Vacation (1989), Deconstructing Harry (1997), and Enough Said (2013). Julia's voice was heard behind the scenes in the movie, A Bug's Life (1998) and Planes (2013). 
For her outstanding performances in the entertainment industry, she holds eleven Emmy Awards; eight for acting and three for being a remarkable producer. In addition to that, she bagged a Golden Globe Award in 1994 and has also been rewarded with a Screen Actors Guild Awards at intervals for nine times. That's not all, she went ahead to win the American Comedy Award for five consecutive times (1993-1997) omitting just a year in 1996 where she bagged the primetime Emmy award. Come 2010, Julia Louis-Dreyfus was honored with a star at the Holly wood Walk of Fame and was also initiated into the Television Academy Hall of fame in 2014. Currently, she was given the Mark Twain Prize for American Humour.
Net Worth
Apart from having built a successful career for herself, Julia shares a portion of her biological father's wealth, Gérard Louis-Dreyfus; he was listed as one of the richest people in the world by Forbes after his net worth was estimated to be worth 3.4 billion USD. As of when this article was written, Julia Louis-Dreyfus' net worth falls at 200 million USD.
Her Husband – Brad Hall and Sons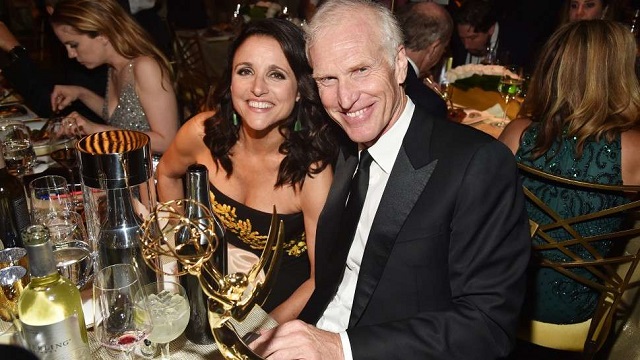 During Julia's days at Northwestern University, she fell in love with her forever mate; Brad Hall. We aren't quite sure how the two started off their love journey in those days but it is likely their days together on Saturday Night Live had lots of love escapades attached to it. The two finally took their forever vows in 1987 and has shared a large part of their time together as a couple. Together, they have two sons, Henry and Charles.
See Also: Lala Anthony Bio, Ethnicity, Husband, Son, Divorce, Parents, Net Worth
Is She Related to Richard Dreyfuss?
Often times, the world is filled with two people who bare the same surname and are not related. For the actress, Julia Louis Dreyfus and actor Richard Dreyfuss, theirs is more like a distant relationship affair. Sources say that the two are distantly related. Julia's biological father; Gérard Louis-Dreyfus and Richard Dreyfuss are both Ashkenazim. Facts have proven that most people from the clan are possibly related.
Another question that piqued us was why they have different spellings for their last names. From our gatherings, we discovered that people who bear similar names and are in the same profession may prefer to have different ways of spelling their last names. In Richard's case, his family chose to add an extra letter S to their surname.