Kaitlan Collins is a smart and talented American journalist, best known for her stint as CNN's White House Correspondent, a position she assumed in 2017. The Alabama native has previously worked for The Daily Caller both as a writer and reporter. All through her broadcasting career, she has ridden on so many tides and has gained lots of criticism as well as fame. Read on to find out more about the reporter who shook the famed president of the United States of America with her fearless questions.
Kaitlan Collins of CNN Bio
Kaitlan Collins was born on the 7th of April 1992 in Prattville, Alabama, United States. She has three younger siblings, two brothers- Cole and Brayden and a kid sister, Lena Grace. The identity of her mom is still quite a mystery but her dad, Jeff Collins is a senior mortgage banker.
The CNN reporter was a student at Prattville High School Alabama. She also attended the University of Alabama. Initially, while at the University of Alabama, Kaitlan Collins studied chemistry but subsequently transited to journalism and political science.
She graduated in 2014 and started off as a freelance blogger and writer. She is quite skilled with the pen and is a hot cake for a number of news outlets and journals. While working as a freelancer, she landed her first official job as an entertainment reporter for the Daily Caller. There, she covered several trending news and emerging stories for the online media platform. Her outstanding performance while covering the 2016 United States presidential elections earned her a new role as the  Daller Caller's White House Correspondent in 2017.
In that same year, Kaitlan Collins headed for one of the biggest news media in the world, CNN. She was employed to continue her job as a White House Correspondent. Working with CNN became her big break as she is known for her skilled tough questions and her smart looks. Her write-ups are mainly centered on political gist as well as that involving the now president of the United States of America; Donald Trump as well as other global leaders.
Almost a year after she started with CNN, she encountered one of the troubling moments with her job. She was banned from covering as a reporter for an open press event held in July 2018, at the White House Rose Garden as a result of her supposedly "inappropriate" questions to the president Donald Trump. Kaitlan had asked the president questions relating to Russian President Vladimir Putin as well as Trump's former attorney Michael Cohen.
CNN who was not pleased with the press secretary Sarah Sanders, Trump's advisor, Kellyanne Conway and Bill Shine, the White House deputy chief of staff accusations on Kaitlan Collins took to their Twitter page to insinuate that there was nothing inappropriate about the questions asked by their correspondent. They even went further to say that the ban was a means of avoiding answers to the questions. Besides CNN, other journalist and media houses took to the reporter's side describing the white house press actions as a slight to press freedom.
In 2018, Collins was listed as one of the 50 Most Influential people in News Media by Mediaite's number. She was also named to Crain's NewsPro's 12 to Watch in TV News in January 2019 as well as one of Forbes Magazine's 30 under 30: Media in 2019.
Is She Married, Who is The Husband?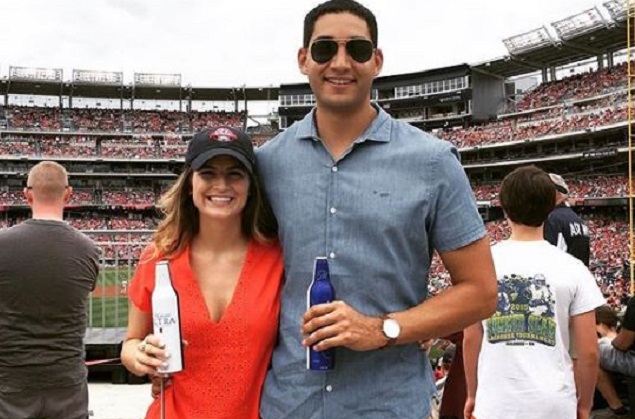 Kaitlan Collins is not yet married, however, reports have it that she has been in a relationship with a man named Will Douglas. Douglas is the owner of Crimson Care Pharmacy Group.
Though the White House Correspondent is yet to reveal how they met and how long their relationship has played for; nevertheless, most of her Instagram uploads tell that they share a beautiful love story. Ever since 2016, the two has stopped publicizing their relationship tales and is currently on a low key. Thus, many have drawn conclusions that the lovebirds probably have called off their relationship. Meanwhile, Collins and Douglas are yet to respond to these claims.
Will Douglas was born on April 1, 1979. He is an alumnus of Oklahoma University, where he obtained a Bachelor's degree in Multi Interdisciplinary Studies in 2009. He subsequently obtained his doctorate degree in Pharmacy from the same institution. Then in 2015, he founded his own company called Crimson Care Pharmacy Group.
See Also: Erica Hill – Bio, CNN Career, Net Worth, Salary, Husband, and Children
Other Interesting Facts about Kaitlan Collins
1. Inasmuch as Kaitlan Collins got plenty of support for her actions at the open press event held in July 2018, at the White House Rose Garden from other media firms and journalist, some of her colleagues also frowned at her actions. They blamed her for letting the president off the hooks easily.
2. Kaitlan Collins is one of the youngest media personalities who has made a cut on Forbes Magazine's 30 under 30.
3. The reporter in October 2018 apologized to the LGBT community for her improper tweets about not ever willing to share a room with a lesbian seven years earlier. She tagged her actions as inappropriate and childish. While a few of the LGBT community had accepted her apologies others are yet to sit well with her apologies.