A junior senator from California, Kamala Harris has become a household name, not just because of her political position but also for her fiercely challenging spirit among her male counterparts. But more importantly, she recently became a person of interest following speculations about her eyeing of the presidential ticket for the year 2020.
The former District Attorney has often been compared to a young Barack Obama. Through her legal and political career, Harris has become famous for many things including standing up for women's rights, relentless truth-seeking, being a stiff contender to her Republican colleagues on immigration policies, as well as fighting for the middle class and for liberal causes.
Here are interesting facts you should know about the trailblazing beauty with brains, and why there has been a growing interest in her personal life.
Kamala Harris Bio (Age and Ethnicity)
Senator Kamala Devi Harris was born on the 20th of October 1964 in San Francisco's East Bay. Also raised in her hometown, Harris attended public schools. She obtained a bachelor's degree from Howard University, Washington D.C, and then her J.D. from the University of California Hastings College of the Law. In 1990, she was admitted to the California State Bar.
Harris kicked off her career in San Francisco's legal arena where she worked in the District Attorney's Office and City Attorney's office. She served as San Francisco's District Attorney from 2004 to 2011. In 2010, she became the first African American and South Asian attorney to be elected Attorney General of California. More so, she also made history as the first woman to serve in that position. Harris served as California's attorney general for five years (from 2011 to 2016).
In 2016, Harris was elected as a Democrat to the U.S Senate, making her the second female of African or Asian descent to serve in such a role. Her current term as a junior senator from California ends in January 2023.
Her Family – Parents, Husband, and Children
As inferred above, Kamala Harris is of bicultural heritage as she was born to a Jamaican father, Donald Harris (a university professor) and an Indian mother, Shyamala Gopalan Harris (a physician). Harris initially grew up in predominantly African American communities in Berkeley, California, as her parents both emigrated to the US in the early 1960's. But Kamala's parents split when she was just a kid. Consequently, she and her younger sister, Maya Harris were raised by their mom who eventually relocated to Montreal, Quebec.
The Senator who says she has never felt insecure or struggled with identity issues was raised in a family that gave her a strong sense of her culture and identity. Though immersed in the African American culture, Harris was also exposed to Indian culture. Growing up, not only did she worship at black churches, her mother also took her to Hindu temples to worship.
Given how successful Harris is in her chosen career path, it is no surprise that she attracted a like mind as a hubby. Harris is married to Douglas Emhoff who is also a lawyer and a potential first-ever First Man.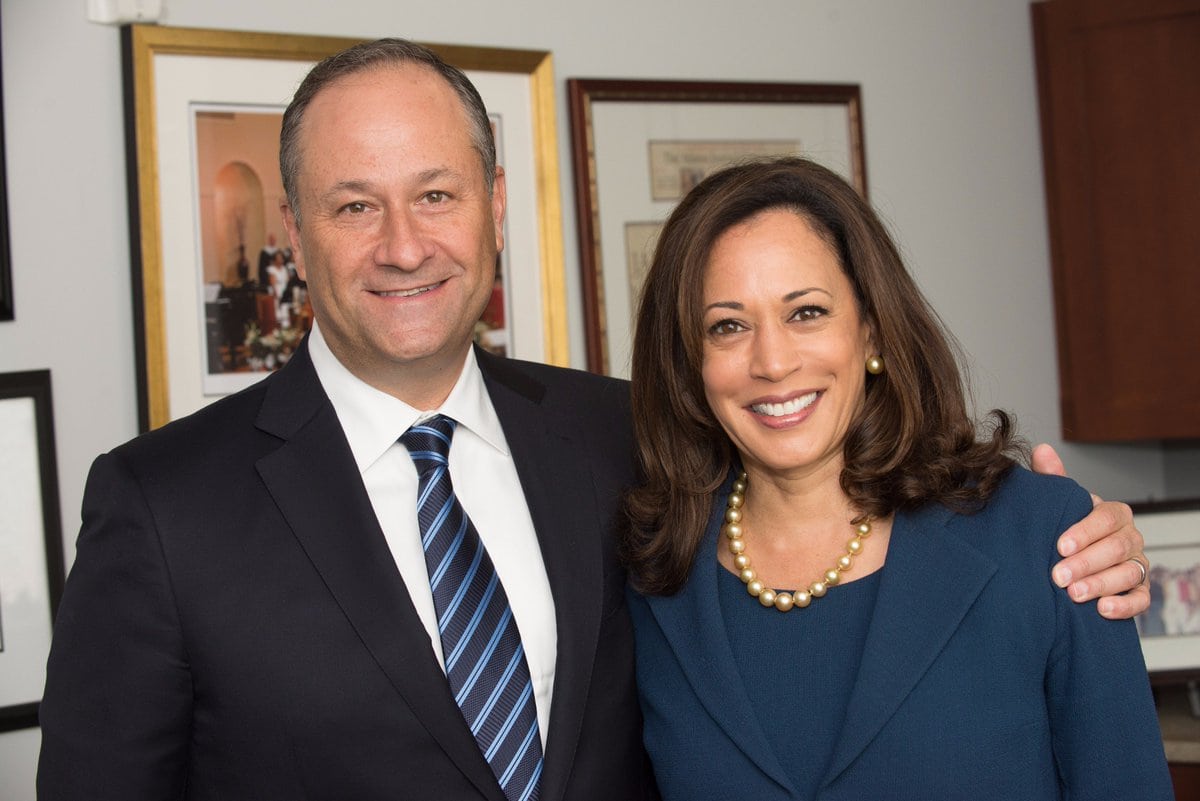 The couple who met on a blind date after a set up by a close friend of Harris quickly bonded and by March 2014, they were engaged. A few months later in August that same year, Harris walked down the aisle with the love of her life, at the Santa Barbara County Courthouse. Together, Harris and Emhoff are parents to two children – a son and a daughter from Emhoff's previous marriage.
Emhoff is currently a California attorney at Venable LLP. Before that, he was a partner at his own firm, Whitwell Jacoby Emhoff LLP. and had worked at some other law firms. The couple's combined earnings in 2015 amounted to about $1.17 million. Their tax returns also reveal that they are dedicated philanthropists who donate heavily to charitable causes.
See Also: John McCain Bio, Children, Wife, Daughter, Life And Death Of The American Maverick
Kamala Harris and her husband live in a home in Brentwood, California. They are active on social media and often share pictures of themselves together. Prior to her marriage, Harris lived in San Francisco for most of her adult life. While serving as a County Deputy District Attorney, she was romantically involved with Willie Brown, who was then the Speaker of the California State Assembly.