A junior senator from California, Kamala Harris has become a well-known name in American politics, in part because of her unique ethnicity and more as a result of her story which resonates with many Americans who at some point or the other had their ancestors immigrate to the land of the free in pursuit of a better life.
The former District Attorney has often been compared to a young Barack Obama. Through her legal and political career, Harris has become famous for many things, including standing up for women's rights, relentlessly seeking the truth, being a stiff contender to her Republican colleagues on immigration policies, as well as fighting for the middle class and other liberal causes.
Kamala Was Born Into A Progressive Multiracial Family
Senator Kamala Devi Harris was born on the 20th of October 1964 in San Francisco's East Bay. Also raised in her hometown, Harris attended public schools. She is of bicultural heritage as she was born to a Jamaican father, Donald Harris (a university professor) and an Indian mother, Shyamala Gopalan Harris (a physician). Harris initially grew up in predominantly African-American communities in Berkeley, California, as her parents both emigrated to the US in the early 1960s. But Kamala's parents split when she was just a kid. Consequently, she and her younger sister, Maya Harris were raised by their mom who eventually relocated to Montreal, Quebec.
The Senator who says she has never felt insecure or struggled with identity issues was raised in a family that gave her a strong sense of her culture and identity. Though immersed in the African American culture, Harris was also exposed to Indian culture. Growing up, not only did she worship at black churches, her mother also took her to Hindu temples to worship. Her mother Shyamala Gopalan identified a lot with the civil rights movements in the 60's and raised her kids to identify with the black community.
Her Maternal Grandfather Played A Pivotal Role In Shaping Her Life
Kamala shared a special relationship with her maternal grandfather P.V. Gopalan, an Indian civil servant and freedom fighter who at some point was Director of Relief Measures and Refugees in the federal Government of Zambia.
In an era when most Indians never really thought it necessary to invest in the education of the girl child, Gopalan ditched conventional norms to educate his three daughters Sarala, Chinni and Shyamala Gopalan. This investment and love for education paid off as Shyamala instilled the same values in her daughter Kamala.
As Goplan aged and retired from service, he moved back to India but maintained a constant correspondence with his granddaughter Kamala who would come to lean a lot on his insight and values all through her public life. Kamala constantly traces her interest in public service to him and his tutelage.
A Lawyer By Profession, She Is The First Woman Of Indian Ancestry To Represent California In The Senate
Kamala obtained a Bachelor's degree from Howard University, Washington D.C, and got her J.D. from the University of California Hastings College of the Law. In 1990, she was admitted to the California State Bar.
Harris kicked off her career in San Francisco's legal arena where she worked in the District Attorney's Office and City Attorney's office. She served as San Francisco's District Attorney from 2004 to 2011. In 2010, she became the first African-American and South Asian attorney to be elected Attorney General of California. More so, she also made history as the first woman to serve in that position. Harris served as California's attorney general for five years (from 2011 to 2016).
In 2016, Harris was elected as a Democrat to the U.S Senate, making her the second female of African or Asian descent to serve in such a role. Her current term as a junior senator from California ends in January 2023.
In January 2019, she announced she'd be running for the office of the President of the United States in the 2020 presidential election. This was a confirmation to ongoing speculations that she was interested in the top job. She is seen by many as a part of an emerging crop of politicians to champion the cause of the party for the foreseeable future. Howbeit, she dropped out of the race in December 2019 and has been considered one of the front runners to be picked as Joe Bidden's running mate for the November 2020 elections.
She Is Married To Entertainment Lawyer Douglas Emhoff
Given how successful Harris is in her chosen career path, it is no surprise that she attracted a like mind as a hubby. Harris is married to Douglas Emhoff who is also a lawyer.
The couple who met on a blind date after a set up by a close friend of Harris quickly bonded and by March 2014, they were engaged. A few months later, in August that same year, Harris walked down the aisle with the love of her life, at the Santa Barbara County Courthouse. Together, Harris and Emhoff are parents to two children – a son and a daughter from Emhoff's previous marriage.
Emhoff is currently a California attorney at Venable LLP. Before that, he was a partner at his own firm, Whitwell Jacoby Emhoff LLP. and had worked at some other law firms. The couple's combined earnings in 2015 amounted to about $1.17 million. Their tax returns also reveal that they are dedicated philanthropists who donate heavily to charitable causes.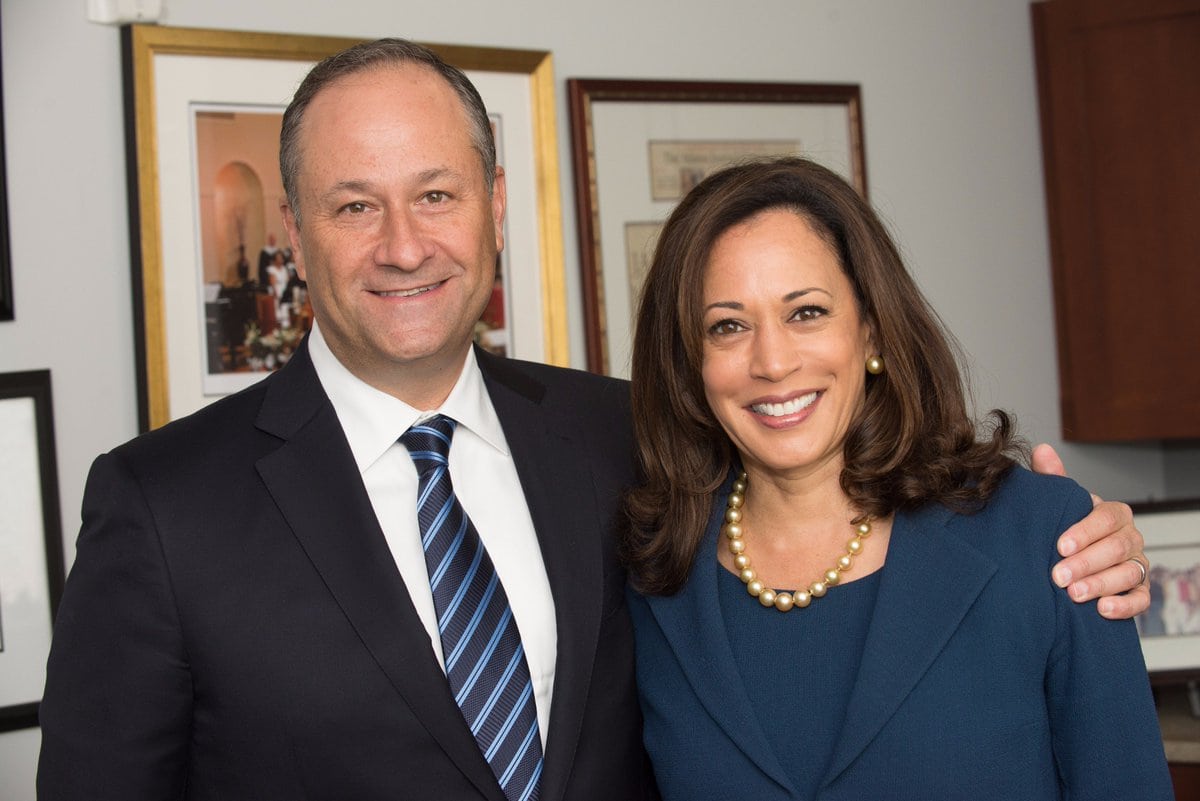 During her run for president, Emhoff's support for Kamala was evident for all to see, he embraced the campaign trail and was constantly seen on Twitter lending his support. He was also almost always present in most of her campaign trips.
Kamala Harris and her husband live in a home in Brentwood, California. They are active on social media and often share pictures of themselves together. Prior to her marriage, Harris lived in San Francisco for most of her adult life. While serving as a County Deputy District Attorney, she was romantically involved with Willie Brown, the then the Speaker of the California State Assembly.