Karl Anderson's performances in the ring as a wrestler are not one that can be overlooked. He has trained consistently over the years and has gathered experience in wrestling. Through the years, he has incorporated different styles, he uses in finishing off most of his fights. He is registered with the WWE and is also an NWA fighter. Of course, with all these praises reigned on him, it is no doubt that he has claimed a lot of titles over the years. Journey with us as we tell you more juicy facts about the wrestler.
Karl Anderson's Early Life
The pro wrestler was named Chad Allegra at his birth on the 20th of January 1980. He had his formative years in Asheville, North Carolina, and was raised solely by his mother. He has a younger sibling whose name is not known.
Karl ran on scholarship all through his college days at Mars Hill College but couldn't get a college degree because he opted out to chase his dreams as a wrestler. Then, he proceeded to take wrestling training at Thatcher's main event Pro Wrestling Camp. His days at the training school were short because of the injury he incurred during one of his training with Derek Neikirk. He suffered a heavy concussion that stole almost a half of his years in the school. After recovery, he returned to the school and got acquainted with Kirk Sheppard who later got to introduce him to Roger Ruffen. Roger as at that time was the chief trainer of NWF wrestling school. Subsequently, Chad Allegra trained with the duo for a long period of time learning the tricks behind wrestling.
Soon, Allegra was skilled enough to be placed in the ring. He made his first professional fight on the 10th of May 2002 and lost to Zodiac. Anderson's second match was with Prince Justice. He subsequently wrestled with Jerry Lawler, The Boogie Woogie Man Jimmy Valiant, Shark Boy, and Chris Harris during the early years of his career.
Karl Anderson was a part of Young Lions, a group associated with the National Wrestling Alliance and comprised of four wrestlers. As at the time one of the wrestlers left, Karl Anderson started a feud with Jay Donaldson and Ryan Stone. In 2005, an international promotional feud started between the Heartland Wrestling Association and the National Wrestling Alliance which subsequently resulted to a title vs. title match between Allegra who was the NWF Champion, and Cody Hawk, the HWA champion.
During one of the fights at the NWA annual convention, Karl Anderson caught the attention of Dave Marquez (a wrestler at New Japan Pro-Wrestling's (NJPW) Los Angeles dojo). Dave later invited the wrestler to the dojo in order to train with him. Then, he went ahead to wrestle on the west coast after he was dethroned (NWF title) by Ryan Stone in 2006. Karl Anderson became a part of the Anderson Wrestling family and adopted the identity, Spine Buster as his new completing move. He subsequently dropped interest with the Anderson family and took up the NWA British Commonwealth Championship title after a win but later lost it to Alex Koslov.
As the reigning NWA Heartland States Champion for Ed Chuman's NWA midwest, Karl Anderson at his spare time performs cameos for the organization. Ever since the inception of his wrestling career, Karl Anderson has shown up severally in the ring, wrestling with all his might and has claimed few awards as well as losses.
What To Know About His Wife and Family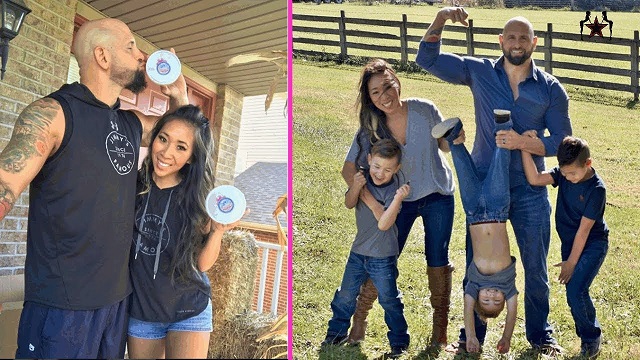 Well, Karl Anderson is untalkative with the details of his wife. Apart from the fact that he often refers her to as his hot Asian wife in most of his interviews, there are so many unknown facts about her. Even the details of how and when they met are not disclosed to the media. If not that he often flaunts the pictures of his wife and four sons on most of his social media platforms, one could assume that he lived in fantasy. He and his family reside in Cincinnati, Ohio. The couple shares at least four children together.
Facts About The Wrestler
Net Worth
Having lasted over a decade in wrestling, nothing less is expected from the wrestler especially when his money bag is put into consideration. Karl Anderson's net worth is pegged at $1.5 million.
Body Measurements
Karl Ander son has put in so much work over the years to achieve his hunky body. His billed weight is 98 kg while his height is 6 feet and less than an inch.