Blessed with a very beautiful face and a great body to match, Kate Upton is an American model who apparently knows how to use what she has to get to where she wants to be. Over the years, she has risen to become an accomplished model who has appeared in several major magazine covers and has stunned fashion fans with her adroitness on the runway.
The model, who doubles as an actress, has amazed movie lovers with her incredible knack for role-interpretation and has starred in some movies and TV series since 2010. Apparently, her journey from obscurity to fame and glory is one that is truly worth knowing about.
Kate Upton Started Her Modeling Career As A Teenager
Born on the 10th of June 1992 in St Joseph, a city in Michigan, USA, Kate Upton whose full name is actually Katherine Elizabeth Upton was destined for great things. Having shown signs of being cut for the showbiz industry as a very little girl, she was scouted as early as the age of 12 but waited until 16 to commence her career.
In 2008, when she was 16 years old, Upton traveled to Miami where she attended a casting call for Elite Model Management. She did so well that she got signed on that same day and her modeling career kicked off.
After some time, she decided to move to the city of New York and signed with IMG Models, an international modeling agency. Her career took a defining turn after this. She began appearing on the covers of popular magazines and modeling for companies.
She Worked With Big Brands And Was Named the Sexiest Model in the US 
Some of the very first companies that she modeled for include Dooney & Bourke, a fashion accessories company, and Garage, a clothing store. She also became the face of Guess, an American clothing brand and retailer from 2010-2011.
With her popularity gaining some steam, Kate Upton was featured in the Sports Illustrated Swimsuit Issue in 2011. The model who appeared in the body paint section of the magazine was named the Year for the issue. Apparently, things were looking very good for the young model.
Upon who has been named one of the sexiest models in America by several publications has since gone on to appear on the cover of other elite magazines such as Vogue, Harper's Bazaar, and Mademoiselle. As a matter of fact, the model actually appeared in the editorials for the Italian, American, British, German, Spanish, and Brazilian versions of these magazines.
She also made it to the covers of the American, British, and Italian Vogue as well as the French and American Elle. Apart from her first time in 2011, Kate Upton has also appeared in Sports Illustrated Swimsuit Issue on several other occasions. She also appeared on the cover in 2012 and 2013.
Having gained massive popularity, the model has also featured in different advertising campaigns for several companies including Victoria's Secret, David Yurman, Express, Sam Edelman, Bare Necessities, and Betsey Johnson among others
Kate Upton Loves Horse Riding
Apart from modeling, Kate Upton is also a lover of sports and was actually a good horse rider. In fact, when she was about 7 years old and was a student at Holy Trinity Episcopal Academy in Florida, Upton performed at the American Paint Horse Association and actually competed at a national level.
She also won awards for her equestrian skills. Some of her awards included being named 13 and Under Reserve All-Around Champion. She also three APHA Reserve World Championships, stunning observers with her dexterity.
The Model Has Also Done Well As An Actress
Kate Upton's talent is not limited to modeling and horse riding alone; she is also a budding actress who is starting to catch attention with her role-interpreting talent.
Upton kickstarted her acting career in 2011 when she was cast to play Mr. Hightower's Mistress in Tower Heist, an American heist comedy film. The next year in 2012, she appeared in The Three Stooges, a slapstick comedy film in which she played Sister Bernice.
In 2014, she starred in The Other Woman, a comedy film as Amber. The movie gave her some more exposure as an actress. About three years later in 2017, Kate Upton bagged the role of Meg in The Layover, a sex comedy film as one of the main stars. In 2019, she played Talia in Adult Interference.
It is clear that with time, and with her acting skills, Upton will make some more impressions in Hollywood as a movie star of note.
What We Know About her Love Life and Marriage to Justin Verlander
Kate Upton is a happily married woman at the moment and the man to whom she is married is no other but the professional baseball player, Justin Verlander.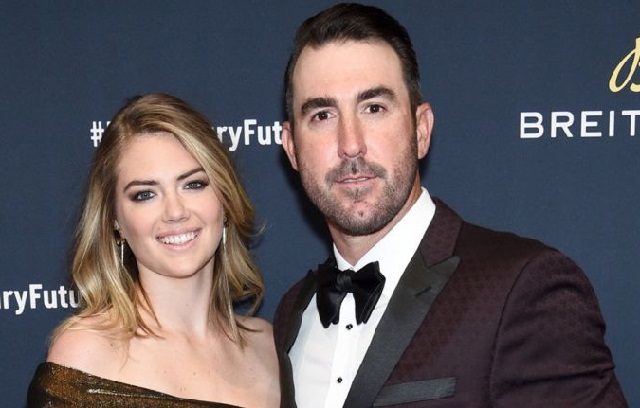 Justin Verlander, who is a pitcher, plays for the Houston Astros. He joined the MLB in 2005 and has enjoyed a star-studded career since then. Verlander has been named an MLB All-star on 7 occasions. He has also won the coveted World Series Trophy. This came in 2017 after he led his team to victory over the L.A. Dodgers.
How Did The Lovebirds Meet?
Upton and Verlander met for the first time in 2012 while they were both shooting a commercial together for a video game in 2012. Verlander was so impressed by Upton's beauty that he vowed to get her number and he did.
They soon started dating and their romance kept gathering more steam. The couple did not hide their relationship as they were seen together several times. Eventually, Verlander proposed and Upton accepted in April 2016.
Finally, the couple tied the knot as husband and wife on the 4th day of November 2017 and their nuptials took place in an ancient church overlooking the Montalcino Valley in Tuscany Italy.
The Couple Share A Daughter Together
Kate Upton and her husband have a child together; her name is Genevieve Upton Verlander and she was born in November 2018. As expected, the couple is very fond of their daughter.
Despite enjoying motherhood, Kate Upton has revealed that she is not keen to welcome another baby just yet. She will instead be focusing on her career.