Thanks to the internet, many young talents do not have to depend on big agencies to gain fame. You can post a video of yourself doing something captivating and voila! you have gone viral. One person who has risen to fame via this means is Kate Upton, an American supermodel who first shot to the limelight thanks to a viral dance video. She has gone on to become an accomplished model appearing on the covers of all the major magazines. Upton has also parlayed her success into a movie career. Find out more about her here including her bio and age, height and weight as well as husband.
Kate Upton: Bio (Age)
Katherine Elizabeth Upton was born on the 10th of June 1992 in St Joseph, Michigan. Her father's name is Jeff Upton while her mother's name is Shelley. She has two sisters named Laura and Christie as well as a brother named David Upton. Kate Upton grew up in the town of Melbourne, Florida. For school, she attended The Holy Trinity Episcopal Academy. While growing up, Upton loved sports and was a talented equestrian. She and her two horses (Colby and Roanie) took part in several age grade competitions and she emerged victorious on many occasions.
When it comes to modeling, it was a natural career path for Upton as she is blessed with a tall, stunning physique. She was scouted as early as the age of 12 but waited until 16 to commence her career. For this purpose, Upton moved to New York where she signed up with a modeling agency. Since then, Kate Upton has appeared on the cover of elite magazines such as Vogue, Elle, GQ, Esquire and Vanity Fair. She has also made the editorials in these magazines as well as others such as V, Harper's Bazaar, Cosmopolitan, Mademoiselle and Glamour. Kate Upton has also appeared in Sports Illustrated Swimsuit Issue on several occasions. She made the inside of the magazine in 2011 and 2014 but she also appeared on the cover in 2012 and 2013.
Kate Upton's talent is not limited to modeling alone. She is also a budding actress and has featured in movies such as Tower Heist (2011), The Three Stooges (2012), The Disaster Artist (2017), The Layover (2017), and The Other Woman – a 2014 comedy about a man who is dating three women at once. The women eventually find out and join forces in order to get their revenge. Kate Upton plays the role of one of the three women named Amber. The movie featured an A-list cast comprising of Cameron Diaz, Leslie Mann, Nicki Minaj and Game of Thrones star – Nikolaj Coster-Waldau.
Net Worth
Kate Upton has a net worth of $7 million. Her major source of wealth is her impressive modeling and acting career. Another source of income for her is endorsement deals. Upton has featured in advertising campaigns for several high-end brands such as Bare Necessities (lingerie and swimwear retailer), Express Inc. (fashion retailer), Guess (clothing and fashion accessories line), and David Yarman (jewelry designer). Kate Upton was also the ambassador of an elaborate Ad campaign launched by the popular online game app – Game of War: Fire Age. There is no doubt that she must have made a significant sum from that deal.
Husband – Justin Verlander And Kids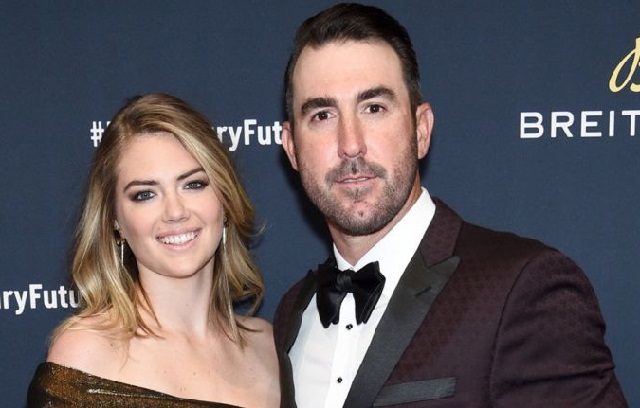 Kate Upton is married to a professional baseball player, Justin Verlander, who is a pitcher and plays for the Houston Astros. He joined the MLB in 2005 and has enjoyed a star-studded career since then. Verlander has been named an MLB All-star on 7 occasions. He has also won the coveted World Series Trophy. This came in 2017 after he led his team to victory over the L.A. Dodgers. Upton and Verlander commenced their relationship in 2014; they reportedly met while she was shooting a commercial for the MLB.
The pair dated for two years and got engaged in April 2016. The couple tied the knot on the 4th day of November 2017 and their nuptials took place in an ancient church overlooking the Montalcino Valley in Tuscany Italy. Kate Upton and her husband have a child together; her name is Genevieve Upton Verlander and she was born in November 2018. Despite enjoying motherhood. Kate Upton has revealed that she is not keen to welcome another baby just yet. She will instead be focusing on her career.
See Also:  Joanna Newsom – Bio, Age, Net Worth of Andy Samberg's Wife
Kate Upton:
Height And Weight
It is not hard to see why Kate Upton is considered to be very attractive. With regard to her body stats, Kate Upton is 5 feet 10 inches tall and weighs 71kg or 156lbs. Additional body measurements are chest size – 39 inches, waist – 28 inches and hips – 36 inches. Her hair color is blonde while her eye color is blue.