Katherine Webb is a former beauty queen, who has successfully carved a niche for herself in the modelling industry. Though she has an impressive résumé and has done quite well for herself, Webb is best recognized as the other half of a celebrity couple. She unexpectedly gained more fame in 2013 after attending the Bowl Championship Series national title game. Explore amazing facts about the model, TV personality, former beauty queen, wife, and mother who proudly owns her beauty.
Biography
Katherine Elizabeth Webb is an Alabama native born on April 24, 1989. She is one of Alan and Leslie Webb's four children. Her siblings are David, Laurie and Matthew. Katherine's academic records show she attended Northside High School and later proceeded to study Business Management and Administration at the Auburn University.
Katherine Webb's modelling history can be traced back to her teenage days. Endowed with alluring looks, it is unsurprising that Webb first decided to try her hands on pageantry. Some of her earliest contests are the 2007 Miss Photogenic Georgia USA, and the Miss Georgia USA 2008 Pageant. Though Webb did not win any of the aforementioned titles, she made it to the semi-final stage at the latter pageant. Thereafter, Katherine went on a self-imposed hiatus and did not compete in any other pageant until after graduation. She had a major comeback in 2012 when she was crowned Miss Alabama USA and later made it to the semi-finals of the Miss USA competition, all in that same year. Having established herself as a beauty queen, Katherine featured in a Carl's Jr. advertisement the following year.
After college, Webb returned to Colombus and first worked as a training director at Chick-fil-A while still not forgetting her first love – modelling. As a model, she has a vast array of clients across cities such as Miami, New York, and Atlanta. Though Webb is done being a beauty queen, she has successfully carved a niche for herself in the industry and is definitely a model to watch out for!
How Katherine Webb Met and Married Her Husband – AJ McCarron
Katherine Webb is happily married to American football quarterback, AJ McCarron. The couple, who began dating in 2012, took their relationship to the next level in March 2014, after AJ popped the big question. They exchanged marital vows a few months later on July 12, 2014, in a beautiful ceremony attended by close friends and family in Orange Beach, Alabama. Katherine and AJ's union has produced two sons, the first Raymond Anthony 'Tripp' McCarron III was welcomed on May 24, 2016, while the second Cash Carter, joined the family on Dec. 18, 2018.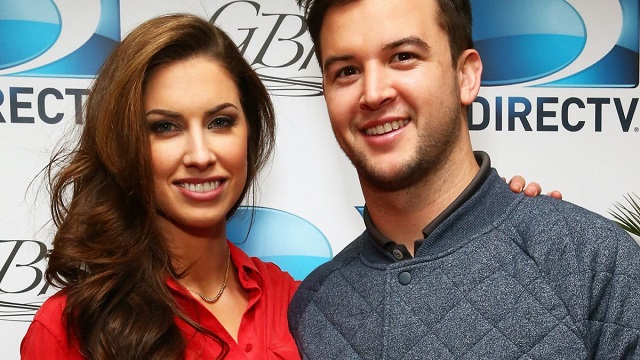 AJ McCarron is currently a quarterback for the Oakland Raiders. He previously played for Buffalo Bills and the Cincinnati Bengals and also had a college career at the University of Alabama.
Katherine Webb's relationships have always made headlines since she came into the limelight. Prior to her husband, AJ, she was romantically linked to actor Tanner Beard in 2012.
Other Facts About The Model
BCS Controversy
Katherine Webb was further thrown to the spotlight in 2013 after a Bowl Championship Series (BCS) game where the Crimson Tide had a victory over Notre Dame. The gorgeous model became the centre of attention both on the mainstream and social media when ESPN commentator Brent Musburger bantered about her beauty while she sat in the audience cheering her then-boyfriend, AJ McCarron.
Though some viewed Musburger's objectifying comments as harmless, many were put off by the broadcaster's comments which went viral after the game. More so, Webb's name immediately began trending on social media. The controversy and national attention were advantageous to Webb who not only gained her a massive following on various platforms but further used it to propel her modelling career to the next level. Her newfound fame after the game brought new career opportunities such as a panel of judges spot in the Miss USA Pageant, a feature in the Sports Illustrated's Swimsuit issue, and a TV host gig covering Super Bowl XLVII for Inside Edition.
Health Challenges
Katherine Webb has vitiligo, the depigmentation-causing skin condition. Again, after some trolls mocked Webb for being 'too skinny' on social media, the gorgeous model revealed that she eats healthy but suffers from thyroid problems. Despite people's opinion, the model is apparently comfortable in her own skin and does not care about naysayers who make fun of her body.
Social Media
Katherine Webb is more famous on social media than on the mainstream media. She has a huge following on popular platforms such as Instagram, Facebook, and Twitter, where she is generous enough to share her art as well as adorable family photos with fans.
Art Lover
Katherine Webb's first love is art. In addition to being a model, she is a talented artist as evidenced by her contemporary paintings which she often posts on the internet.
Height
The brunette beauty has an enviable physique. Webb stands tall at a height of 5 feet 11 inches and weighs about 59 kg. Her body measurements are bust – 35 inches, waist – 24 inches, and hips – 35 inches.
Net Worth
Katherine Webb has been in the entertainment industry long enough to begin enjoying the fruits of her hard work. The gorgeous model is believed to be earning a salary of about $350,000, and her net worth is currently estimated at $1 million.