Kelly Frey is a well-known name in the world of broadcasting, a profession she is so passionate about and has dedicated over two decades of her life to, doing it with ease and diligence and garnering awards. Having been able to win her battle over breast cancer through her resilient nature and proper medical care, she now sensitizes and educates her viewers on her ordeal – which has earned her the prestigious Pittsburgher of the Year award.
The news anchor works with WTAE, an ABC – affiliated TV station where she anchors the popular News 4 This Morning. Her bio, career achievements, salary, family life as well as her battle with cancer will all be discussed in this article.
Kelly Frey – Bio
There is no accurate information that pinpoints to the exact birthday of Kelly Frey as the television diva has not disclosed that information to the media. However, it is generally believed that she was born in the year 1974 in West Chester, Pennsylvania in the United States of America.
Details of her family background and her childhood are unknown. Concerning her High School education, she schooled at Downingtown High School and completed her University education at the University of Pittsburgh.
Her career as a reporter took off after her University education with a local cable television program known as Hometown News located in Monroe in the city of Los Angeles. She anchored for KTBS in Shreveport, Los Angeles, and hosted morning shows on KTVE in El Dorado, Arkansas. After a successful stay in Los Angeles, she returned to Western Pennsylvania with the basic knowledge in broadcasting.
Upon her return, she joined WTAW, an ABC-affiliated television station in the year 2000 where she currently holds sway as the anchor of Pittsburgh's Action News 4 This Morning and has recorded a lot of career successes.
Career Achievements
Rewards for a job well done come in different measures, as for Kelly, her contributions in the world of journalism and broadcasting earned her the famous Gracia Award in 2018 from the Alliance for Women in Media Foundation in New York City. Talk of prominence, she has also earned it from the media as she is a known personality.
See Also: Morgan Radford – Bio, Salary and Net Worth, Husband and Family Life
Salary
Undoubtedly, most media outfits pay their staff according to the network's salary structures. According to paysa.com, the annual salaries of WTAE staff range between $44,362 and $92,000. That notwithstanding, Kelly Frey has not revealed the exact figure she takes home as a staff of WTAE where she has spent about two decades. But looking at the years spent in broadcasting, it is a sure bet that she has accumulated a large sum ranging in millions of dollars in net worth.
Family Life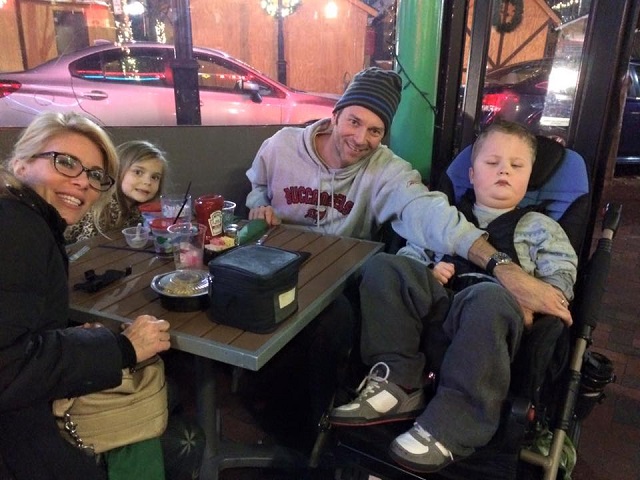 Kelly Frey has successfully combined her career and her family life. She is happily married to Jason Luhn, a Lieutenant Colonel in the Air National Guard who is stationed at Pittsburgh International Airport where he serves as tanker pilot. Nobody knows the exact date they exchanged their marital vows, but they already have two children – a daughter named Marena Aubrey and a son named Bennett.
Their son, Bennett, was born in 2009 with a medical condition – brain malformation known as Dandy-Walker Syndrome and Epilepsy. After the diagnosis of the disease, brain surgery was carried out by many doctors, he came out unscathed and has been getting stronger since he went under the knife.
During his surgery, the parents hired a photographer from a non-profit organization known as Now I Lay Me Down who took pictures of the surgery process and shared on the page specially dedicated to the boy known as Building For Bennett.
Battle With Cancer
In early 2017, Kelly Frey was diagnosed with breast cancer which luckily for her was still at stage 1. Although she was mentally disturbed at the news, she became stronger shared the news with her husband – Jason Luhn. She also shared her story with her news network and she received amazing support for friends, colleagues and including viewers. During her treatments, she used the opportunity to sensitize cancer victims on the best ways to overcome the ailment which endeared her to the hearts of many.
With support from her husband, colleagues, friends, and well-wishers, she overcame the ailment and became cancer free. Her bravery during the traumatizing period and her cancer awareness earned her Pittsburgher of the Year Award. Additionally, she graced the cover page of Pittsburgh Magazine in the January 2018 issue.