Whatever one thinks of actors and Hollywood as a whole, and there is plenty to think of about the industry and its members, there is no denying that outside of the glamour, prestige, and riches that are the trademarks of the profession, its members are still just human beings trying to get through various personal problems and challenges. For some, the profession is a means to satisfying their vanity, their desire for riches and glory while for others, like Kelly McGillis, Hollywood was the natural end of a journey that began as an escape from a difficult life.
Kelly McGillis is renowned for her work in a number of films, most notably, in Top Gun and The Accused. She is one of Hollywood's most iconic living actresses. Who is she? Learn more about her by reading below.
Kelly McGillis' Biography
Kelly was born to Dr. Donald Manson McGillis and Virginia Joan on the 9th of July, 1957 in Newport Beach, California. She was, however, raised in Los Angeles, where she had an extensive education on acting. Starting from the Pacific Conservatory of the Performing Arts at Allan Hancock College and then moving across the country to attend world-renowned art school, Julliard School in New York City. Kelly Mcgillis completed her formal education as an actress in 1983, graduating from Julliard with a Bachelor of Fine Arts.
In the very year she completed her education, McGillis starred in Reuben, Reuben marking her film debut. It was the culmination of a passion for acting that began as an escape from a life filled with the accompanying misery of being lonely and overweight. Her debut as Geneva Spofford in Reuben, Reuben spurred a reputation of Kelly McGillis as a very talented actress. After the film, she got her second feature-length role as Rachel Lapp in Witness, a 1985 film she made alongside Harrison Ford. Her performance and the film earned her nominations for the Golden Globe and BAFTA awards, the first of what would be a successful career.
Before she starred in what would be her next biggest film, one that would go on to become an iconic one whose greatness cuts across generations, Kelly starred in a number of television projects, mostly made for television films, such as One Life to Live, Private Sessions and Sweet Revenge. In 1986, she starred in Top Gun, playing Charlotte Blackwood alongside Tom Cruise and Val Kilmer. Kelly's acting abilities made her the desire of studios, casting directors, directors for some of the best films in the industry, this recognitions placed her in the enviable position of working with other talented actors who have themselves, become big names in the industry, such as Jeff Daniels and Timothy Hotton.
While Kelly McGillis certainly racked up credits in both film and television, it is on stage that her talents and passion for the art has truly manifested. She has acted and continues to act on stage across several productions around the country. From Washington D.C to Southern California, Kelly is an exceptional stage actress. In the rare occasions where she has given mainstream mediums a chance, she has starred in productions like 'Hedda Gabler'. Some of her other stage roles include the role of Lady Macbeth for the 'Macbeth' play by Shakespeare, Mrs. Robinson in 'The Graduate' and many more.
Kelly is also a teacher, who spends time in classrooms in the country, teaching aspiring actors and actresses what she has learned in over 3 decades of acting. As for awards, the actress has a couple in her cabinet, including two Bravo Otto awards for Best Actress for the films Made in Heaven and Top Gun.
Is She a Lesbian or Gay and Who is Her Spouse?
Kelly has been in three high profile relationships since she came onto the scene as an actress. She was first married to Boyd Black in 1979. The two who were Julliard students were married for two years, ending their relationship in a 1981 divorce. She married Fred Tillman, eight years after the end of her first marriage in 1989. The marriage lasted more than her previous marriage, producing two daughters. The marriage however ended in 2002.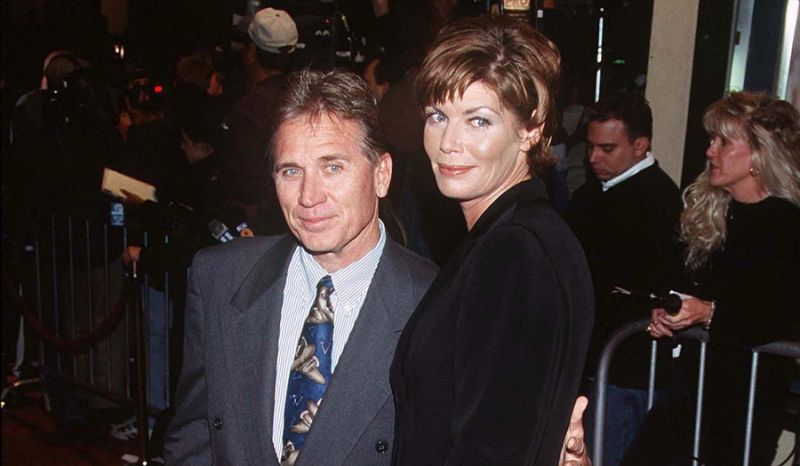 In April 2009, during an interview, McGillis announced to the world that she was in fact gay. She came out as a lesbian and in the following year, entered a relationship with Melanie Leis. The two had known each other for ten years prior to their civil union. The relationship did, however, end in 2011, one year after the union. Since then.
Where Is She Now?
Kelly has stayed a bit away from the spotlight for a while, choosing instead to spend the bulk of her time on stage and in the classroom, teaching at The New York Studio for Stage and Screen NYS3. Her most recent onscreen performances were for the television film, An Uncommon Grace. Choosing to remove herself from the active world of Hollywood, she lives in North Carolina.