Khabib Nurmagomedov is a professional mixed martial arts (MMA) fighter who competes in the UFC's lightweight division. Also known as The Eagle, he is one of the most popular and exciting prospects that the UFC has ever produced. In a career spanning a decade and counting, Nurmagomedov has fought in 27 bouts and remains undefeated. He has won several titles along the way including the UFC Lightweight Champion in April 2018, Gold medals at the 2009 and 2010 World Combat Sambo Championships etc. This young man might have a 'tongue-twisting' surname but there is certainly no doubt that he has made waves in his chosen field of endeavor. Find out more about The Eagle here including his bio, religion, wife, father, net worth etc.
Khabib Nurmagomedov's Age and Religion
The fighter was given the full name Khabib Abdulmanapovich Nurmagomedov at birth on the 20th of September 1988 in Sildi, Tsumadinsky District of Dagestan, an autonomous republic in the Soviet Union. His nationality is Russian while his religion is Sunni Muslim. Khabib Nurmagomedov spent his formative years in Makhachkala, the capital of Dagestan. He was trained in various forms of Martial Arts starting from the age of 8; this was in accordance with the culture of their land. He trained in judo, wrestling, and sambo (a Russian form of martial arts that is popular with the Russian military) etc. His trainer was no other than his father, a retired soldier and a martial arts coach who ran a training class in their compound. Nurmagomedov excelled in his training and by the age of 9, had successfully wrestled with a bear.
Khabib Nurmagomedov began his professional career in September 2008, at the age of 20. Between 2008 and 2011, he fought 16 fights across Russia and Ukraine and won all. His exploits unsurprisingly caught the attention of the UFC who offered him a six-fight deal. He made his UFC debut on the 20th of January 2012, comfortably defeated his opponent in the third round and would go on to win all initial six fights. Since becoming a professional fighter at the age of 20, Khabib Nurmagomedov has fought and won all of his 27 fights; defeating the likes of Conor McGregor in the process. Eight of these victories came by knockout, nine by submission and ten by decision. He has also amassed hundreds of millions of fans, especially amongst Muslims and Russians.
Meet His Wife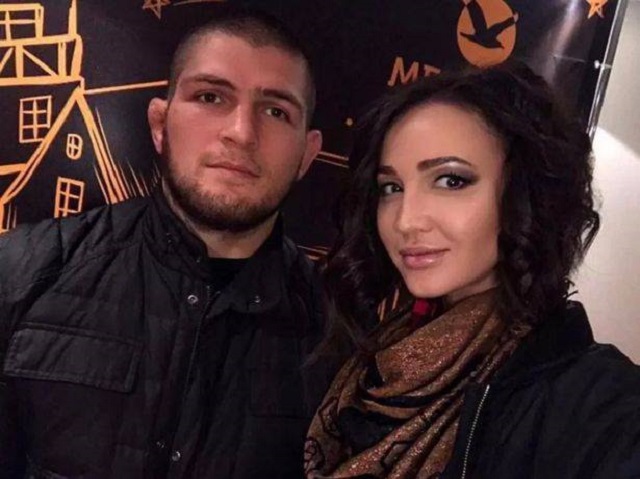 The Eagle is definitely off the market. He got married in the year 2013 but his wife's name is not publicly available. The couple has two children together which includes a daughter born on the 1st of June 2015 whose name is also not public knowledge at this time. Nurmagomedov also has a son named Mohammed who was born on the 30th of December 2017. That date is certainly a memorable one to the fighter as that was also the day he earned his 25th straight victory. He did not only win the bout but dominated his opponent thoroughly. His performance was named performance of the night at UFC 219 as well as the performance of the year 2017.
What Do We Know About His Father?
Khabib Nurmagomedov comes from a family of five. It includes an older brother named Magomed and a younger sister named Amina. His mother's name is not known but his father's name is Abdulmanap Nurmagomedov, an army veteran, and a well-respected martial arts coach. It was his father who mentored him in various forms of martial art styles when he was still young. There is no gainsaying the fact that he couldn't have become the star he is today without his father's assistance.
How Much Is He Worth?
Khabib Nurmagomedov has accumulated a modest fortune estimated at $30 million. There is certainly no doubt that his fortune will increase if he continues with his impressive form. He made his money from his successful fights over the years. A good example of this was his bout with Conor McGregor at UFC 229 which drew 2.4 million pay-per-view buys, the most ever in mixed martial arts history. Nurmagomedov defeated MacGregor in the 4th round of the bout and pocketed $2 million in the process.
Height and Weight
The Eagle is 5 feet 10 inches tall (1.78m) and his weight is given as 155lbs or 70kg. Nurmagomedov previously fought in the welterweight division. However, on joining the UFC, he moved to the lightweight division. The lightweight division of the UFC requires competitors to weigh between 146lbs and 155lbs. Nurmagomedov often tethers on the brink of 155lbs and sometimes exceeds this. When this happens, he is required to drop the extra pounds before he can fight.