Kimberly Williams-Paisley is an actress who gained worldwide fame for her performance in the 1991 movie, Father of the Bride and its sequel, Father of the Bride II, for which she earned a nomination in the 1992 MTV Movie Awards. The sensational actress has also done excellent work as a writer and director as can be seen with her work in the movie, Shade where she also served as the producer.
As a result of her overall performance in the aforementioned movie, Kimberly Williams-Paisley was honored with the Crystal Heart Award for Best Dramatic Short Film and Vision Award for Best Short Film during the 2006 Heartland Film Festival. The brilliant actress went on to bag the Outstanding Acting and Directing Award in Sedona International Film Festival, also in the same year. As she gains momentum in the movies, it rouses a corresponding interest in her life both professionally and personally. Thus, we have essayed a tale of her career journey and love life.
Kimberly Williams-Paisley Had To Differ Her College Education In Other to Appear In Father of the Bride
Kimberly Williams-Paisley is an alumnus of North-Western University where she obtained a degree in Drama. However, before her graduation, the award-winning actress had to drop out of the university in order to feature in her breakthrough movie (which was equally her debut role), Father of the Bride in 1991 portraying the character of a young gorgeous bride, Annie Banks.
She eventually returned back to complete her studies and graduated successfully. Williams-Paisley went on to work as the director of Rye High School Musical Revue when she was 18 years old and reunited with her Father of the Bride cast members in 1995 for the sequel, Father of the Bride II in a reprisal role; She shared the screen with the likes of Diane Keaton and Steve Martin.
Her Movie Credit Has Continued To Increase as Time Rolls By
Before Father of the Bride II, she appeared in Parco Rosso in 1992 and joined the cast of Indian Summer in 1993, essaying the character of Gwen Daugherty and also showed up in 1992 Secret Games. The War at Home – a 1996 movie featured her as Karen Collier and she was part of the ABC drama series Relativity which ran for 17 episodes before its cancellation in 1996 as a result of low ratings; Kimberly played the lead role of Isabel Lukens in the series, winning critical acclaim for her effort.
The New York-born actress was further cast to play a role in Coldblooded in 1995, giving expression to the role of Jasmine. The Year 1999 seemed to be a prolific one for Kimberly Williams-Paisley as she came in three productions namely – Just A Little Harmless Sex as Allison, Simpatico as Young Rosie, and Safe House as Andi Travers.
In 2000, she started appearing in a starring role as Virginia in the fantasy miniseries The 10th Kingdom which lasted from till 2012, and in 2001, Kimberly showed up in a single episode of Immer Wieder Jim. From 2001 to 2008, Kimberly moved ahead to feature as Dana in the ABC comedy series, According to Jim alongside Courtney Thorne-Smith and Jim Belushi; she also served as the director of the series' three episodes but had to leave in season seven only to return in its final episode in 2009.
2002 saw her on the sets of two productions Ten Tiny Love Stories and the Christmas Shoes as Maggie Andrews. In 2004, she appeared in three projects – Identity Theft; The Michelle Brown Story playing Michelle Brown, Like Family as Trish, and in George Lopez as Vanessa. Her 2006 productions were just two, playing Helen Forrester in How to Eat Fried Worms (one of her best) and portraying Sandy Lengyel in We Are Marshall.
She is Great On Both The Screen And The Stage
Kimberly Williams-Paisley had her 2007 credit in one episode of Days of Our Lives as Carmen and came in two episodes of Boston Legal playing Elisa Brooks. She graced the set of Royal Pains in 2012, and the ABC drama series Nashville had her playing Peggy Kenter in 19 episodes from 2012 to 2013 which was critically acclaimed.
She made appearances in six episodes of Two And a half Men in 2014 playing Gretchen, the talented writer was also among the cast of Alvin and the Chipmunks: The Road Chip in 2015, and two years later in 2017, she joined the cast of The Christmas Train where she was featured as Eleanor; Kim also served as the producer.
Her most recent roles include playing Claire Darrow in Darrow & Darrow – the series is still ongoing, though it started in 2017, portraying Claire Pierce in The Christmas Chronicles in 2018 and reprising the role in the sequel The Christmas Chronicles 2 which came to light in 2020. She also joined the cast of the series Dolly Parton's Heartstring as Emily in 2019.
As a stage actress, Kimberly Williams-Paisley first made her Broadway appearance in the award-winning play, The Last Night of Ballyhoo. She further featured on stage during the productions of All in the Timing and The Vagina Monologues.
The Highlights Of Her Acting Career
Having been featured in numerous movies, TV series and theatre plays for over 25 years of her career, the highlight of her notable movies include Safe House, How to Eat Fried Worm, Parco Rosso, Father of the Bride, We Are Marshall, The War at Home, and The Christmas Chronicles.
In addition, Kimberly is also a well-known professional writer and aside from writing movie scripts, she has also penned down several books, including the New York Times best-seller, Where The Lights Get In which chronicled the story of her mum's illness (primary progressive aphasia), from diagnosis to death on in November 2016; her mum passed on seven months after she published the book. She organizes a Dance Party To End Alz which has been suspended, thanks to the pandemic. Kim also co-authored a book entitled, Henry and the Hidden Veggie Garden with her father.
Her Wealth is Calculated in The Excess of $10 Million
With the level of popularity, she has gathered over the years, Kimberly Williams-Paisley is fast becoming one of the Hollywood greats. Besides, she is quite prolific with her roles and seems to work tirelessly to achieve the best possible result, therefore, one would not be too surprised that the New York-born entertainer has accumulated a fortune in excess of $10 million.
However, Kimberly has not revealed what her annual remuneration is but with over 30 movie credits within the course of 25 years in the industry, our guess is that her annual take-home is quite substantial. Besides, when you factor in what she earns as an author, producer, and director, the picture becomes clearer. Kim is still very active in the scheme of things which means more money in her account.
We cannot lay our hands on her highest-earning roles, but according to Rotten Tomatoes, the actress' highest-rated productions include Parco Rosso at 95%, Father of the Bride at 70%, The Christmas Chronicles at 65%, and The War at Home at 60%.
Kimberly Williams-Paisley Is A Wife And A Mother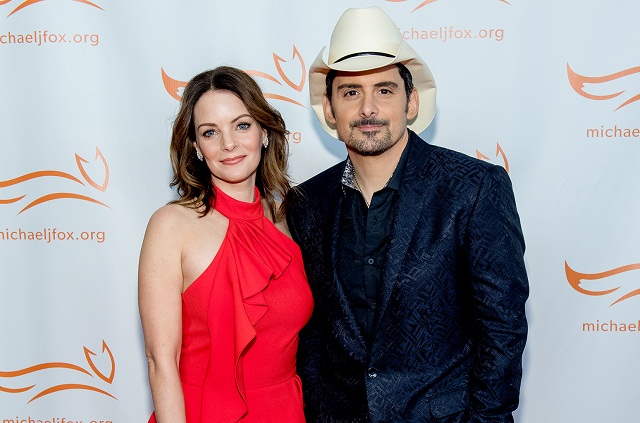 In addition to cruising a successful acting career, Kimberly is also enjoying a blissful union with her husband, Brad Paisley. The pair exchanged marital vows on 15th March 2003 and has welcomed two sons – William Huckleberry Paisley, born in 2007, and Jasper Paisley, who was welcomed into the world in 2009. She shared her baby bump for the second baby on Instagram. The couple is happily married and still together at Nashville, Tennessee.
Kimberly's husband, Brad Paisley is a three-time Grammy Award-winning Country musician, who has bagged numerous awards to his name. He is also a famous songwriter, having clinched two Nashville Songwriters Association International Awards.
How They Met And Fell In Love
According to Brad, he fell for Kim long before they even met, he only had to see her on the set of Father of the Bride when he was 19 to realize that she meant more to him that his then-girlfriend who broke up with him shortly afterward. Brad was already 23 by the time the sequel was released and after seeing Kim again, the country musician told Good Housekeeping that Kim seemed like a great girl on-screen – smart and funny and all those things that seem so hard to find.
Smitten with the actress, Brad just had to cast her in the video of his 1999 track I'm Gonna Miss Her. According to Kimberly Williams-Paisley, Brad stalked her from then on – confessing that it was love at first sight for him. As for the actress, it took her a couple of months to reciprocate his feelings. The couple finally became an item in the fall of 2011.