Kimberly Williams-Paisley is an actress who gained worldwide fame as a result of the acting abilities she displayed in the 1991 movie, Father of the Bride and its sequel, Father of the Bride II, for which she earned a nomination in the 1992 MTV Movie Awards. The sensational actress has also carried out excellent works as a writer, director and producer and this can be seen in the movie, Shade which she wrote, directed and also produced.
As a result of her overall performance in the aforementioned movie, Kimberly Williams-Paisley was honored with the Crystal Heart Award for Best Dramatic Short Film and Vision Award for Best Short Film during the 2006 Heartland Film Festival. The brilliant actress went on to bag the Outstanding Acting and Directing Award in Sedona International Film Festival, also in the same year.
Below are more fascinating details about the sensational actress.
Kimberly Williams-Paisley's Biography (Age)
The skilful producer was born into the family of Gurney Williams III and Linda Barbara in Rye, New York, United States, on 14th September 1971. Her father worked as a writer, majorly in the health and science field while her mother was into fundraising. Sadly, Kimberly's mother passed away in 2016 after suffering from dementia. Kimberly has two siblings, a sister named Ashley, who is also into acting and her brother, Jay Williams.
She is a graduate of North Western University where she obtained a degree in Drama. Meanwhile, before her graduation, the award-winning actress once dropped out of the university in order to feature in her breakthrough movie, Father of the Bride in 1991. She eventually returned back to complete her studies and graduated successfully.
With such outstanding acting abilities, Kimberly couldn't wait any longer to start her career at the age of 13 and further went on to work as the director of Rye High School Musical Revue when she was 18 years old. Her first movie role came up as a young gorgeous bride, Annie Banks in Father of the Bride and she also played a recurring role in It's a sequel, Father of the Bride II.
Furthermore, she followed it up by appearing in Indian Summer and The War at Home. The New York-born actress was further cast to play a role in the TV series, Relativity which ran for 17 episodes before its cancellation. Soon after, Kimberly moved ahead to feature as Dana in the comedy series, According to Jim, she also served as the director of the series' three episodes.
Later in 2012, she made an excellent portrayal of the character, Peggy Kenter in the series, Nashville, which was critically acclaimed. The talented writer was also among the cast of Alvin and the Chipmunks: The Road Chip. Recently, Kimberly landed a role in a forthcoming movie titled, Darrow & Darrow which would be premiered in October 2019 on The Hallmark Channel, as well as The Christmas Train which she produced. The latter will debut in November 2019.
As a stage actress, Kimberly Williams-Paisley first made her Broadway appearance in the award-winning play, The Last Night of Ballyhoo. She further featured on stage during the production of All in the Timing and The Vagina Monologues.
Having been featured in numerous movies, TV series and theatre plays for over 25 years of her career, the highlight of her notable movies include Safe House, How to Eat Fried Worm, We are Marshall and The Christmas Chronicles.
In addition, Kimberly is also a well-known professional writer and aside from writing movie scripts, she has also penned down several books, including the New York Times best-seller, Where The Lights Get In. She also co-authored a book entitled, Henry and the Hidden Veggie Garden with her father.
Net Worth
It's quite obvious that Kimberly Williams-Paisley has made bank from her thriving acting career which has lasted for over 25 years and still very much active. In addition, she has also worked as a writer, movie director and producer. Hence, the award-winning director is said to be worth around $10 million.
See Also: Robert Ri'chard – Bio, Wife, Parents, Net Worth, Movies and TV Shows
Family – Her Husband And Kids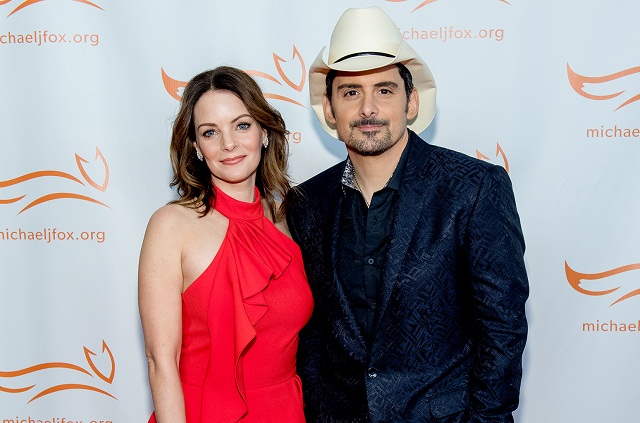 Despite cruising a successful acting career, Kimberly is also enjoying a blissful union with her husband, Brad Paisley. The pair exchanged marital vows on 15th March 2003 and has welcomed two sons – William Huckleberry Paisley, born in 2007 and Jasper Paisley, who was welcomed into the world in 2009. The couple is happily married and still together at Nashville, Tennessee.
Kimberly's husband, Brad Paisley is a three-time Grammy Award-winning Country musician, who has bagged numerous awards to his name. He is also a famous songwriter, having clinched two Nashville Songwriters Association International Awards.