Lara Trump may not be the most famous of the wealthy Trump clan, but she has always made headlines since she joined the family. Lara is one of Donald Trump's daughters-in-law and the wife of his second son Eric. She is playing an active role in the White House and working hard to ensure that President Trump gets re-elected in 2020 in her role as a campaign adviser.
Lara and her professional endeavours will forever be linked to the Trump family. However, she has also explored other career paths – from being a chef to a personal trainer and TV producer. This padded resume of hers has led many to wonder how she makes it work alongside her life as a wife and mother.
Lara Trump's Multi-career Ventures Began Early In Her Life
Lara Lea Yunaska was born on October 12, 1982, in Wilmington, North Carolina. She is the first of two children born to Robert Luke Yunaska and Linda Anne Sykes. Lara and her younger brother Kyle grew up in their hometown of Wilmington, North Carolina.
Growing up, she nurtured dreams of becoming a sports journalist and effectively took steps towards achieving that. While the name of her high school is unknown, her academic records show she is a 2005 graduate of communication media from North Carolina State University. Her sports journalism interest later gave way to an interest in professional cooking, leading her to the French Culinary Institute in New York.
After graduating from the Institute, with a certificate in pastry arts, she began working as a personal trainer. Alongside the role, she ran a cake business, Lara Lea Confections, kickstarting her multi-career endeavours. A few years after, she made a compromise on her sports journalism dream and joined Inside Edition, a TV news magazine.
From Inside Edition To Senior Campaign Adviser
She joined the news magazine in 2012 as a story coordinator. Later on, she became an associate producer and held the position until 2016 when she left to join her father-in-law's campaign trail. While she was at Inside Edition, she was also a board member of her husband's charitable foundation, The Eric Trump Foundation.
Lara Trump's professional career exploded after she joined Donald Trump's presidential campaign in 2016. She led the Trump-Pence Women's Empowerment Tour. She was also the liaison between the Trump Campaign and the data and digital consultant film, Giles-Parscale.
While she kept a more muted presence in 45's election in 2016, she has assumed a larger role in the pursuit of his reelection in 2020. Not long after his inauguration as President, Lara began working as producer and spokesman for Real News Update, an online show owned by Trump Productions.
She also became the senior consultant to Brad Parscale, who at the time, was the president's campaign manager. In her position, Lara Trump met with New York State Republican Committee members, as well as National Republican Committee officials.
Additionally, Lara Trump has also hosted high-level meetings with White House officials. She has also met with members of the president's cabinet, as part of her drive to push Donald Trump's reelection.
Lara Has Her Personal Endeavors Too
This ever-busy woman does not just spend all her time working to return Donald Trump to the White House. She also has a few personal ventures of her own, including athletics. She is a triathlete who has competed at several triathlons, like the Las Olas Triathlon in Fort Lauderdale, Florida.
Lara Trump is also an animal activist. She and her family own two dogs, Charlie and Ben, and she dedicates part of her busy schedule to advocate for the adoption and rights of animals. Using her social media pages and voice, she continuously spread awareness and encourage people to adopt from animal shelters.
She has worked with various animal rescue centres, including volunteering at the world's largest no-kill animal rescue organization – The North Shore Animal League America.
Lara Trump Is Making A Substantial Sum As Campaign Adviser
Before she joined the Trump clan and their political train, Lara had tried different ventures which were comfortably paying her bills. Between her cake business, personal training and being a producer, she had a modest income that guaranteed a comfortable life.
However, in recent years, particularly since her father-in-law's presidency, things have improved substantially for the North Carolina State University graduate. As campaign adviser, she is earning a reported $180,000 per year. Between the salary and her husband's estimated $300 million net worth, Lara is undoubtedly set for life.
The couple owns two luxury homes, a three-bedroom condominium in Trump Parc East bought by Eric for $2 million in 2007 and a mansion in Briarcliff Manor, in Westchester County. The county is reputably home to dynasties like the Astors, Rockefellers and the Vanderbilts.
Dissecting Lara's Long-lasting Marriage And Relationship With Eric Trump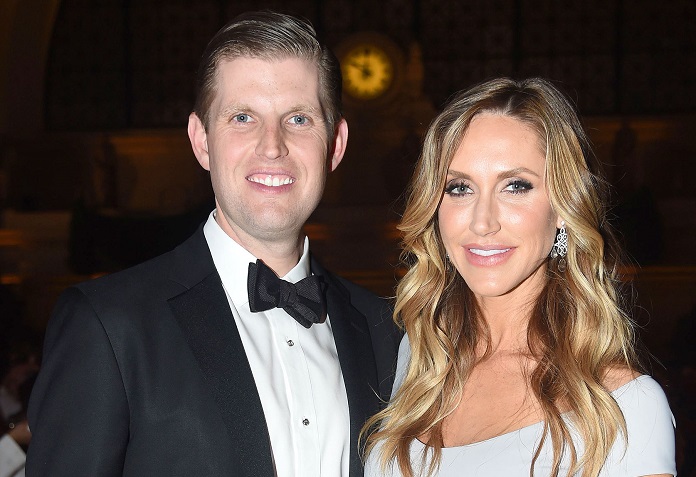 Lara Trump is married to Eric Trump. The couple met in 2004 and began dating four years after. They dated for about six years before they tied the knot in November 2014 at Mar-a-Lago estate in Palm Beach, Florida. It was the same estate her parents-in-law Donald and Melania Trump got married.
Lara was an unusual bride who wore casts on her wedding day as a result of a horseback riding accident which fractured her wrist. Undeterred by the setback, she chose to gracefully adorn the casts with a glove and make the most of her big day.
Together, Lara and Eric have two children. They gave birth to their first child, a son, Eric' Luke' Trump, on September 12, 2019. Two years after, on August 19, 2019, Lara gave birth to their second child, a daughter, Carolina Dorothy Trump. Both children are the ninth and tenth grandchildren of the 45th US President.
How Lara Trump Balances Her Family Life And Professional Pursuits
As far as busy women go, Lara Trump, from the outside, is one of the busiest women in America. On top of working on the reelection of Trump, she is also raising two children. It is undoubtedly a lot to juggle, yet Lara is doing it so far with impressive success. So, how does she do it?
Well, one thing Lara has going for her is a lot of help. Her husband, Eric, is always available, particularly on the weekends to help take care of the kids, enabling her to go on a run and perform other exercises. During weekdays when campaigning takes her all over the country, she has a nanny who looks after the children.
While she is miles away from her child, Lara Trump connects with them through phone apps like Facetime. The app helps to ensure her children know she is with them when she is not physically present. Like most women, Lara struggles with the feeling of leaving her children alone with someone else. But the campaign adviser rationalizes the feeling by admitting there is 'no right or wrong way to be a parent' and she only seeks to do her best.