Lara Trump may not be the most famous of the wealthy Trump clan but she has always made headlines since she joined the family. Lara is one of Donald Trump's daughters-in-law and the wife to his second son Eric. She is playing an active role in the White House and working hard to ensure that President Trump is re-elected in 2020. Though she is best known as a Trump, Lara also has an impressive résumé and has done well for herself as a former chef, personal trainer and TV producer. Find out detailed facts about Eric Trump's blonde and super-model-slender wife.
Who Is Lara Trump, Eric Trump's Wife and What Is Her Age?
Lara Lea Yunaska was born on October 12, 1982. She is the first of two children born to Robert Luke Yunaska and Linda Anne Sykes. Lara and her younger brother Kyle were raised in their hometown of Wilmington, North Carolina. Growing up, she nurtured dreams of becoming a sports journalist and effectively took steps towards achieving that. While the name of her high school is unknown, her academic records show she is a 2005 graduate of communication media from North Carolina State University. Lara also had other professional interests including cooking. So to hone her skills in the art, she further studied pastry arts at the French Culinary Institute, New York.
Lara Trump first worked as a personal trainer and once owned a cake business named Lara Lea Confections. Her next job was on TV working for a top media outlet. She was a producer on the CBS show Inside Edition and rose through the ranks to the position of an associate producer in the year 2013.
Despite her varied career paths, Lara is best recognized as Donald Trump's daughter-in-law. In fact, she once served on the board of her husband's defunct foundation which stopped operations in 2016. That same year, Lara left her job to join the Trump presidential campaign team.
More recently, despite varied opinions and ethical questions by government watchdogs about Lara's involvement in her father-in-law's campaign, she was hired by Giles-Parscale. As a senior consultant for the firm which is the digital vendor for Donald Trump's 2020 political campaign, Laura will be involved in the fundraising and merchandising efforts in support of the president.
Net Worth
Before she joined the Trump clan and their political careers, Lara had tried different ventures which were comfortably paying her bills. While her exact salary figure is unknown, her professional endeavors both currently and in the past show that she has done well for herself. Lara's current net worth is unknown but we can safely say it is nowhere in comparison to that of her husband Eric Trump whose net worth is estimated at $300 million.
Lara Trump's Family 
Lara Trump (nee Yanuska) is married to Eric Trump. The couple who dated for about six years tied the knot in November 2014 at Mar-a-Lago estate in Palm Beach, Florida, the same venue her parents-in-law Donald and Melania Trump wedded. Together, Lara and Eric have a son named Eric Luke Trump, who was welcomed in September 2017, making him President Donald Trump's ninth grandchild.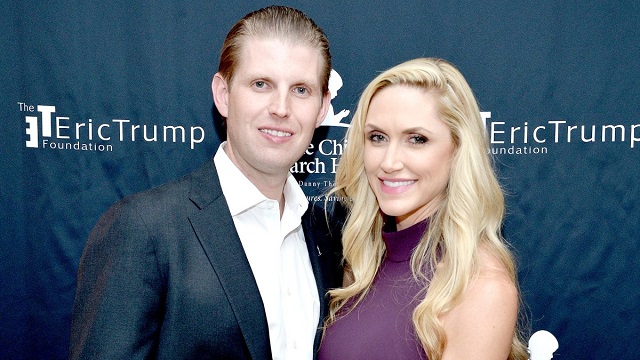 Given the family's fame and career, many are of the belief that managing a family like Lara's would be too demanding. But Lara Trump who admits that her family sure needs Secret Service protection has stressed that she and her hubby live pretty normal lives. When they are not working, the couple loves to relax at home and enjoy family moments together with their son and dogs.
See Also: The Trump Children – Meet President Donald Trump's Kids
Her Height and Other Facts
Donald Trump's younger son Eric towers at a height of 6 feet 5 inches, significantly taller than his blonde-haired wife Lara. While Lara Trump's exact height, weight and body measurements are not publicly stated, we know she is not as tall as her husband. So, it is safe to say she has a good physique and stands at an average height.
Lara Trump is older than her husband, but it's not such a big deal as the margin is a little just over a year. Eric Trump was born on January 6, 1984.
Lara was an unusual bride who wore casts on her wedding day as a result of a horseback riding accident which fractured her wrist. Undeterred by the setback, she chose to gracefully adorn the casts with a glove and make the most of her big day.
Lara Trump does not just love animals but she is also their welfare advocate. Lara who has repeatedly stressed that the cause is so precious to her has also pledged to continuously spread awareness and encourage people to adopt from animal shelters. She has worked with various animal rescue centers, including volunteering at the world's largest no-kill animal rescue organization – The North Shore Animal League America. Lara also shares pictures of her two dogs with her Instagram fans.
Lara Trump always had interests in sports. She has successfully participated in the Las Olas Triathlon in Fort Lauderdale, Florida.
While he may not be as popular as his older sister, Kyle Yunaska is also doing well for himself. He currently works with the Department of Energy. Kyle who was once named one of 'D.C.'s hottest bachelors' is part of the team of temporary political appointees working to transition the federal agency to the new administration.