Born to a musician, Lauren Hashian toed the same career path as her father and is now an accomplished singer and songwriter. Though she has made a name in the music industry with her songs Memory (2014) and Go Hard released in 2016, Lauren's love life with world-famous semi-retired professional wrestler, actor, and producer Dwayne Johnson pushed her further into the limelight. She has been in a long-term relationship with the Hollywood hunk and there is a lot to know about them. Find out more about this mother of two, her bio, age, and how tall she is, among other facts.
Lauren Hashian's Age and Family Background
The beauty was born to John Thomas Sib Hashian and Suzanne Jipp Hashian in Lynnfield, Massachusetts, the US. She has Armenian and Italian bloodline which she inherited from her father.
Her dad was a renowned drummer in a rock band while her mother worked in Dallas Playboy club before she began operating her own massage parlour. Sib Hashian, as he was popularly known, died in active service; he experienced cardiac arrest which led to his untimely death while he was playing on board a cruise tour in March 2017.
She was not born as an only child as she has other siblings; a sister named Aja and a brother who goes by the name Adam. Interestingly, Aja equally writes songs and even makes music with Lauren. She had her high school education at Lynnfield High School before she moved to Boston where she enrolled to study Public Relations at Emerson College, graduating in 2006.
Career Progress
As a young child from a musical family, Lauren Hashian soon toed that career path, having her proactive musically inclined dad, guide and spur her on. In a bid to make way for herself in the world of music, she featured in the American reality talent show R U The Girl which aired in 2005 on United Paramount Network television channel, featuring the remaining members of pop and R&B group TLC. Her wonderful father was in the finals to show his support for his daughter with the hope that she would clinch the opportunity of performing with the TLC members; howbeit, she lost out to co-contestant Krispie Tiffany Baker.
That did not deter her from pursuing her dreams as she later had her stint at a creative licensing section of the Warner Brothers Music outfit. She later picked up a two-year appointment with the Paramount Picture Motion Music where she resumed duties in November 2010 until she exited in 2012.
So far, she has to her credit, songs written by her, such as the 2011 Ya Boi Shad song Only You, which she featured in. Most of her works have over time been uploaded to SoundCloud, the online audio distribution platform. One of Hashian's most successful songs is Go Hard (2016), a song she co-wrote with sister Aja. Besides, she has also graced quite a number of stages alongside her famous father and his band where she put up wonderful performances. Her hard work has seen her earn an estimated net worth pegged at a six-digit figure which is still under review but her partner's current net worth is far higher at the tune of $280 million.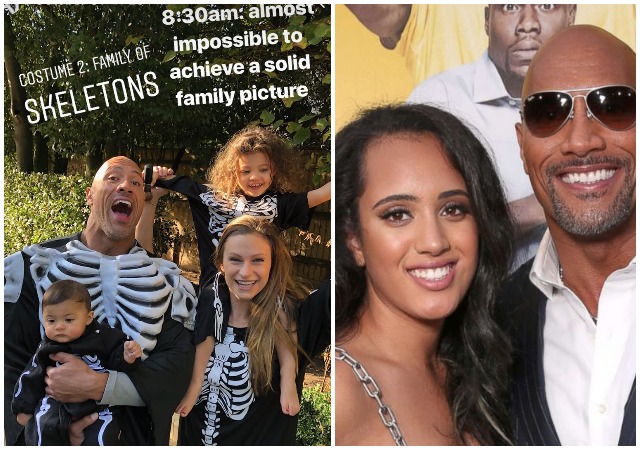 Her Relationship With Dwayne Johnson
Her love life took an interesting turn after her path crossed with the Hayward-born multiple award winner, Dwayne Johnson when he was shooting The Game Plan in 2006. By 2007, Johnson who is twelve years older than Lauren Hashian sought her out and they officially became a couple.
They have been in a live-in love affair over a decade and counting, although they are yet to legalize their union, they have produced two adorable daughters namely Jasmine Lia, born in December 2015 and Tiana Gia Johnson who was delivered on the 23rd of April 2018. The lovebirds are making the best of their moments together and perhaps, we will soon hear the chiming of wedding bells heralding their solemnization.
The proud father of three daughters was born on the 2nd of May 1972 into a family of wrestlers. He grew up and also followed their footsteps, making a great name for himself in sports and leaving the ring as a ten-time heavyweight world champion of WWE/WWF/WCW. He migrated into Hollywood with the help of his then-wife Dany Garcia, who was and still his business manager, carving a powerful niche for himself in the movie industry. He has made appearances as an actor, and producer in many box office hit movies and series such as the Fast and Furious film series, Hercules, Skyscraper, The Scorpion King, The Mummy Returns, The Ballers and The Titan Games, among many others.
Details of Dwayne Johnson's Ex-wife – Dany Garcia
Dwayne Johnson was previously married for a decade to Dany Garcia. They became man and wife in May 1997, four years after, in 2001, they had their first child, a daughter who they named Simone Alexandra Johnson. For unknown reasons, the couple broke up amicably in June 2007. Dany has continued to work for her ex-husband as his manager – a job she took up since his days in the ring as a wrestler. Their daughter has grown up into a lovely adult, who has taken to modelling. Dwayne Johnson has long moved on with his love life as he has been smitten with the Lynnfield-born songstress Lauren Hashian since 2007.
Lauren Hashian's Height
The beautiful songwriter has a good height advantage with a slender build, standing at the height of 5 feet 8 inches (1.78m) with her frame neatly complemented by a weight estimated to be 57 kilograms (125.6 lb). Her height is a far cry from Dwayne Johnson's 6 feet 5 inches (1.96m).