There are less than a handful of people, dead or alive, that can lay a claim to being the greatest basketball player of all time. One of such people is Cleveland Cavaliers forward, LeBron James.
The 6 feet 8 inches tall, two hundred and fifty pounds heavy specimen of an athlete, who skipped college to begin playing professional basketball straight after high school with sportswriters and enthusiasts labelling him 'The Chosen One', is a three-time NBA Championship winner as well as the all-time NBA playoff scoring leader, among numerous other achievements.
In addition to him being the perfect athlete and the supposed face of the NBA, James is a renowned role model who cares about people and his hometown and gives back record amounts to kids and families in situations he found himself as a youngster.
Who Is LeBron James?
LeBron James was born LeBron Raymone James to his 16-year-old single mother, Gloria Marie James, on December 30, 1984, in Akron, Ohio.
While growing up, James did not always have a roof over his head and a meal to eat as his mother struggled to find and keep a job. She and her son were always moving around town from one run-down apartment to another until she agreed to give him up to the family of a local youth football coach named Frank Walker so her child could grow up in a stable environment.
At around the age of 9, James was introduced to basketball by coach Walker. Before attending high school, James had already begun to master the sport as he played and enjoyed huge success both locally and nationally with the Northeast Ohio Shooting Stars in the Amateur Athletic Union.
His talents ensured he had the choice of attending any high school in the country for which he chose to attend St. Vincent–St. Mary High School in 1999. In his first year, James averaged 18 points per game and guided his team to the Division III state title as word began to spread about the next Micheal Jordan. By his junior year, James was so dominant among his peers that he contemplated forgoing his senior year and going pro. He, however, made sure to finish his high school education, winning the school a total of three state titles and earning them the top national ranking that year.
LeBron James swiftly made himself eligible for the 2003 NBA Draft where he was selected as the first overall pick by his home team, the Cleveland Cavaliers. James almost immediately showed his detractors that he was worth the hype as he scored 25 points in his first regular-season game. At just 20-years-old, James became the youngest person ever to be named NBA Rookie of the Year. He also averaged 20 points per game all through the season, a feat ever only managed by two other players in the history of the game; Michael Jordan and Oscar Robertson.
James continued to make history in the league as he shattered and set records along the way. By 2006, he guided his team to their first playoff qualification since 1998. The following year, after having been eliminated by the Detriot Pistons the year before in the second round, James took matters in his own hands and exerted revenge on the team to win the Cavaliers their first-ever Eastern Conference Championship. He was eventually swept by the San Antonio Spurs in the 2007 NBA Finals.
In the 2007-08 season, LeBron James became Cleveland's all-time leading scorer as he averaged 30 points per game. His performances did not go unnoticed the following seasons as he was crowned the Most Valuable Player in the league for the 2008-09 and 2009-10 seasons after which he decided to swap Cleveland for Miami to join forces with Dwayne Wade and Chris Bosh.
With the Miami Heat, James enjoyed huge success as he made four straight trips to the NBA Finals, however, only winning two. He was also voted Most Valuable Player twice before he chose to return to Cleveland in 2014. Cleveland was immediately transformed to an NBA Championship contender, having been the worst team in the league since James left them four years ago.
LeBron James has since won one of his three trips to the NBA Finals with the Cleveland Cavaliers, the franchise's first-ever title and the city's first professional sports title in 52 years. He is currently on his fourth trip to the finals where he hopes to win Cleveland its second-ever NBA title.
Who Are LeBron James's Mom and Dad?
LeBron James' mother, who had him when she was just 16 years of age and has been described as his everything by the athlete, is Gloria Marie James. His biological father has been identified as Anthony McClelland who was just a casual boyfriend of his mother when she conceived him. Due to his absence from James' life, his mother's longtime boyfriend, Eddie Jackson, has acted as a father figure for James despite having spent a few years in prison for fraud and selling drugs.
Read Also: 5 Best African Basketball Stars In NBA
Who are LeBron James Wife, Sons, and Daughter?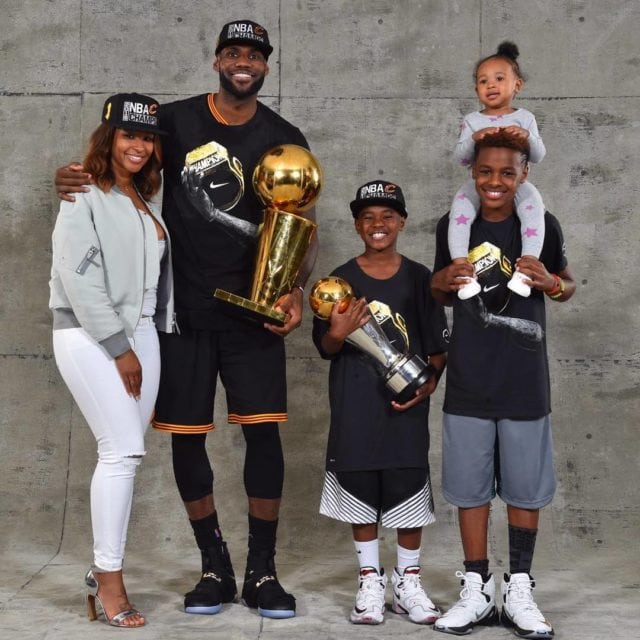 LeBron James is married to his high school sweetheart, Savannah Brinson. The couple exchanged vows on September 14, 2013, at a private ceremony in San Diego, California.
Together, the couple has three children; first, a son named LeBron James Jnr., born in October 2004, then another son named Bryce Maximus James born in June 2007 and finally a daughter named Zhuri James, born in October 2014.