Lexy Panterra is one of the YouTube personalities whose breakout came through the Twerk dance videos she posted on her social media handles and YouTube which has so far generated over 13 million views for her. From there on, she created her LexTwerkOut workout program in 2014.
She is sure very talented as she as moved from being a Twerk instructor to dance workout instructor and she even owns a fitness workout platform and a team. She now sings, writes songs and she is gradually making her way into the music industry with the two singles she has dropped so far. But despite her foray into entertainment, Lexy Panterra began her career in an entirely different field. Read on to find out.
Lexy Panterra's Bio and Ethnicity
This Instagram model, celebrity and dance instructor was born to Tony Panterra and Elizabeth on May 22, 1989, in Sonoma County, California. She has a mixed ancestry, Persian and Iranian though she holds the American nationality.
Named at birth as Alexis Liela Afshar, she earned her Moniker Lex Luther from her Iranian dad, Tony, because of her ability to sweetly manipulate the people around her in order get her way.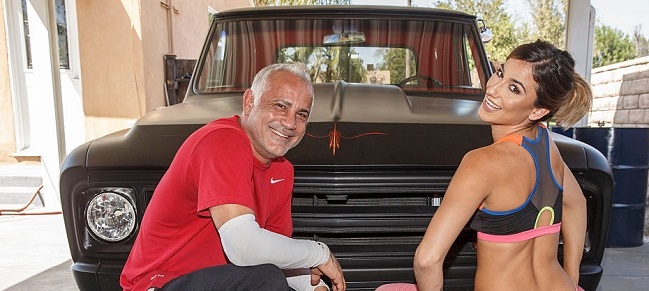 Lexy Panterra grew up mostly with her dad in Los Angeles where she was exposed early to the life of racing because practically most of her paternal families were into motor racing. So naturally awed by the blood pumping profession at an early age, she equally suited up and followed the trend.
She joined her World Class Hot Rod Builder/Motocross Racer dad and her uncle, Alex Rodd, who was a 17 time World Champion of the drag race and also a producer. Her mom Elizabeth and 3 brothers, on the other hand, took to Arts. Lexy Panterra shuttled between Los Angeles and Sacramento where her mother resided.
Relieved from the blood pumping sports, she found love in ballet, dance, and singing lessons. She took it a step further by getting involved in multiple theater productions and engaging in several music competitions in her high days.
In 2013, she got inspired by the twerk performance of Miley Cyrus which informed her addition of twerking into her work out regimen program which went viral after she uploaded it on YouTube, blowing up her views exponentially and in the same vein, bringing her fame and popularity. She later performed Twerking Through History Video with the famous Playboy Magazine.
She has had the privilege to coach celebrities like Christian Milian, Iggy Azealia, and Mel B among others who testified to the effectiveness of her workout regimen. Most recently she has veered into singing and songwriting, a trait she probably inherited from her paternal grandmother Leila Kara who was a popular Iranian singer in the 1960s. Lexy Panterra has dropped two songs so far titled Supa Dupa and Neon and she has plans to work on another song with the famed DJ Mash Melon.
Net Worth
Being a newcomer in the entertainment industry, Lexy Panterra is still finding her feet. However, she has shown great promise so far and the net worth of the dance instructor and singer has risen to an estimated sum of $750,000. This sum has so far been generated from her YouTube videos, songs, dance classes. We have no doubt whatsoever that in the coming years, the figures are bound to increase significantly.
Does She Have A Boyfriend?
She sure is pretty and savvy as they come, no doubts she has also had her own fair share of cute men swarming around her. She currently left a short spanned relationship with the son of model and singer Victoria Beckham – Brooklyn Beckham.
The couple had met and became friends in 2017 and were rumored to have been dating in 2018 as they were seen in cozy positions kissing and displaying affection for one another at various venues. Sadly, their two months relations came crashing down like a pack of cards and has seen Brooklyn move on to Alex Lee Aillon.
Meanwhile, she had earlier been linked romantically with other men which include Nev Schulman, the Catfish star. However, there were no solid facts to buttress their relationship and he is now married to Laura Perlongo.
She was also seen in 2017 with the British actor, Gregg Sulkin, who was a former boyfriend of Bella Thorne. He is well known for his character in Wizards of Waverly Place and Faking It.
After Lexy parted ways with Gregg Sulkin, she hooked up the 6 feet 6 inches tall Chase McQueen. His legendary grandfather is actor Steve McQueen and his father is also an actor known as Chad McQueen.
Lexy Panterra had gushed a lot about her love for him in her social media uploads and even titled one of their loved-up pictures; My Prince Charming. Sadly, her relationship with the soccer player equally packed up. She has affirmed in an interview that she had been cheated on in some of the relationships and she did not like it perhaps this could have contributed to her several broken relationships, but she did not divulge who played a fast game on her.
For now, she has committed herself to work on her music career and has expressed a desire to work with Ty Dollar sign and other notable names in the music industry.
Other Facts About Lexy Panterra
Though she has an almost near perfect body shape, with her slender build, she is said to be 5 ft 7 inches (1.70 m) tall while her body mass is said to be 55 kilograms (121.3 lbs)
Apparently, this talented faceted Social Media Influencer has been a beauty right from her young age, as she actually won a pageantry at the age of 5.
When her darling father and her mentor in the profession suffered a major accident from motocross racing, she had to quit the fast lanes to please her father.
Lexy Panterra sure knows how to return credits and show gratitude for things. She admitted in an interview that her Africa-American stepfather actually taught her moves and steps while her stepbrothers drilled her on the twerk dance steps at the age of 12, which she coincidently does better today than them. Interestingly, she has made her fame from the same Twerk dance.
At the age of 17, she joined the R&B all girls group called League of Extra – Ordinary Ladies. Their acts were associated with famous singers like Whitney Houston, Aaliyah, among others.