Linda Lee Cadwell's claim to fame is as the widow of the ace martial artist and Hollywood star, Bruce Lee. In her own rights, however, she has made a good name as a writer, former kindergarten teacher, and martial arts enthusiast. Although she is currently married to Bruce Cadwell, she continues to uphold the legacy of her widely celebrated late husband. With so much known about Bruce Lee, fans and loyalists are now keen to know more about the woman in his life at the time of his death. This post zooms into the life of Linda Lee Cadwell; her biography, net worth, and other interesting facts about her?
Linda Lee Cadwell's Biography
Linda Lee Cadwell was born in Everett, Washington, USA, on March 21, 1945, to the family of Everett Emery and Vivian R. Hester. Theirs was a middle class, Baptist family of Swedish, Irish, and English descent. Linda Lee Cadwell high-schooled in Edmond Meany Jr. High and later proceeded to Garfield High School, Seattle, in Washington. It was here Linda met then Kung Fu instructor, Bruce Lee for the first time.
Following her graduation from high school, she attended the University of Washington but dropped out only a few credits away from graduation. However, she later returned to complete her studies; graduating with a Bachelor of Arts degree in political science. Plus, she acquired a teaching degree, which formed the basis of her career as a kindergarten school teacher.
Although she first met Bruce Lee in high school, it was at the University of Washington she became his student; attending Kung Fu classes while she studied to become a teacher. At that time, Bruce Lee had opened his own Kung Fu school and majored in Wing Chun. Their relationship, however, was more than the regular teacher-student association. It morphed into a passionate love affair that saw them get married on August 17, 1964. Linda Lee was nearing graduation at the time. Together, they had two children, a son, Brandon Lee (b. February 1, 1965 ) and Shannon Lee (b. April 19, 1969); both of who became actors and martial artists like their father. But the marriage that produced them was short lived when Bruce Lee suddenly died of cerebral edema on July 20, 1973.
Career
Although Linda Lee Cadwell worked as a kindergarten teacher, her career history proves to be much more than that. Two years after the sudden death of her husband, Linda Lee published her first book titled, Bruce Lee – The Man Only I Knew. Drawing from Bruce Lee's popularity, the book became an instant success and received numerous positive reviews. Owing to popular demand, it was published by Warner at least thrice in 1975 alone—April, June, and August. The book formed the basis for the 1993 film, Dragon: The Bruce Lee Story starring Jason Scott and Lauren Holly.
Like the book, its movie became an overnight hit, grossing over $63 million worldwide. It was at this time she returned to the US, to complete her education, and kicked off her career as a kindergarten teacher. In 1989, Linda Lee published her second book titled, The Bruce Lee Story. Thirteen years later, in 2002, Linda Lee, through the help of her daughter, Shannon Lee, founded the Bruce Lee Foundation. The initiative was meant to propagate the philosophy and writings of the great martial artist, Bruce Lee.
Net Worth
Although it's not clear how much wealth Bruce Lee left behind or how much his widow earns today, sources put Linda Lee Cadwell's net worth at over $10 million. Plus, asides Michael Jackson, the Bruce Lee estate remains one of the highest-earning estates of a deceased celebrity.
Other Interesting Facts About Bruce Lee's Wife
1.  She was High School Cheer Leader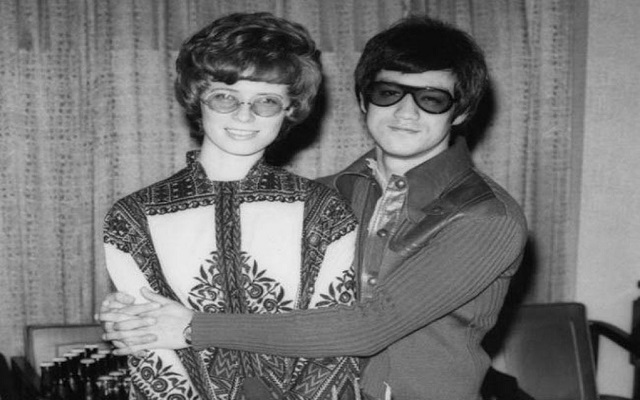 The gentle-looking Linda Lee Cadwell used to be an ardent cheerleader in high school. As a young girl, Linda Lee also wanted to become a doctor because she saw her mother suffer to train them up.
See Also: Lauren Hashian, Dwayne Johnson's Wife – Bio, Wiki, Age, Height
2. She Lost Her Father Early
Linda Lee didn't have a happy childhood as it were, she lost her father when she was just 5. After his death, she moved to Seattle with her mom and elder sister.
3. Marriage After Bruce Lee
After the death of Bruce Lee in 1973, Linda Lee married Tom Bleecker in 1988. Bleecker was an author and screenwriter with whom she co-wrote her first book The Bruce Lee Story. They however divorced in 1990. A year later, she gave marriage the third try with Bruce Cadwell, a stockbroker. The third time sure did the magic because the two are still together even though the union produced no kid. They currently spend a bulk of their time in Rancho Mirage, California. Now in her late seventies, Linda Lee has withdrawn from all forms of active service and spends much of her time golfing, traveling and spending time with her grandchildren.
4. Height and Body Measurements
Linda Lee Cadwell has a slim build, she stands 5 feet 7 inches (1.70 meters) tall, has light blonde hair and beautiful blue eyes. As of this writing, we have no details about her other body measurements.