Lindsey Broad is an American actress who has garnered fame for portraying Spring in the web series The Burg. She has also starred as Allison Stark in Fox's sitcom 'Til Death, Cathy Simms in the US version of The Office and In the Dark.
A native of New York, born on December 8, 1983, in New York, USA, Broad had always harbored acting aspirations. Since 2007, she has gotten to live that dream, with several credits to her name. Although Lindsey Broad is not the most famous of actresses, she has made something of herself, with a few notable roles to her name.
Lindsey Broad's Journey to Fame
Lindsey studied theatre at Pennsylvania State University. She took her first steps onscreen in 2006 when she was 23 years old, in the web series; The Burg. In the same year, she made her first appearance in a name role in an episode of Without a Trace, as Rachel. She played a role in an episode of Ghost Whisperer before she made her big-screen debut.
In 2009, she had her screen debut in Spread, a romantic comedy that also starred Ashton Kutcher and Rachel Blanchard. In the film, Broad portrayed the roommate of Rachel Blanchard's character, Emily. That year, she also appeared in the pilot episode of State of Romance, a modern-day rendition of Jane Austen's Pride & Prejudice, and Rob Perez's comedy film Nobody. 
From 2009 to 2010, Lindsay Broad played the role of Allison Stark in the fourth and final season of the Fox sitcom Til Death. In 2010, she acted in the musical adventure comedy film Get Him to the Greek and TV movie, Who Gets the Parents. In 2011, she appeared in the short film, History.
Her breakthrough role came about in that year as well. She joined the cast of the NBC comedy, The Office, in the show's season eight season. She played Cathy Simms, Pam Halpert's replacement, who had a massive crush on Jim Halpert.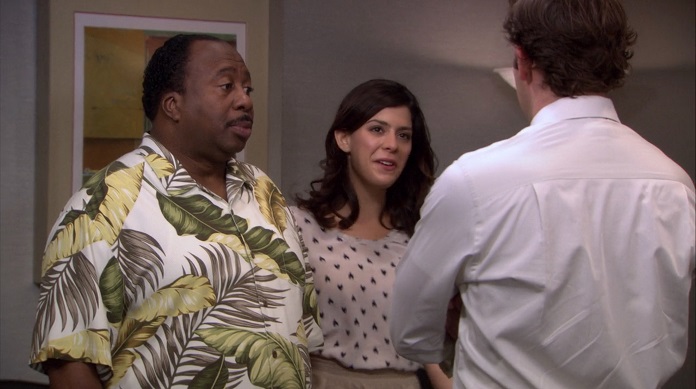 Her character, Simms, is one of the most hated characters in The Office fandom. The hatred has extended to the Lindsey Broad herself, who has been at the reception of a few negative comments. 
Altogether in her career, Lindsey Broad has worked primarily on television, with only three big-screen appearances so far. She has made 27 appearances on television shows, with other titles being Younger, Kevin Can Wait, Benders, and American Storage.
Lindsey Broad Most Prominent and Recent Work
The year 2011-2012 worked out beautifully as it was practically the most significant working year for Lindsey. Her role as Lisa in the comedy crime film, 21 Jump street, gave her a lot of media attention.
The movie was a box office hit amassing over $200 million with just a budget of over $50 million. There, Broad played a high school student and friend of Eric (Dave Franco) and Molly (Brie Larson). Lindsay displays a very Laudable oral-sex humor, and she was labeled a versatile funny woman. Her role in that movie gave her a platform to be featured in the romantic comedy-drama film, Don Jon. 
Building on the incredible feat and the exposure, in 2016, she worked with Josh Brener, Alexandra Daddario, and Paul Lacono in Rory Rooney's dark comedy Baked in Brooklyn.
Another notable role in her career is the more recent CW comedy series, In the Dark. In it, she starred as a recurring character, Chelsea, Murphy's (Perry Mattfeld) bartender friend, and Dean's (Rich Sommer) love interest.
Before appearing in the CW comedy, Lindsey Broad played a prominent role as Karen in eight episodes of the IFC comedy, Benders. She starred as the wife of the lead character, Paul Rosenberg, played by Andrew Shulz. Her part in the shortlived show is one of the few roles where she was a part of the main characters.
Lindsey's recurring role in the NBC series, The Office, is also one of the few projects that shot her to the limelight, although perhaps not in the way she hoped for. Her role, albeit controversial, further pushed her into mainstream popularity, thanks to the show's massive fanbase.
She Continues to Search for that Ultimate Breakthrough
Lindsey Broad is not the kind of actress to make repeated appearances in gossip blogs or significant industry events. Thanks to a combination of her reserved persona and modest onscreen roles, it is easy to think she is no longer working.
Save for a temporary break in 2016, due to the birth of her child, Lindsey has remained a working actress since 2007. However, for Lindsey, the search for a mega breakthrough continues, and if her talent is anything to go by, success is not that far away. Whether it is onscreen, or on stage, where she has starred in productions like Sukie and Sue: Their Story, the actress's time as a TV star may not be far away.
Lindsey Broad's Married Life with Sean Bradley
Lindsey took her marital vows with Sean Bradley in a very secret and small ceremony. The actress officially announced her marriage ceremony took place on July 5, 2014.
The actress has even posted the pictures of her and her husband getting cozy on vacation. The exact events that led to their relationship remain unknown. Online reports, however, suggest the couple had known each other for a long time before developing their romantic relationship.
The actress has not revealed much about her husband or her personal life. She is one of the celebrity stars who have kept her married life a very low profile. But she has been a bit revealing about her family life on social media as she is very active on Twitter and Instagram sharing photos of the activities of her family. 
The beautiful couple has two sons together. They had their first son named Teddy Bradley in 2017. Two years after, the couple welcomed their second son Harry Bradley in July 2019. Lindsey is so fond of her sons always posting pictures of her and her children together. 
Not much information is available out there about Broad's husband, Sean. But from his social media profile, we can deduce that he is thriving in his profession as a video editor. He enjoys spending time with his wife and kids. Sean also owns a YouTube channel, and sometime in 2019, he published a documentary about his family on his YouTube channel.