Blonde, fair and beautiful, Luisana Lopilato is an Argentine actress, model, and singer who grew in popularity after starring in the 1999 telenovela, Chiquititas which translates to "Tiny Angels," if you were wondering. Since then, Lopilato's life and career have seen a steady rise with a strong fan base within and outside of Argentina. Although she is best known for being the wife of Canadian songwriter and actor, Michael Buble, Lopilato has a fledgling identity of her own. Her modeling stint has seen her appear as the face of big brands such as L'Oreal Elvive and BlackBerry. If you were surfing the net to find more on her, you're right here. This post turns the spotlight on her bio, age, net worth, and height.
Luisana Lopilato's Bio, Age
Luisana Lopilato (a.k.a Luli) was born on May 18, 1987, in Parque Chas, Buenos Aires, Argentina to the family of Eduardo and Beatriz Lopilato. Although we've got no handle on what exactly her parents did for a living, we do know that she has two siblings (a brother, Dario, and a sister, Daniela) with whom she was raised in Parque Chas neighborhood of Buenos Aires.
Lopilato was a pretty precocious kid whose career began quite early, nevertheless, she managed to attend a regular school like the rest of her siblings. Asides what we've revealed so far, Lopilato hasn't expressly mentioned her educational background or other qualifications she may have gathered over the years. But her career success seems to have cast a shadow on all those concerns.
Career
While her breakthrough came through her appearance on the 1999 TV drama series Chiquititas, Lopilato has been chewing at fame since she was six; when she landed her first role in a TV commercial after a casting director was spotted her when she was out with her mother. She would later debut in the 1995 television series, Mi Familia es un di bujo, as a child model. Later, she starred alongside her brother as Luisana Maza in the widely-watched TV show Chiquititas.
From that time on, she has appeared on several TV shows and movies including Chiquititas, la Historia, Chiquititas: Rincón de Luz, Un Amor en Moises Ville (meaning, Love in Moises Ville); all in 2001. The producers of Moises Ville were reportedly blown away by Lopilato's performance so much that they arranged to have her learn English to enable her to reach non-Argentine audiences.
She later appeared in Rebelde Way (2001), Erreway: 4 Caminos (2004), Casados con Hijos (2005), Alma Pirata (2006), and the TV comedy, El Capo (2007); which was nominated for the Latin MTV Awards. Next, she delved into stage performances and starred in the play, Arlequin (2007). She and her brother, Dario Lopilato, starred in Atracción x4 (2008). She also voiced a character in the 2010 animated comedy, Plumíferos. With so much experience in the Latin American movie space, Luisana Lopilato never ventured into Hollywood until 2016 in the movie, Fair Market Value.
See also: Dany Garcia, Dwayne Johnson (The Rock) Ex-Wife – Bio, Wiki, Age, Net Worth
Luisana Lopilato's music career began with songs for the soundtrack of Chiquititas. Owing to the success of the show, Lopilato went on to produce four other albums as part of a contract with Cris Morena Group. While working on the set of Rebelde Way, Lopilato and her co-stars produced most of the show's music and then released three albums: Señales (2002), Tiempo (2003) and Memoria (2004). She also recorded soundtrack songs for the series, Atracción x4.
Her hard work has paid off time and again. Owing to her work in Casados con Hijos, she was nominated for and won a 'Martín Fierro Award' for 'Best Supporting Actress' in 2005 and 2006.
Salary and Net Worth
As far as specifics go, Luisana Lopilato's salary isn't so clear to us. However, sources put her net worth at over $2million. While that's no small amount, it's quickly dwarfed by her husband's $60 million fortune.
Michael Buble's Wife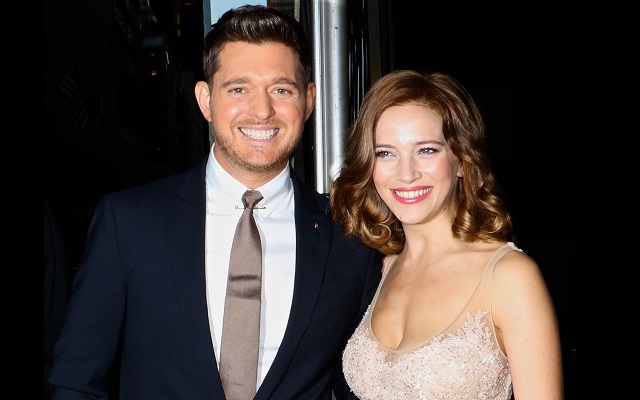 Although Lopilato had a good and long dating history with the likes of Felipe Colombo (2002-2005), Mariano Martínez (2005-2006), and tennis player, Juan Mónaco (2006-2008); she is currently married to the Canadian singer Michael Bublé. They first met in 2008, and a year later she appeared in his music video for Haven't Met You Yet. They were married on March 31, 2011, by Argentine traditional rights. The white wedding was held a month later.
So far their union has produced three children: Noah born August 2013, Elias born January 2016 and Vida born July 25, 2018. However, Noah was diagnosed with liver cancer hepatoblastoma in 2016, recent reports prove the little boy is doing just fine.
Height and Body Measurements
Luisana Lopilato has a slim build. She stands tall at 5 feet 6 inches (1.68 meters) and weighs 110 lbs (49 kg). She has shiny blonde hair and beautiful blue eyes. Her bust, shoe and dress sizes are 34D, 7.5 (US) and 4 (US) respectively. Her body measures 36-23-35 inches for bust, waist and hips.