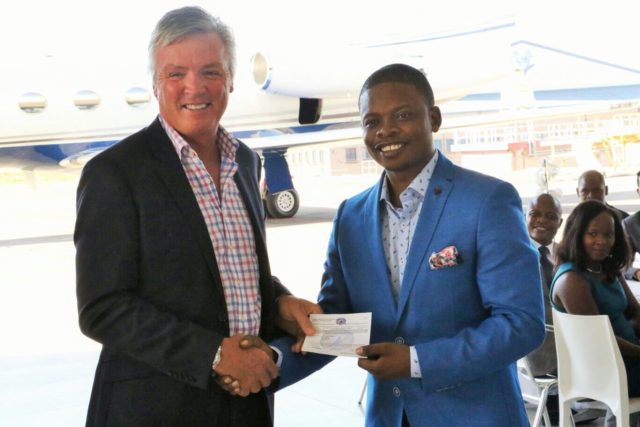 There are more pastors and prophets in Africa than in other continents who have flourished immensely through their religious activities. Prophet Shepherd Bushiri, the founder of Enlightened Christian Gathering Church (Bushiri Shepherd Ministries), happens to be among the richest people in the landlocked country of Malawi thanks to his prophetic and supernatural powers which has so far caught the attention of important people across the world.
Today, the 'supernatural prophet' has earned himself a reputation as a man of God with succinct prophecies. His over 200,000 congregations both in South Africa and Malawi puts him in a good position to influence the economic and political changes in these countries.
Prophet Shepherd Bushiri Biography, Family And Age
Born and bred in Lilongwe, Malawi, Prophet Bushiri who is also known as "Major 1" hails from a very poor African Christian family and was raised by parents who were both Christian. There is no factual information about the young prophet's parents and how old he is, but there are speculations that he is the fourth child a family of six children born by Huxley and Cristina Bushiri who hails from Zambia. According to the unconfirmed information, Bushiri was born on the 20th of February 1978 and that he was named Shepherd Bushiri by his mother after her ordeal while giving birth to him.
See Also: 21 Self Made Billionaires Who Are College Dropouts
Bushiri attended Moyale Secondary School located in Mzuzu where he obtained his SSCE. He furthered at Therapon University where he obtained his higher education degree. However, his journey as a prophet of God began at age 10 when a supernatural being he recognised as God appeared to him in a dream and ordering him to go warn the people of the world to repent of their sins. Thereafter, the prophet recounts that God kept appearing to him with messages for people and he was comfirmed by God Himself to be his prophet.  He is mightily used in prophetic, healing and deliverance ministries.
His ministry, known as the ministry of the book of Acts because of its numerous signs and wonders, has spread across the from Mzuzu in Malawi where he began and reaching to other countries like South Africa, Botswana, Zambia, Tanzania, Namibia and Ethiopia. The fast-growing Enlightened Christian Gathering (ECG) was launched in 2010.
Net Worth And Private Jets
If only we all had the talent, there would be more traffic in the air than the roads. The private jet craze has really infected our pastors and politicians. The Malawian pastor just purchased a new Gulf Stream private jet on January 6, 2016, making it the 3rd in his jet collection. What can I say, a brand new jet for a brand new year!
In an official ceremony organised by National Airways Corporation (NAC) in South Africa, the jet which was worth $37 million was unveiled and Bushiri was handed the certificate of a ZS-VIP by Larry Flynn, Gulf Stream Manager noting that he(Bushiri) is the youngest to afford a gulf stream jet.
Owning and maintaining private jets cost a fortune; that's why it is not so shocking to hear and see billionaires use them as luxury toys because they are typical money chasers and makers; we can get used to them but when it comes to "men of God", it raises plenty eyebrows. I mean, these are the people who will not fail to remind you that the world and everything in it is "vanity upon vanity, all vanity", yet fly a fleet of jets.
Prophet Shepherd Bushiri just became the 2nd pastor in the world with the highest number of private jets after Bishop Oyedepo who has about 4 of them. When attacked for lavishing an amount that can help the poor on Facebook, the man of God replied thus:
"When are you going to sell your phone which you have used to type here and give the money to the poor?"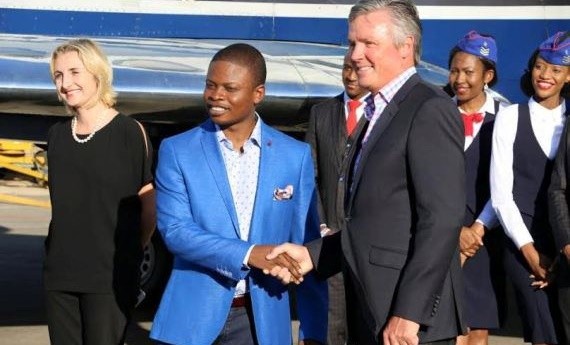 See Also: Prodigious Splashing Of Billions: See The Latest World's Most Expensive Private Jets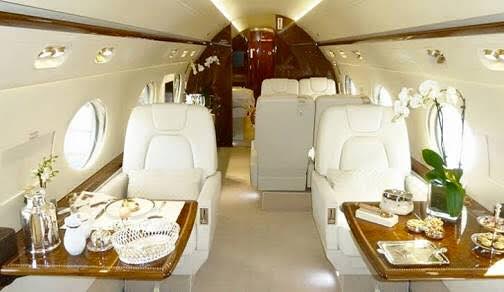 The stylish prophet who claims to be living by example has a net worth of about $150 million. The prophet also owns fleets of cars, houses in Malawi, South Africa and in some other Africa countries. The Shepherd is so rich that he doesn't collect church offerings from members of his church in all his services and his free channel popularly known as 'Prophetic Channel' has helped in reaching out to millions of people all over the world.
Aside from being a prophet of God, Shepherd Bushiri is an accomplished entrepreneur. He is into gold mining and real estate business and he owns an electronics company, a telecommunication company, various farms and a private University in South Sudan named the Bushiri University of Agriculture.
Prophet Shepherd Bushiri Wife And Children
The wealthy man of God is happily married to Mary Zgambo and they tied the knots on July 30, 2011. The union is blessed with two kids. The first child, a girl, was born in 2012 and her name is Isaraella. The second child, a son, was named 'Major Jesus' because according to the prophet, he was conceived by the Holy Spirit.
Prophetess Mary, as his wife is widely called, is known to be supportive of her husband and his ministry. She sometimes hosts programmes in her husband's church and joins him in most of his business trips. Mary is not just a wife of a prophet, she is a seasoned businesswoman and the C.E.O of Shepherd Bushiri Investments.