There are more pastors and prophets in Africa than in other continents who have flourished immensely through their religious activities. Prophet Shepherd Bushiri, the founder of Enlightened Christian Gathering Church (Bushiri Shepherd Ministries), happens to be among the richest people in the landlocked country of Malawi, thanks to his prophetic and supernatural powers, which has so far caught the attention of important people across the world.
Today, the 'supernatural prophet' has earned himself a reputation as a man of God with succinct prophecies. His over 500,000 congregations in South Africa alone has put him in a good position to influence the economic and political changes in the country. Nonetheless, Bushiri has equally been known as a controversial pastor, having been involved in several controversies since putting his ministry to a get-go.
How Prophet Shepherd Bushiri Began His Ministry
Prophet Shepherd Bushiri's journey as a prophet of God began at the age of 10 when a supernatural being he recognized as God appeared to him in a dream, ordering him to go and warn the people of the world to repent of their sins. Thereafter, the prophet recounts that God kept appearing to him with messages for people, and he was confirmed by God Himself to be His prophet.
Today, he is mightily used in prophetic, healing, and deliverance ministries. His ministry, known as the ministry of the book of Acts because of its numerous signs and wonders, has spread across Mzuzu in Malawi, where he began and reaching to other countries like South Africa, Botswana, Zambia, Tanzania, Namibia, and Ethiopia. His free channel, popularly known as the 'Prophetic Channel,' has helped in reaching out to millions of people all over the world.
See Also: 21 Self Made Billionaires Who Are College Dropouts
He is Immensely Popular As The General Overseer Of ECG
Famously known as "Major 1," Prophet Shepherd Bushiri is a Christian preacher who serves as the founder and General Overseer of the Enlightened Christian Gathering (ECG) Ministries, a Christian non-denominational evangelical church. Beginning his ministry in 2012 in Malawi, the self-proclaimed Prophet had only about 35 congregants, but within three years, the number of his registered members climbed to 1,500.
Presently, his ministry is known as one of the fastest-growing ministries in the African continent and the world at large. Having left Malawi in search of greener pastures and relocated to South Africa, Prophet Shepherd Bushiri has become one of the most popular pastors in South Africa and has lured thousands of worshippers to his church with signs and wonders.
He has more than 90,000 registered members in Pretoria, South Africa, where he situated his church headquarters, and thus far, the ministry has gathered over 700,000 registered worshippers in South Africa. On New Year's Eve, the country's 95,000 capacity FNB Stadium located in Johannesburg, used to be full of his members as many of them visit from the United Kingdom, the United States, and Asia.
Bushiri has become quite famed over the years for being gifted with the power of prophecy, as well as his ability to heal the sick and pray for the prosperity of his members. He has equally been popular as a result of the viral videos of him feeding his congregants with grass and rats, as they try to prove their faith through unsafe practices. Also, he appeared to walk on air in one of the videos, and this raised several eyebrows.
What You Probably Didn't Know About His Family
Born and bred in Lilongwe, Malawi, Prophet Bushiri hails from a very poor African Christian family and was raised by parents who were both Christians. There is no factual information about the young prophet's parents and how old he is, but there are speculations that he is the fourth child in a family of six children born by Huxley and Cristina Bushiri who hails from Zambia.
According to the unconfirmed information, Bushiri was born on the 20th of February 1978, and he was named Shepherd Bushiri by his mother after her ordeal while giving birth to him. Unfortunately, more details about his parents and siblings are not available to the media.
Prophet Sheperd Bushiri Is Happily Married To Prophetess Mary
The wealthy man of God is enjoying a flourishing married life with Mary Zgambo. The couple tied the knot on July 30, 2011, at FNB Stadium in Johannesburg. The union is blessed with two kids. The first child, a girl named Israella was born in 2012, and their second daughter is christened Raphaella.
Prophetess Mary, as his wife is widely called, is known to be supportive of her husband and his ministry. She previously worked as a senior manager for a non-governmental organization before transitioning into a seasoned businesswoman and prophetess. She sometimes hosts programs in her husband's church and joins him on most of his business trips. Mary also serves as the C.E.O of Shepherd Bushiri Investments.
The Prophet Has Amassed a Huge Net Worth  Through His Entrepreneurial Ventures
The stylish prophet, who claims to be living by example, has a net worth of over $150 million, which he mostly acquired through his business ventures. He serves as the founder of an international investment company, SB Investment (Pty) Ltd, which spreads its tentacles in the real estate, hospitality, mining, oil, and transportation industries. He additionally owns an electronics company, a telecommunication company, various farms, and a private University in South Sudan named the Bushiri University of Agriculture.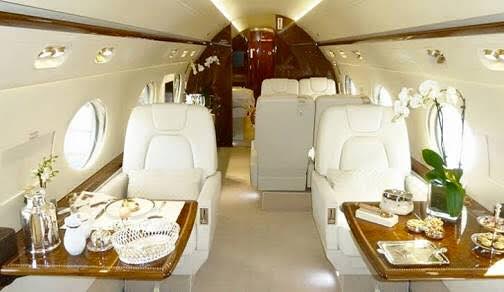 Bushiri is currently recognized as one of the wealthiest people in Africa, and thus, was inducted into the CEO Hall of Fame by the African Leadership Magazine in the year 2018. Known for his lavish lifestyle, the Malawian businessman has four private jets coupled with a fleet of luxury cars, including Bentley Bentayga Limited Editions, Rolls Royce Black Badge, Maserati Levante, Aston Martin One-77, and Mercedes Benz G Class, which he purchased for his wife. He also owns houses in Malawi, South Africa, and in some other African countries.
He Makes Much Money By Selling His Miracle Merchandise
Aside from his entrepreneurial works, The ECG founder has equally made a fortune from the sales of specially-designed merchandise emblazoned with his face and sold at his church premises to his massive members on Sundays. They include branded towels, miracle oil, wrist bands, T-shirts, caps, and calendars, that are said to have healing powers as the fraud accused pastor usually prays over them. Having accumulated vast wealth over the years, Prophet Shepherd Bushiri is ranked among the richest African pastors in the world.
The Many Controversies Prophet Shepherd Bushiri's Polemical Personality Has Courted
Prophet Shepherd Bushiri, who is widely regarded as a controversial pastor, has been embroiled in several controversies since he kicked off his ministry. A few years ago, he made claims of curing HIV patients, and this provoked a heavy backlash from the public as he didn't provide evidence for his claims.
Following his belief in miracle money, which seemed to break the Botswana laws, Bushiri was initially prohibited from entering the country, and his church was shut down during that time. Then, after a court appeal, his church was reopened, but the preacher now needs a visa to enter Botswana. The prophet additionally faced pubic scrutiny in 2017 when he allegedly charged R25,000 for someone to gain a seat at his table during a gala dinner organized at his church premises in Pretoria.
More so, he was accused of payment refusal by a Hong-Kong based businessman, Darlington Manyawu, who claimed to have supplied him clothing valued at R450,000 through his spokesperson, Maynard Manyowa, in the year 2019. The ECG spokesman, however, has since stated that the issue was between the businessman and Bushiri's spokesman, Manyowa, and had nothing to do with their General Overseer.
Prophet Shepherd Bushiri has further been accused of infidelity, as well as fraud and money laundering, with the latter case being charged to court by South Africa's Directorate for Priority Investigations (HAWKS). Having been accused of transporting an estimated R15 million per month from South Africa to Malawi since 2015, Bushiri and his wife, Mary were apprehended by the Hawks in February 2019. The ECG pastor subsequently faced trials in court before the case was postponed to July 27th, 2020.
He Was Criticized For Adding To His Jet Collection In 2016
If only we all had the talent, there would be more traffic in the air than the roads. The private jet craze has infected our pastors and politicians. In January 2016, the Malawian pastor added a third private jet to his jet collection, as he purchased a new Gulf Stream.
In an official ceremony organized by National Airways Corporation (NAC) in South Africa, the jet, which was worth $37 million, was unveiled and Bushiri was handed the certificate of a ZS-VIP by Larry Flynn, Gulf Stream Manager, noting that he (Bushiri) is the youngest to afford a gulf stream jet at the time.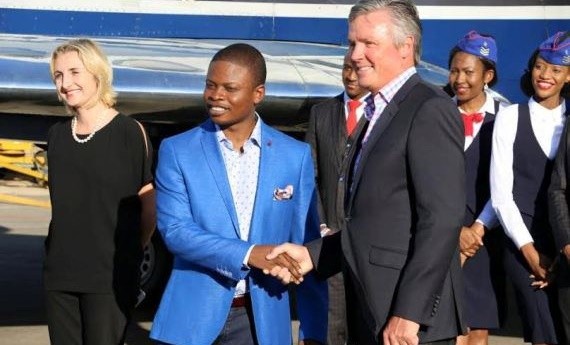 Owning and maintaining private jets cost a fortune; that's why it is not so shocking to hear and see billionaires use them as luxury toys because they are typical money chasers and makers. We can get used to them, but when it comes to "men of God," it raises plenty of eyebrows. I mean, these are the people who will not fail to remind you that the world and everything in it is "vanity upon vanity, all is vanity," yet fly a fleet of jets.
Becoming the 2nd pastor in the world with the highest number of private jets after Bishop Oyedepo of Nigeria, who had 4 of them in 2016, when he purchased the classy Gulf Stream, Prophet Shepherd Bushiri faced lots of criticism on social media. When attacked for lavishing an amount that can help the poor on Facebook, the man of God replied thus:
"When are you going to sell your phone which you have used to type here and give the money to the poor?"
Later in November 2019, the National Prosecuting Authority (NPA) alleged that the famous preacher acquired his 1984 Gulfstream aircraft with illegally obtained funds, and thus, applied for a forfeiture of the private jet in court. Eventually, the application wasn't successful.