Michael Avenatti is a renowned litigation lawyer in America. He has conducted several high profile cases and has represented some prominent clients in the course of his career. Avenatti rose to the limelight in 2018 when he represented Stormy Daniels in the suit she brought against U.S. President, Donald Trump. Daniels, an adult film actress, alleged that she had an affair with Trump and that he paid her to keep quiet so as not to ruin his chances of election. Avenatti's vigorous pursuit of the case eventually resulted in the conviction of Trump's former lawyer, Michael Cohen, through whom the hush money was paid. Aside from his heroics in the courtroom, Michael Avenatti is also a well-known analyst and businessman. He routinely appears on TV and in the print media to offer his opinion on topical issues. Here are facts about the attorney's professional and personal life.
Michael Avenatti Bio (Age)
Michael John Avenatti was born on the 16th of February 1971 in Sacramento, California. His family moved around a lot when he was a kid. As such, he found himself living in places such as Utah and Colorado. The family later made a 'final berth' in Missouri which is where he grew up. Avenatti attended Parkway Central High School and graduated in 1989.
For college, Avenatti attended the local university, Saint Louis University. He spent a year there before obtaining a transfer to the University of Pennsylvania. At Pennsylvania, he studied Political Science and graduated in 1996. Avenatti then attended the George Washington University Law School where he graduated at the very top of his class in 2009.
Michael Avenatti commenced his brilliant career while in school. In college and law school, he worked for a renowned political and research firm known as The Research Group. On graduating law school, he went on to work for various Los Angeles firms such as O'Melveny & Myers, Greene Broillet & Wheeler. This was until 2007 when he formed his own law firm, Eagan Avenatti, LLP.
In the course of his career, Michael Avenatti has represented celebrities, athletes and corporate bodies. He has also obtained multi-million dollar judgments against companies such as Kimberly-Clark, Halyard Health, KPMG and Service Corporation International. Michael Avenatti's career has however not been without controversy. His firm has been involved in issues of bankruptcy, taxes, and skipping of rents.
Additionally, during the Brett Kavanaugh confirmation saga, he brought forward a woman who claimed that she saw Kavanaugh behaving inappropriately towards a woman. The lady later retracted her statement, saying that she did not witness such a thing. The whole drama drew a cloud on the other women who had accused Kavanaugh of sexual misconduct. Kavanaugh was subsequently confirmed as a Supreme Court Justice.
Michael Avenatti has received several awards in his career. His alma mater, George Washington University School of Law conferred on him the alumni recognition award in 2010. He also has a prize (The Michael J. Avenatti Award for Excellence in Pre-trial and Trial Advocacy) instituted in his name since 2003.
Married (Wife and Girlfriend)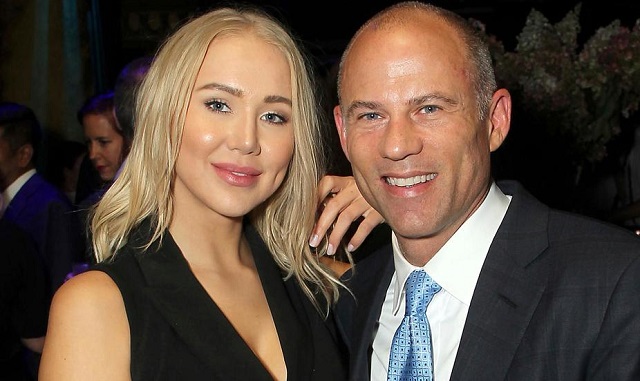 The high flying attorney has been married twice in his lifetime. He first got married to a lady named Christine Avenatti Carlin. The exact date they got married is not known but they knew each other when Avenatti was 21. The union lasted for 13 years and produced two daughters.
Avenatti got married again in 2011, this time to a lady named Lisa Avenatti, (nee Storie). The marriage produced one son and they divorced in 2017. As part of the divorce agreement, Lisa gained ownership of several prized assets such as artwork, luxury wrist watches, cars etc.
Michael Avenatti dated an actress named Mareli Miniutti between October 2017 and November 2018. The relationship turned sour in November 2018 after Miniutti accused the lawyer of physical abuse. Avenatti was arrested but he maintained that he did nothing wrong and that the allegation was just to tarnish his image. His ex-wives also vouched for him. Avenatti was later released without charge.
See Also:  Who is Brett Kavanaugh, SCOTUS Judge Nominee Being Accused of Sexual Assault?
Family and Parents
Not much is known about Avenatti's family background. His parents' name is unknown. His father, however, worked as an executive in Anheuser-Busch – an American brewery company based in St Louis, Missouri.
With regard to siblings, Avenatti has two step-siblings from his mother's previous relationship.