The Trump presidency, with all its controversies, has thrown up several interesting characters and one of the most high-profile amongst them is Michael Avenatti. A renowned litigation lawyer, Avenatti first established his reputation by conducting several notable class-action cases and going up against big corporations.
He then rose to the limelight in 2018 after representing Stormy Daniels in the suit she brought against U.S. President, Donald Trump, alleging that she had an affair with him and that he paid her to keep quiet so as not to ruin his chances of election. Avenatti's vigorous pursuit of this case resulted in the conviction of Trump's former lawyer, Michael Cohen, through whom the hush money was paid.
It also made him a celebrity of sorts as several media organizations brought him on as analysts. He became a vocal critic of the Trump administration and there was even talk of him potentially running for president in 2020. All that grand ambition has however fizzled out as the attorney is now involved in a myriad of legal troubles which is threatening his ability to even practice his profession.
The Golden Boy at George Washington University Law School
Michael John Avenatti was born on the 16th of February 1971 in Sacramento, California. His father was a business executive and the family moved around a lot due to work demands. As such, the young Avenatti found himself living in places such as Utah and Colorado. The family later made a 'final berth' in Missouri which is where he grew up and attended Parkway Central High School, graduating in 1989.
For college, Avenatti attended the local university, Saint Louis University, for a year before obtaining a transfer to the University of Pennsylvania. In Pennsylvania, he studied Political Science and graduated in 1996. He then attended the George Washington University Law School where he performed brilliantly in his studies. He stood out amongst his peers and graduated at the very top of his class in 2009.
Making his Mark as Class-Action Specialist
Michael Avenatti commenced his brilliant career while in school. In college and law school, he worked for a renowned political and research firm known as The Research Group and upon graduating law school, went on to work for various Los Angeles firms such as O'Melveny & Myers, and Greene Broillet & Wheeler. This was until 2007 when he formed his law firm, Eagan Avenatti, LLP.
In the course of his career, Michael Avenatti has represented celebrities, athletes, and corporate bodies. He has also filed class-action suits on behalf of ordinary individuals. Avenatti has obtained multi-million dollar judgments against companies such as Kimberly-Clark, Halyard Health, KPMG, and Service Corporation International. He has also gone head to head with formidable organizations such as the NFL.
All these exploits fetched Avenatti several awards. His alma mater, George Washington University School of Law, conferred on him the alumni recognition award in 2010. He also had a prize (The Michael J. Avenatti Award for Excellence in Pre-trial and Trial Advocacy) instituted in his name in 2003. Additionally, the attorney has served as a legal analyst for media organizations such as CNN, New York Times, and CBS's 60 minutes.
@michaelavenatti@StormyDaniels @andersoncooper@60minutes pic.twitter.com/U3pf6DHEaf

— Michael Avenatti (@MichaelAvenatti) March 8, 2018
Rising to Prominence with the Stormy Daniels Suit
All of Avenatti's career exploits made him a well-known name in legal circles. He, however, became a national figure after a former porn star, Stormy Daniels, contracted him to file a lawsuit against President Donald Trump in March 2018. In her lawsuit, Daniels alleged that she had sex with Trump in 2006 and that during the 2016 presidential elections, Trump's lawyer, Michael Cohen paid her $130,000 to keep her silent.
Such grievous allegations put Avenatti and his client on a warpath with the president who had vigorously denied the allegations. The case captured the interest of the American public for several months but was eventually dismissed. Also dismissed was another suit that Avenatti filed on behalf of Daniels alleging that the president had defamed her by calling her claims untruthful. Despite the failure of these two suits, Michael Avenatti utilized the fame provided by it to become a staunch critic of the president.
He fired off several tweets challenging Trump's policies on issues such as immigration. Additionally, during the Brett Kavanaugh confirmation saga, he brought forward a woman who claimed that she saw Kavanaugh behaving inappropriately towards women. The lady later retracted her statement, saying that she did not witness such a thing. The whole drama drew a cloud on the other women who had accused Kavanaugh of sexual misconduct and he was subsequently confirmed as a Supreme Court Justice.
His Travails with the Law
Since his 2018 exploits, Michael Avenatti has been mired in several criminal charges as well as civil suits. These cases consist of some mind-boggling allegations and the lawyer has tried to play it off as some sort of presidential conspiracy against him but nobody is buying that argument
Nike Extortion Case
Back in March 2019, prosecution authorities in the state of New York charged Michael Avenatti with an attempt to extort about $25 million from sportswear giants, Nike. According to the charges, Avenatti had met with Nike executives and accused them of offering bribes to amateur basketball players as well as their families. He threatened to make the whole thing public, and deal a blow to the company's stocks unless they showed him some financial considerations.
The honchos at Nike reported him to the authorities and he was subsequently arrested and charged with extortion. Avenatti pled not guilty and maintained that he had only contacted Nike on behalf of his client, an amateur basketball coach named Gary Franklin. Franklin, however, testified that he never instructed the lawyer to reach out to Nike, and thus, he was found guilty of all three charges in February 2020. He is yet to be sentenced, due to the Covid-19 lockdown, but analysts point out that the offense potentially carries up to 40 years in jail.
Theft of Book Proceeds belonging to Stormy Daniels
Avenatti also has another New York criminal charge persisting against him and it involves none other than his former star client, Stormy Daniels. According to details of the allegation, Daniels had released her much-anticipated memoir, Full Disclosure, in 2018 and tasked Avenatti with negotiating and repatriating the proceeds of the publishing deal. Rather than do this, the GW alum stole about $300,000 due to Daniels and used it to offset workers' salaries in his law firm. He also pumped some part of the funds into his coffee company.
Daniels did not find this funny and reported to the authorities who later charged Avenatti with wire fraud and aggravated identity theft. They alleged that he forged his client's signature and used the money for drying cleaning expenses, travel expenses as well as his Ferrari. Avenatti denied this allegation and maintained that he had never misappropriated or mishandled any money belonging to Daniels. He insisted that his firm provided legal services worth millions to Daniels and that she only paid about $100,000. The matter is still ongoing in court.
Wire Fraud and Bank Fraud Charges in Los Angeles 
On the same day that New York prosecutors filed a double-headed charge against Michael Avenatti, L.A. authorities also did something similar, accusing the lawyer of multiple counts of wire fraud as well as bank fraud. According to the court documents, Avenatti had negotiated a $1.6 million settlement for a client in a civil case and subsequently went on to receive the money. Instead of turning it over to the client, he proceeded to utilize it for his personal and business use and gave the client a fake payment date which never matured.
The lawyer did not stop at this juncture. Authorities also alleged that he submitted false tax returns to a Mississippi bank to obtain a loan worth $4.1 million for his law firm and coffee business in 2014. The false tax returns claimed that the lawyer had made tax payments to the IRS in 2012 and 2013 while evidence showed that he did no such thing. As per usual, Avenatti also pled not guilty to the charges and maintained that his innocence would be proved in due time. He was however mocked by Trump Jr. who asked him to get ready for jail.
Multiple Accusations of Embezzlement, Tax Evasion, and Bankruptcy Fraud in California.
In April 2019, a grand jury in California indicted Michael Avenatti on 36-counts of multiple offenses including embezzlement, wire fraud, tax evasion, bankruptcy fraud, and bank fraud. According to documents, the lawyer had swindled five of his clients including one who is paraplegic. The paraplegic fellow had reportedly obtained a $4 million settlement negotiated by Avenatti.
The sum was paid into the lawyer's account and instead of releasing the full sum to the owner, he only released the paltry sum of $124,000. He then proceeded to tell the client that the full amount had not been paid whilst using the same to fund his lifestyle, auto racing enterprise as well as purchase a private plane. Avenatti described the claims as bogus nonsense and the matter is still pending in court.
Good news for my friend @MichaelAvenatti, if you plead fast enough, you might just get to share a cell with Michael Cohen! #basta

— Donald Trump Jr. (@DonaldJTrumpJr) March 25, 2019
Potential Disbarment as a Lawyer
All these myriad of cases, allegations of stealing clients' money and extortion claims, made against Avenatti did not go unnoticed by the lawyer's association and in June 2019, they kick-started the process to get him disbarred from the state of California. The state bar association applied to place him on an involuntary active status due to his professional misconduct. This would temporarily prevent him from practicing as a lawyer until the entire process of disbarment is concluded which would now see him permanently removed from the roll call of lawyers in California.
In reaction to the steps taken by the California state bar, Avenatti revealed that he had expected it in light of all the charges pending against him. The attorney also revealed that he had offered to cooperate with the state bar in their investigations but they rather preferred to resort to a publicity stunt. He described the whole thing as a pile on and stated that he looked forward to being exonerated by facts. As it remains, the process is still ongoing and Avenatti is yet to be disbarred permanently or even placed on temporary suspension.
Twice Married, Twice Divorced
The troubled attorney has been married twice in his lifetime. He first got married to a lady named Christine Avenatti Carlin. The exact date they got married is not known but they knew each other when Avenatti was 21. The union lasted for 13 years and produced two daughters.
Avenatti got married again in 2011, this time to a lady named Lisa Avenatti, (nee Storie). Lisa is a native of California and holds an MBA from the University of California. She has worked at several companies including her ex-husband's coffee company, Global Baristas. She now has her fashion brand known as Ikaria Resort Wear.
As earlier stated, Lisa and Avenatti tied the knot in Cabo San Lucas in 2011. The marriage produced one son but they divorced in 2017. As part of the divorce agreement, Lisa gained ownership of several prized assets such as artwork, luxury wristwatches, and cars, etc.
The divorce has however gotten messy in recent times. In March 2019, Lisa granted an interview to DailymailTV in which she described her ex as a dead beat dad who doesn't bother to make time for his son. She also claimed that he owed her about $2 million in spousal support and had stopped paying for their son's health care plan.
Avenatti retaliated by claiming that his ex-wife was just a disgruntled person who has been suffering from prescription drug abuse and alcoholism for years. He also denied owing her or not providing health insurance for their son. He then went on to describe her as a lazy and entitled person who doesn't work.
Domestic Violence Allegations by His Ex-girlfriend
Following his separation from Lisa, Michael Avenatti began a relationship with an actress named Mareli Miniutti. Mareli is originally from Estonia and has scored minor parts in several Hollywood movies such as Crypto, Salome, Stake-Out, and Chuck. She also featured in the 2018 blockbuster, Ocean's 8.
Avenatti's romance with Mareli commenced in October. The relationship, however, turned sour in November 2018 after Miniutti accused the lawyer of physical abuse. According to her, they had been arguing about money when his attitude became threatening. She alleged that he threw a pillow to her face, dragged her out of the bedroom, and threw her out of his apartment. When she then attempted to seek help from the neighbors, he pushed her back into his apartment.
This allegation led to Avenatti being arrested in November 2018 on suspicion of felony domestic violence. He was later released on bail and maintained that he had never been physically abusive in his life. The attorney described the accusations as fabricated and bogus, adding that he would work to exonerate himself.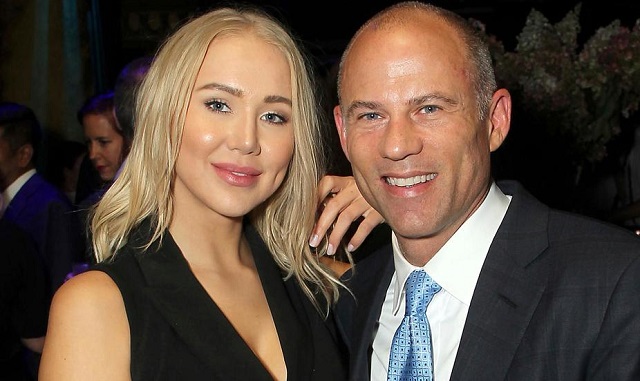 During this period, Avenatti received support from some quarters including his two ex-wives. Christine described him as a loving and kind father to their two daughters. She also stated that he has never been abusive towards her or anybody else. Lisa also toed a similar line. She maintained that there was no domestic violence in their relationship and that she had never known him to extend such treatments to others.
Such glowing testimonies certainly worked in the lawyer's favor as L.A. authorities revealed that they would not be pressing charges against him after a month of investigations. They, however, made it clear that the file will remain open and charges could still be brought at any time before the expiration of the statutes of limitation.