You probably would not have known this guy if he wasn't shot in the knee earlier in life – long before he ever entertained to the thought of becoming an actor. Michael Mando teetered between various career options before he finally found his fortune in acting. The career path with the most priority in his mind was that of an athlete, however, his pursuit of becoming a sports star was truncated by a knee injury he suffered in his mid-twenties. Today, Mando is luckily still able to put his athletic side to profitable use in the movie industry as an actor. Since making his debut in the new millennium, Mando has been more active in the small screen and is best known for his roles as Victor "Vic" Schmidt, Mac Gargan/Scorpion, and Nacho Varga in Orphan Black, the Marvel Cinematic Universe, and Better Call Saul respectively.
The Canadian Hunk Has Quite an Interesting Backstory
The Canadian actor can trace his origins to over 10 cities across 4 continents. As a young boy, his family frequently moved and before he got to his mid-twenties, his family had changed homes over a whopping 35 times. Mando, the middle child of his family was born on the 13th of July in 1981 in the city of Quebec, Canada. Though a French Canadian, Michael Mando's family is of Mexican descent and as a result, the actor speaks French, Spanish and English languages fluently and has learned various lifestyles and cultures in the course of their various migrations.
Mando was raised by his father, together with his two brothers, one older, the other younger. As a teenager, he enrolled in 4 high schools, 3 colleges, and 4 universities due to his ever-changing career preference and the fact that his family moved around a lot.
The 5 foot 9 actor was very athletic and took part in multiple sports including football, soccer, and ice hockey. He, however, quit sports when he sustained a gun injury on his knee (however, per his IMDb profile, he continues to play sports recreationally). Notable among the schools he attended is the University of Montreal where he studied International Relations before attending the Dome Theatre program in Dawson College where he finally discovered his innate acting ability.
Mando Got His Start In Contemporary and Classical Theatre
In 2004, despite having no prior training, Michael played various lead roles in 5 different plays at the Dome Theatre programs. The budding actor graduated from the college and was given credits for roles he played as Orlando in William Shakespeare's As You Like It, as Professor Katz in Pentecost and as Valentine Xavier in Tennessee William's Orpheus Descending. He was recognized as one of the finest upcoming talents to emerge from the program in over two decades of its existence.
He continued his acting exploits after leaving the theatre school and starred in two award-winning theatre productions before founding his own company – Red Barlo Productions. Red Barlow's first movie Conditional Affection was released in 2010 and was selected for notable international film festivals like Fantasia, Bare Bones, ACTRA Short films, and the New Hope. He starred in the film, as well as writing and directing it.
Michael Mando's debut as a TV actor was his guest appearance in Canadian crime series The Bridge, medical drama series Bloodletting and Miraculous Cures, CBC Canadian drama The Border, as well as on Canadian science fiction series, The Lost Girl. He played a lead role in 2010 feature film Territories and earned a frequent starring role in another Canadian TV series Les Bieus de Ramville as well as a guest appearance in Canadian police drama King.
Role in the First-person Shooter Video Game, Far Cry 3
Mando's first major recognition for his endeavors in the entertainment industry came with his involvement with the popular video game franchise Far Cry a product of UbiSoft. He successfully auditioned for the infamous role of Vaas Montenegro in Far Cry 3 which was released in 2012.
The makers of the video game were so impressed with his auditioning that they decided to model the character after his likeness, the character was also featured as the main face of the video game. Later in the same year, Mando reprised his role as Vass in Far Cry Experience, a web series based on the video game.
His role in the video game earned him a NAVGTR Award nomination for Lead Performance, Drama.
Best Supporting Actor Nod For Orphan Black and Continued Success
The next year after his Far Cry success, Michael Mando was cast in season one of the Canadian sci-fi thriller Orphan Black which was aired in 2013. His role as Vic, a violent drug peddler earned him a nomination for the Canadian Screen award's Best Supporting Actor in a Dramatic Program or Series. He continued to play this role through the second season. Also in 2013, Mando earned a Canadian Screen Award nomination for Best Guest Performance in a Dramatic Series for his appearance in one episode of the Canadian police drama series, Rookie Blue.
In 2014, Michael earned the role of career criminal Nacho Varga in the American TV crime series Better Call Saul. The show which is a spin-off of Breaking Bad has run for at least 5 seasons is perhaps the most successful acting role of his career. The series has garnered over 20 Primetime Emmy Awards and no less than 2 Golden Globe Awards.
He played the villain Mac Gargan in 2017 Spiderman: Homecoming, and in 2018 movie The Humming Bird Project, he featured alongside, Salma Hayek, Jesse Eisenberg, and Alexander Skarsgard.
Mando Prefers To Keep His Private Life, Private
Mando makes a deliberate effort to keep details of his personal life off the media space, leaving no clue to his growing number of fans into his romantic life. However, as far as we can tell, the Canadian seems to be unmarried. Michael Mando's secrecy about the woman in his life has led to much speculation that the actor is gay, but they are only mere speculations and nothing more.
Moreso, speculations of his queerness were somewhat refuted when he posted a photo of himself in a romantic embrace with a certain mystery lady. One of the pictures posted on February 14, 2017, shows Mando lifting the girl who hid her face from the camera.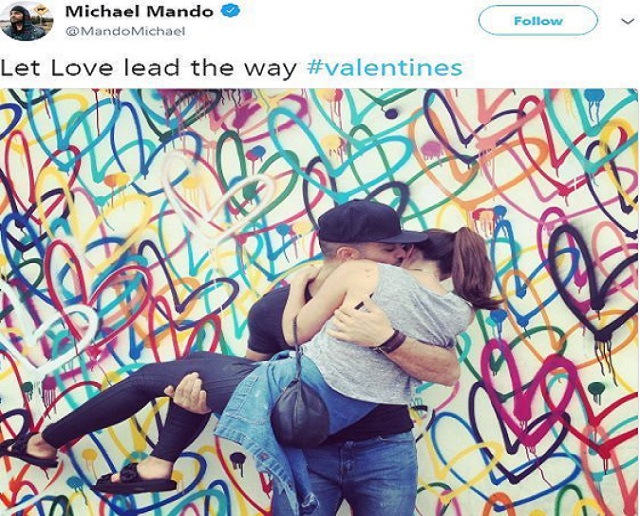 In July 2018, the actor again posted an Instagram picture of the same girl as they were having a nice time at the South Rim of the Grand Canyon. However, despite flaunting lovable pictures of the mystery woman, Michael Mando has remained tight-lipped about her identity and the status of their relationship.