Mbuvi Gideon Kioko or Mike Sonko as he is commonly known is the immediate former Member of Parliament for Makadara Constituency, in Nairobi Kenya. His first stint in parliament was through a by-election in which he floored established political figures- Ruben Ndolo. He became the first senator of Nairobi County after beating his rivals for the seat. Sonko also became the second governor of Nairobi County after a gubernatorial win in Kenya's general election in 2017. His win indeed deserved all the attention it received as the billionaire defeated the then incumbent Evans Kidero to secure the seat.
Here is all you need to know about the politician.
Mike Sonko Bio
Mike Sonko was born on February 27, 1975. He grew up with his family in Mombasa where he was born. He had his primary education at Kikowani Primary School in Mombasa and went to Kwale High School, Kwale County, afterwards.
He did it all, tasted both worlds and still came out successful.  Sonko spent his early years in crime, from mugging people in the streets of Mombasa to becoming a major international drug lord. He is a notorious jailbreaker, having escaped from Shimo La Tewa Prison under unclear circumstances.
Sonko towed the line of his father who was a successful businessman. What better way to practice his knowledge after school than working as an employee in one of his father's businesses. Sonko's father ran a property and real estate agency.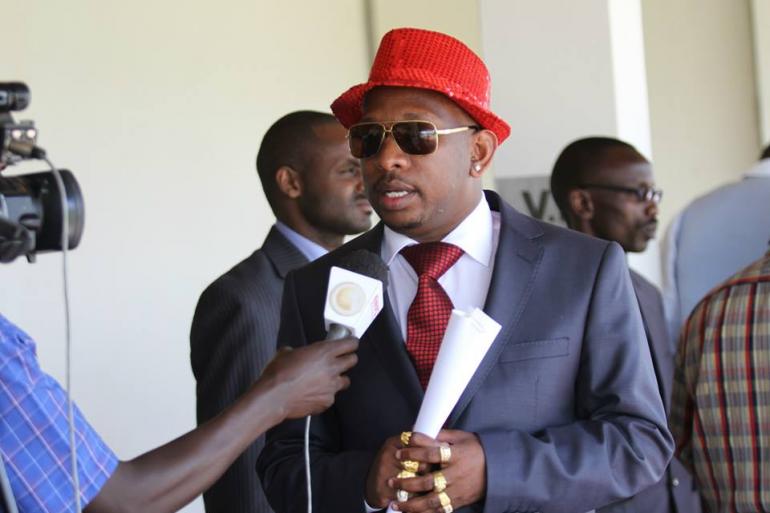 Sonko succeeded in proving to everyone that the experience gathered from his father who used to sell beach plots at the Coast to European buyers; massively paid off. While still in high school, he made profits up to the tune of Sh5 million under his father.
Wanting to create a career path in business, young Mbuvi took a course in Business Administration and Management at Edxcel International School in Mwanza and Pwani Business College.
From working as a sales manager under his father, Sonko gradually started his own business of purchasing and managing matatus (mini-buses/public vehicles) as well as real estate.
Mike Sonko Net Worth/Wealth/House/Cars
Its all about gold, pure gold and nothing but gold! Sonko has left the public drowning in speculations, regarding the source of his conspicuous wealth which is well evident in his fleet of pure gold cars, gold chains and accessories, gold mobile phones and gold furniture. The only thing not golden about him is his skin.
Sonko drives gold Cars and makes use of 24 Karat Gold Phones. There's more, the governor of Nairobi county drinks only from gold bottles.
It is not just his cars and accessories, Sonko also showcases his flamboyant wealth with his heaven on earth houses scattered across the country.
Mike Sonko has a multi-million mansion in Mua Hills in Maanzoni, Machakos. Reports have it that the filthily rich politician hired a foreign architect and also imported building materials for the house, which also cost KSh 150 Million for the design.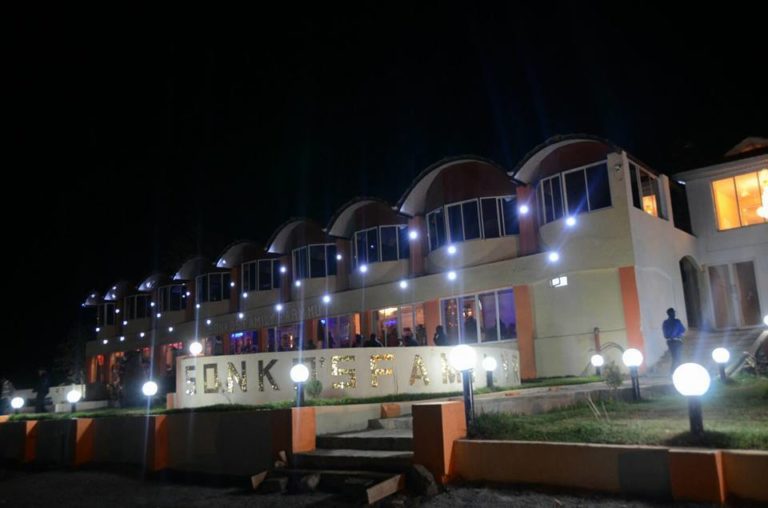 He also has another multi-million mansion in Mombasa. These are a few excluding his million dollar estates.
Mike's questionable wealth has raised several questions pertaining to his net worth. But Sonko has his over 5,000 matatus, real estate agencies and many other ventures to thank for his wealth and success. To debunk rumours of possible shadiness on his part the governor of Nairobi county has once said that he earns Ksh 6 million in a month from his matatus.
Just like his name Sonko which is sheng for a rich person the governor lives and breathes wealth, and exudes a kind of rich and influential aura wherever he is.
Mike Sonko Family: His Wife & Kids
Mike Sonko is married and has three daughters namely; Saumu, Salma and Sandra. All his daughters are from different mothers. Saumu is from the late Njeri, Salma is from a woman in Juja while Sandra's mother is from his current wife Primrose.
Even though he tries to present the image of a family man, his family and people close to him know otherwise. He is a well-known womanizer who has mistresses all over the place. In fact, his current wife used to be close friends with his late wife, Njeri. Sonko and his late wife used to have brawls all the time because of his unfaithfulness. He would sleep around with close friends of Njeri, thus the constant fights. Recently, unflattering photos of Sonko and Shebesh were splashed all over the media, proving that there was more than meets the eye in their relationship.
Mike Sonko Contacts
Being an outgoing and generous man of timber and calibre, Mike Sonko is one of the most sought-after high profile personalities. But being his free-spirited self, he does not hide his contacts away from the media.  Here are some of his contacts:
Mike Sonko Facts
Before Parliament
Before Mike Sonko joined parliament, he used to operate a fleet of matatus (Public vehicles) in Eastlands. How he got the capital to start this venture is anybody's guess. He also used to engage in various shady deals. Whether he is now on the straight and narrow is not clear.
Drug Lord
Just like his colleagues Harun Mwau and William Kabogo, Sonko would present the image of a victim while claiming his life is being threatened. In December 2010, the Central Intelligence Agency (CIA) named Sonko alongside Kilome MP Harun Mwau, Juja MP William Kabogo and Kisauni MP Hassan Joho as the leading drug lords in Kenya.
Don't Miss: Family quotes, Cheesy jokes
He is Popular
Despite his numerous scandals, Mike Sonko is very popular, especially among the youth. Maybe it has something to do with his manner of dressing and the way he carries himself. He tries as much as possible to identify with the youth. He always attends youth functions such as musical concerts and sporting events.
Court Cases
Mike Sonko has a number of court cases that are pending before the courts. In one of his cases, he is accused of defrauding a woman of money after selling her piece of land. He was recently accused of slapping a police officer at the Jomo Kenyatta International Airport. However, the cop has since withdrawn the court case and the case failed to proceed at the Kibera Law Courts.
Generosity
Mike Sonko is very generous and he can always be seen donating money to various youth initiatives. He caused a stir at the JKIA when he went to welcome our national team, the Harambee Stars, from a successful outing in Nigeria where they held the reigning African Champions to a 1-1 draw. He came bearing gifts, a million shillings from himself and another million from His Excellency President Uhuru Kenyatta, in cash I might add.
Development Record
He kept his word to the people of Makadara and he greatly improved their living conditions. He established various youth initiatives to help the youth in his constituency get a source of livelihood. He even campaigned for the abolition of parking fees for his constituents. He was recently named the patron of The Association of People with Dwarfism.
Social Campaigner
Mike Sonko is passionate about things that affect the common mwananchi. He recently intervened and resolved a dispute between mechanics who were operating at Grogan and managed to acquire a piece of land that was in dispute. He is also following up on the compensation claim for the people who suffered after the Sinai tragedy.