Many entertainers have had the privilege of reaching their career peak and garnering the admiration of their fans, but the task of keeping the fans love is quite harder than getting their love in the first instance. As celebrities rise and fall, so also does their fan base dimish for obvious reasons, however, this is not the case with Miranda Hart whose excellent and innovative performances has been wooing and winning the love of her loyal fans and also endearing herself to many others across the globe over the years.
Born with the proverbial silver spoon into a well to do family, Miranda Hart got a professional training in acting and ventured into showbiz, taking up comic roles in sitcoms. She went through radio series before she blossomed into a renowned comedian, actress, and author. Read on to know who this unique comedian's husband is, her body statistics, and her journey to weight loss.
Miranda Hart Biography and Age
Miranda Hart was born Miranda Katherine Hart Dyke on December 14, 1972, in Torquay, Devon, England to mother, Diana Margaret Luce, and father, David Hart Dyke, a retired Royal Navy officer, and former commanding officer of HMS Coventry. She has a younger sister named Alice Louisa Hart Dyke whom she grew up with in Petersfield, Hampshire. Miranda Hart was born in a family with an aristocratic background, with ancestral lines which include barons, marquesses, earls, and dukes.
She schooled at Downe House, an independent girls' boarding school where she was a classmate with the sports presenter, Clare Balding. She attended the University of the West of England in Bristol where she barged a 2:1 degree in political science, she had her postgraduate course in Acting at the Academy of Live and Recorded Arts.
Before making her mark in the British television landscape, after her post-graduate education, she worked briefly as an office manager and Assistant in the charity sector, the likes of Macmillan Cancer Support and Comic Relief.
Gradually she ventured into showbiz; by getting herself slotted in, for stand-up comedy shows, making appearances on radio and television stations before performing at the famous Edinburgh Festival and on the London comedy circuit.
She later appeared in a few series of sitcoms playing minor roles, notable among them is  Not Going Out (2006 to 2009), where she played the role of Barbara, a sarcastic cleaner. Her impressive role as Teal in two series of the BBC television comedy sci-fi sitcom entitled Hyperdrive earned her a British Comedy Award nomination.
Among all her works, her self-titled and produced sitcom, Miranda made her quite famous and she reached a wider audience. The sitcom was developed from her semi-autobiographical BBC Radio 2 comedy known as Miranda Hart's Joke Shop.
Miranda Hart was originally aired on BBC Two on November 9, 2009, with positive reception and comments that earned the show the Royal Television Society Award. Her popularity in the industry grew after Miranda earned her several other roles in TV series like Call the Midwife which ran from 2012 to 2015 on BBC. Her outstanding role in the series earned her the National Television Award.
Her Hollywood film debut was in 2015 in Paul Feig's film entitled Spy, where she played the role of Nancy B. Artingstall. She has so far appeared in several other films.
As a writer, she has written a good number of plays, a few of which she has featured in. In October of 2012, she released a book entitled Is It Just Me? The work contains stories, anecdotes and life advice she presented in her unique style. Her second book titled Peggy and Me was published in October of 2014. Her other writings include The Best of Miranda (2014), Miranda Hart's Daily Dose of Such Fun! (2017), The Girl with the Lost Smile (2017)
An accomplished entertainer with several awards to her credit, in 2010, she garnered British Comedy Awards in three categories: Best New TV Comedy, Best TV Comedy Actress and People's Choice Award (for Miranda season 1)
She has to her credit the Royal Television Society Award for Best Comedy Performance in season 2 of Miranda (2011). She is a passionate philanthropist who believes in giving back to the society, having worked in the charity sector, she alongside six other TV celebrities raised over $1 million for the charity Sports Relief in 2010.
Is She Married In Real Life?
Miranda Hart is quite single and has never been married, although she has got everything a man needs in a woman. Her marital status still beats the imagination of many and she has often be labeled as a gay as no guy has been romantically linked with her over the years. But again that statuesque has been called to question too as she has not been in any known romantic relationship with any lady or seen in a compromising situation any neither.
Whenever she is confronted with the question of having a partner, she would always respond that her sitcom was her baby. She has always been secretive about her affairs with regards to her personal life.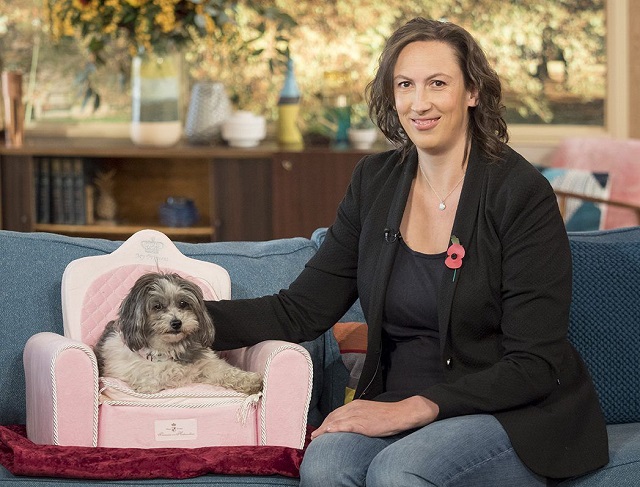 However, she has a Peggy dog that she loves so much and sees the dog as her "best friend". The dog is about 11 years old and although she is not married to the dog, she shares a special bond with her pet. It seemed she had been in a relationship that broke up and left her with a broken heart.
Her Journey To Weight Loss
In 2015, Miranda Hart looked different and somewhat unrecognizable as she appeared slimmer and healthier than ever at a press conference to promote her new film Spy, a fan who spotted her admitted to having done a double check to ensure she was the one.
Having already admitted her desire to shed off some pounds previously, it is therefore not surprising when in 2012 she eagerly and earnestly started up a new diet and exercise regimen. The constant exercise and routine diet she embarked on paid off with her massive weight loss that earned her accolades and much admiration. She already loves her new look and does not wish to return to the big size anytime soon.
Height
One of the outstanding attributes of Miranda Hart is her imposing height. Not many women are above 5 feet 9 inches, but this English entertainer is quite above that, with an additional inch. You don't need to look for her in a group picture, her height does the work. Aside from her height, she has also got a nice body shape which she has gained after her weight loss weight. She is currently standing at a height of 6 feet 1 inch (1.85 m).