With her distinctive curly hair, Molly Ball easily gets identified in any gathering of Journalists. In the course of her career, she has covered national political stories as they unfolded. Her resolve and commitment to leave no stone unturned in her career earned her the Toner Prize for Excellence in Political Reporting; this was after her outstanding 2012 Presidential campaign coverage.
Ball was born in Denver, Colorado, to German parents. Although she is an American by virtue of her birth, the journalist has German heritage; thanks to her parents. Most of her childhood was spent in Colorado; she once admitted that she was trained to be culturally literate as she was often forbidden from watching television as a kid. This probably contributed to her aptitude in understanding culturally-conditioned allusions as evidenced in her reports.
Molly Ball Started Building Her Career Profile In College
The Denver native schooled at Cherry Creek High School in Englewood and graduated in 1997. In the years that followed, she worked hard to attain her dream of becoming a notable journalist. As she has disclosed, her foray into the world of Journalism started right from her 5th grade.
After high school, she enrolled in Yale University where she acquired a degree in English Language and Literature. While there, she served as a senior editor of the University's publication, Yale Herald, a position she held until 1999. As a result of her incredible performances, she was named the editor of Yale Literary Magazine before graduating in 2001.
She reportedly started a newspaper in her neighborhood in suburban Denver while working for Hartford, Connecticut bureau of New York Times as a reporter on a part-time basis as a varsity student.
Her First Significant Work Was As A Reporter For Cambodia Daily
In the summer of 1999, Molly Ball started an internship at Toledo Blade in Toledo, Ohio, and the Pittsburgh Post-Gazette in Pittsburgh, Pennsylvania, in the Summer of 2000. The following year, she joined Washington Post where she equally interned in the capacity of a reporter, working with a highly experienced team that whetted her skills in journalism.
Molly Ball's first official job as a graduate came in 2001 when she got hired as a correspondent by Cambodia Daily. There, she mined her trade for two years before she left to join Las Vegas Sun as a general assignment reporter; this lasted from 2004 to 2006. She once again moved to Las Vegas Review-Journal in February 2006 and there, she served as a political reporter until August 2009.
The year 2009 saw her bag the prestigious Knight-Wallace Journalism Fellowship at the University of Michigan. As a result, she relocated to Ann Arbor, Michigan. She would later land a job with Politico, covering top national political news from 2010 to 2011. From October 2011 to that same month in 2017, she worked as a staff writer for The Atlantic in Washington D.C.
Becoming A National Political Correspondent For Time Magazine Is The Biggest Highlight Of Molly Ball's Career
It was in October 2017 that Ball joined Time Magazine. As a national political correspondent of the reputable media establishment, her duties revolve around covering the White House, political campaigns, and policy debates across the country.
Working with Time Magazine has earned Molly Ball massive clout in journalism. Now, her opinions and views on national politics are always sought after, she has appeared as a political analyst on several media outfits, including CNN, MSNBC, Fox News, NBC's Meet the Press, CBS's Face the Nation, and PBS's Washington Week, just to mention a few.
Awards and Recognition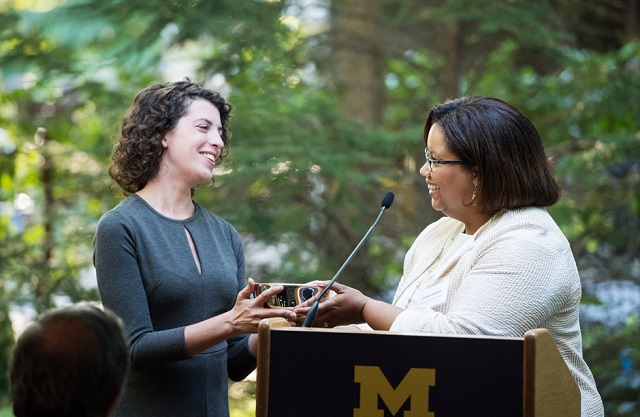 For her contributions to Journalism, she has been decorated with several awards and recognition. Some of them include the Toner Prize for Excellence in Political Reporting (2012), Lee Walczak Award for Political Analysis, and Sandy Hume Memorial Award for Excellence in Political Journalism.
Molly has also bagged the Society of Professional Journalists Sigma Delta Chi Award. In 2007, she participated in the popular TV game show, Who Wants to Be a Millionaire, and won $100,000.
She has become very popular, even on social media where she keeps her numerous fans updated on the latest political happenings. Also an author, Molly has published a book titled Pelosi. For her, the book offers a fresh and intimate perspective on Nancy Pelosi who has been serving as Speaker of the United States House of Representatives since 2019. The journalist regards Nancy as the most powerful woman in American political history and admires the politician a great deal.
The Journalist Got Married To David Kihara In August 2007
Molly Ball has been married for many years now and is a proud mother of three adorable children. She is happily married to a man named David Kihara. Although there are no many details with regards to their relationship, the couple has been together for over 10 years. Their union has produced three children; two sons and a daughter.
The journalist lives in Washington, D.C. with her husband and three children. Judging from what she shares on her social media pages, theirs' is a happy family that takes time to have fun. Molly is incredibly proud of her spouse and the family they have built together. While what she and her husband do for a living is demanding and time-consuming, the couple has found a way to balance their career with their family life without sacrificing one for the other.
Molly's Husband Is Also A Journalist
David Kihara is a renowned journalist who works as a senior editor at Politico. The journey of his journalism career dates back to his days in Seattle where he wrote for the Stranger. He has also worked for the likes of Village Voice (New York), Cambodia Daily, Las Vegas Sun, The Las Vegas Review-Journal, TBD.com, ABC7/WJLA, and Washington Post. His reports on child welfare issues earned him the Nevada Press Association Service Award.
Sorry to brag but my husband, who has only one flaw, sent me this for Valentine's Day. pic.twitter.com/s10PacREJx

— Molly Ball (@mollyesque) August 6, 2018
Even though it is hard to tell anything about David apart from his career and his marriage to Molly, it is no secret that he loves his wife a great deal. He has been very supportive of her career and is committed to building a happy and stable home with her.