Back in 2015 when Naomi Scott appeared in her first Hollywood movie, it was a moment of joy for her raving fans who had enjoyed her music and of course, her TV appearances for the last seven years or so. After a 2-year hiatus, however, she returned with appearances in Aladdin and Charlie's Angels.
The British actress and singer, who appeared as the pink ranger Kimberly Hart in the Power Rangers movie, seems to be the next big story in Hollywood. But if you think this is one of those people who stumbled on success overnight, you might want to have a rethink.
What Growing Up Felt Like For Naomi Scott
Naomi Scott was born on May 6, 1993, in Hounslow, London, England to the family of Usha Joshi and Christopher Scott. She has an older brother named Joshua who was raised with her in Essex where she attended Davenant Foundation School, Loughton.
As devout Christians, the Scotts trained their kids with strict moral upbringing and taught them to value the importance of service. This is why growing up, Naomi was involved in many missionary and outreach work. She would later begin her music career in the church as a chorister for the Bridge Church Youth Band before starting to sing and perform regularly at musical and drama productions at Davenant Foundation School.
Her Transition From Church Girl to Mainstream Sensation
Naomi Scott continued at her pace until she was discovered by British pop singer Kelle Bryan who signed her into her band. While working with Kelle, Scott also worked with the British songwriters and producers, Xenomania.
While still perfecting her singing talents, Naomi launched her acting career. She made her acting debut on Disney Channel UK where she played a role in the series Life Bites. In 2011, she then appeared in the Disney Channel film Lemonade Mouth. She also acted in the science-fiction series Terra Nova which premiered on Fox that year.
In 2017, Naomi Scott's role in the movie Power Rangers got her nominated for a Teen Choice Award. However, she never pocketed the prize. Part of her biggest career lows came after filming in the Oscar-nominated movie The Martian. Although her part was sliced off at the final production, that didn't limit her skills neither did she get discouraged. According to her, she did not blame the director for the decision at all. She admitted not putting in her best in the scene and was shocked but not surprised by the outcome.
Shortly after that, she played the role of Princess Jasmine in the remake of the movie Aladdin and later appeared as one of the three leads for the 2019 Elizabeth Banks movie, Charlie's Angels.
As a singer, Naomi Scott has appeared in the music video Hurricane by Bridgit Mendler. Afterward, she released an extended play titled Invisible Division and went on to release a second one titled Promise. Her debut single titled "Motions" was released in 2014 and she has since produced a few other singles such as "Lover's Lies", "Vows", and "Irrelevant" to mention a few.
To this day, Scott ties her career successes to the love and support of her parents.
What We Know About The Scotts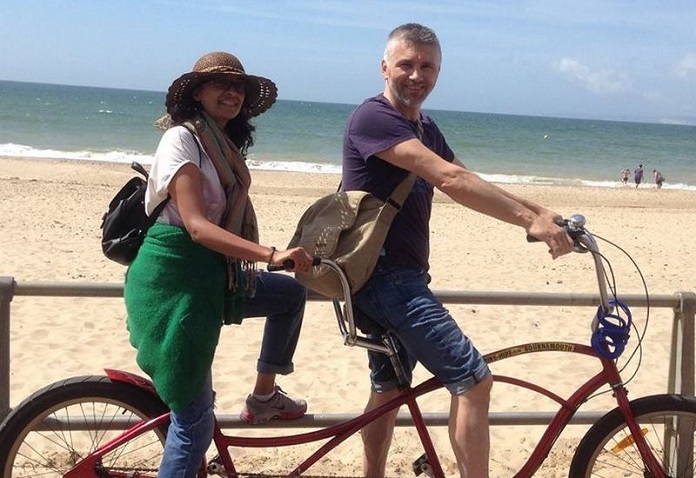 Naomi Scott is of mixed ethnicity. Her father Christopher Scott is of English descent while her mom Usha is of the Gujarati Indian descent. Usha's family had emigrated from India and settled in Uganda where she was born before they later moved to the UK.
Today, the Scotts are both pastors who oversee the affairs of the UK-based Pentecostal church, The Bridge Church, Wood Ford in Redbridge. It is not certain how many members they have at the moment. What is no secret, however, is their periodic bible study sessions which they broadcast from their home in the UK.
Talking about succession, since Naomi has gone the way of showbiz, all eyes are on her elder brother Joshua who many believe would carry on their parents' legacy as a clergy in the ministry.
Who is the Man in Naomi Scott's Life?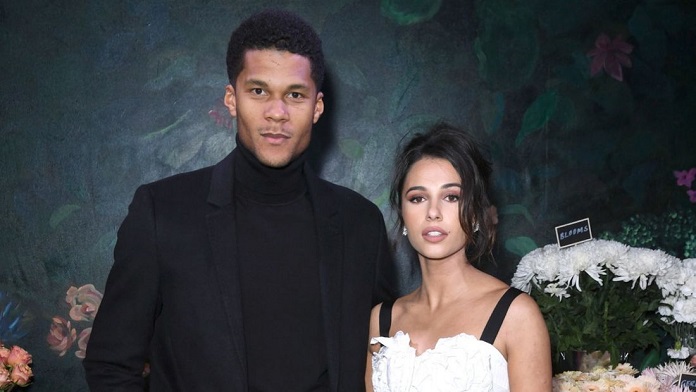 Getting found by Kelle Bryan was not the only good fortune that Naomi Scott landed in her parent's church as she also met her future husband, soccer player Jordan Spence in the church around 2009 when she was sixteen. The two dated for about five years before tying the knot in 2014 when she clocked 21.
If you're thinking that's a pretty young age to get married, then you have company as Naomi feels the same way too. She admits not being that person who wanted to get married at such a young age. It was not part of the many things she yearned for but love found her when she least expected.
The duo exchanged marital vows at a private wedding in London. Since then, there hasn't been any sign of trouble in the marriage. As far as we know, the couple supports each other's dreams despite the huge difference in their career paths. As of this writing, they have no children and they are yet to announce if they're expecting any.
See Also: Tinashe Parents, Age, Ethnicity, Height, Dating, Boyfriend, Net Worth
Jordan Spence is a Former England Youth Captain
As mentioned above, Jordan Spence is an English soccer player who was born on May 24, 1990, in Woodford, London, England. He started playing football at a pretty tender age, joining the youth ranks at West Ham United in 2004. He was promoted to the senior team in 2007 but was unable to force his way into the team. This meant that Jordan had to be loaned to multiple clubs between 2008 and 2014.
On the international level, however, Jordan has had the pleasure of serving as the captain of the England U16s, England U17s at the 2007 FIFA U-17 World Cup, and the England U18 team. He has further played for the England under-19 and U21 teams.
Naomi Scott's husband, who is comfortable playing anywhere across the defense, has since his West Ham days gone ahead to play for Milton Keynes Dons, one of the teams he was previously loaned to. He was with the team from 2014 to 2016 when he signed for Ipswich Town. In January 2020, he joined the ranks of the Dutch team ADO Den Haag on a contract that would last till the end of the 2019–20 season.
Jordan Spence has been doing quite well in his career and has emphatically praised his wife for supporting him even during periods where he found himself without a team that needed his services.