There is no limit to what anyone can achieve when they set their minds on it, especially when talent, determination, and perseverance are in abundance; this saying is so true for the prominent American actor, writer, comedian, and woodworker (carver) Nick Offerman. The versatile entertainer, who has starred in a good number of films and television series, has bagged the TCA Award for Individual Achievement in Comedy based on his role in Parks and Recreation, and his effort in Fargo earned him the Critics' Choice Television Award for Best Supporting Actor in Movie/Miniseries.
Offerman is not just talented in depicting characters in from of the camera, the Illinois born entertainer has also proved his mettle as a woodworker, with a specialty in constructing sea vessels and furniture. He is equally mighty with the pen, with three autobiographical publications under his belt.
Nick Offerman Began Building Up His Extensive Movie Portfolio By Appearing In Cameo Roles
Born Nickolas Offerman on June 26, 1970, in Joliet, Illinois, the talented actor studied Fine Arts at the University of Illinois, graduating in 1993. Destined to make ends meet through arts, he co-founded a theatre company named Defiant Theatre together with his fellow students. Nick Offerman started making appearances in films as far back as 1997, though in minor roles; some of which are Going All the Way (1997), where he played Wilks, City of Angels (1998), and Treasure Island (1999).
Whilst working as a fight choreographer and master carpenter at Steppenwolf, Nick hooked up with Amy Poehler, who was heavily into the Chicago improv comedy scene. It was Amy who gave the upcoming star the platform to explore his comic skills. The year 2003 saw him appear in some Television series like Will & Grace, where he portrayed the character of a plumber during the Thanksgiving episode of the series' fourth season. Nick Offerman was part of three episodes of The King of Queens and appeared in a single episode of The West Wing.
Before the talented actor stumbled on his Parks and Recreation role, his most prominent role was on the set of Gorge Lopez, where he was cast as a factory worker named Randy McGee, who was also Benny Lopez's love interest. Nick showed up a couple of times in Gilmore Girls, and in 2007, he came as a co-star in American Body Shop – the Comedy Central series where he was cast as Rob.
He Achieved His Groundbreaking Fame Playing Ron Swanson in Parks and Recreation
Offerman kept improving in his acting skills while landing several roles before he caught the attention of producers, Greg Daniels and Michael Schur, who deemed him fit to play the regular supporting role of Ron Swanson in their NBC sitcom Parks and Recreation. The 2009 role, which gave Nick his groundbreaking fame in the industry, is about the straight-faced, government-hating, libertarian head of a city parks department and Leslie Knope's boss (played by Amy Poehler).
The role weaves political philosophy and antagonism with humanity, as the forceful liberal philosophy his character lives out is frequently played off against the equally passionate "do-gooder" and social liberalism mentality of the character played by Poehler. According to Nick Offerman, supporting roles like that of Parks and Recreation happens to be his ideal roles, and he confessed to drawing particular inspiration from Christopher Lloyd's character of Reverend Jim Ignatowski, in the sitcom Taxi.
Nick Has Appeared In Several Other Major And Minor Roles
The American entertainer has shared the screen with Rob Huebel and Rob Corddry in Children's Hospital – the Adult Swim series. He also lent his voice to some animated series like Axe Cop, where he voiced the title character. In 2013, the comic actor joined the cast of Derek Waters' Drunk History on Comedy Central in the Boston episode, portraying the role of Johnny Cool. The next year saw him on the set of The Decemberists' video, Make You Better, depicting the character of a lovesick German talk show host.
His was part of 2004 November, Sin City, Cursed, and Miss Congeniality 2: Armed and Fabulous all in 2005. Nick Offerman joined the cast of Wristcutters: A Love Story in 2006; he was in 2009 The Men Who Stare at Goats, and in 2012, he appeared in two movies, namely Casa de Mi Padre playing DEA Agent Parker and 21 Jump Street as Deputy Chief Hardy. A couple of years later, he was featured in 22 Jump Street, reprising his role as Deputy Chief Hardy. In addition to starring in the 2012 movie Somebody Up There Likes Me, Nick equally served as the producer.
He starred alongside Jennifer Aniston and Jason Sudeikis in We're the Millers – a 2013 comedy. He was also featured in The Kings of Summer that came to light in 2015. Nick was the voice behind MetalBeard in The Lego Movie and played a starring role in the 2013 music video, Cocaine, by punk band FIDLAR's. He showed up in, Believe Me, and also joined the cast of Fargo for their second season in 2015, as Karl Weathers. That role, however, earned him the Critics' Choice Award nomination.
He also worked with his spouse Megan Mullally in 2015 Hotel Transylvania 2, voicing Grandpa Mike while Megan voiced Grandma Linda. Offerman depicted the initial establishment of McDonald's, Dick McDonald, in The Founder, released in 2016. His most recent appearance was in the 2018 music video The Greatest by They Might Be Giants – an alternative rock band. Since his career kicked off, Nick has appeared in well over 50 films, 44 television series, and one video game.
Nick Offerman's Exploits Outside Acting
When he is not busy in front of the camera, depicting one character or the other, the multi-talented entertainer functions as a writer. He has 3 autobiographical books published to his credit, they are titled – Paddle Your Own Canoe: One Man's Fundamentals for Delicious Living (2013), Gumption: Relighting the Torch of Freedom with America's Gutsiest Troublemakers (2015), and of course, the Good Clean Fun: Misadventures in Sawdust at Offerman Woodshop (2016).
As a woodworker, Nick has built boats, canoes, and items of furniture, which he showcases in his workshop. He once released a video capturing his wood art and craftworks.
His Net Worth Is Estimated To Be Around $4 Million
Nick Offerman has done well for himself in the entertainment industry, both as a writer and a craftsman. It is believed that the versatile actor earns the bulk of his fortune through his extensive filmography, which includes over 50 movies and 44 television series, and still counting.
However, the actor cum writer owes a few digits of his net worth to his stint in other fields like stand-up comedy, writing, and crafting. While the sales from his publications keep the dollars trickling in, the proceeds of his furniture, canoes, and boats have also impacted on his bottom line. As at the last review, the entertainer's net worth was estimated to be well within $4 million.
Who Are The Members Of Nick Offerman's Family
Nick Offerman was born to a nurse, Cathy Roberts, and a High School Social studies teacher father, Ric Offerman. The actor was raised along with his three siblings: a brother named Matt Offerman, and sisters, Carrie Offerman and Laurie Offerman.
Nick's grandfather, Ray Offerman, was said to be naturally funny and creative, and it was thanks to him that the young Nick was influenced into carving a career in comedy. The comedian was said to be very close to his grandfather, who would take him to the farm, where he learned how to make use of farm tools.
Nick Met His Wife On The Set Of The Berlin Circle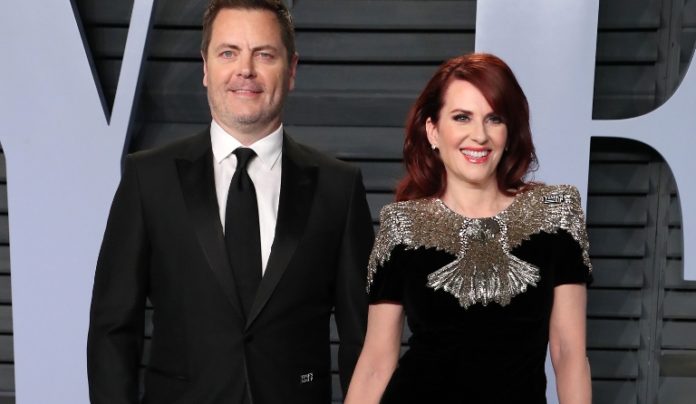 Nick Offerman is a married man, whose marriage has endured for almost 12 years. The celebrity actor is the husband of American actress Megan Mullally. Born in Los Angeles, California, on the 12th of November 1958, Megan is the daughter of Carter Mullally Jr and Martha Mullally. She is an alumnus of Northwestern University, Illinois, where she majored in English Literature. The American actress is popularly known for her beautiful displays in Will & Grace and Happy Endings film (2005).
The pair hit it off as friends after they met on the location of the film The Berlin Circle (a play from the stables of the Evidence Room Theatre Company) in 2000. While they were still dating, the couple was taking turns to appear in each other's productions. While Nick came in a guest role in Megan's sitcom Will & Grace, Megan appeared in a recurring role on the set of Nick's sitcom, Parks and Recreation.
They Exchanged Marriage Vows In 2003
The couple's dating life lasted for all of 18 months before they decided to take their relationship to the ultimate conclusion of marriage on the 20th of September 2003. Since they met, the duo has appeared together in several productions, such as Smashed and The Kings of Summer, and has voiced roles in Bob's Burgers and Hotel Transylvania 2. Nick has shared photos of their podcast on Instagram.
The couple had equally collaborated in a live comedy tour in 2016; the theme was their sex life. Despite the wide age gap between them, with Megan as the older, the couple's marriage appears to be built on a solid rock as no rumors of separation or divorce has come from their quarters since they exchanged marriage vows. According to what Megan told GQ Magazine, they made a two weeks rule never to be apart from each other for more than a fortnight, which has helped their love life a lot.
Megan, who was 41 when she met Nick at 29, also said she was pissed off when the guy revealed his age and almost ran her car off the road. However, she later re-considered things when she calmed down, and as they say, the rest is history. Since their marriage began in 2003, they are yet to have any child of their own. According to the couple, they tried to make babies after marriage, but things didn't work out.