Nick Young is a professional basketball player who became infamous for a number of off-court incidents during his time with the Los Angeles Lakers, one of which led to the popular 'Confused Nick Young' meme.
The California native refers to himself as the Prophet of Swag, hence the nickname Swaggy P. He is a versatile player who can play in all positions but the shooting guard and small forward positions. Young currently plays for the Golden State Warriors where he hopes to win his first NBA Championship.
Early Life
Nick Young was born Nicholas Aaron Young to Mae and Charles Young Snr. in Los Angeles, California on the 1st of June, 1985. He attended Grover Cleveland Charter High School in Reseda, California, where he featured prominently for their basketball team. In his senior year, Young was outstanding as he averaged 27.2 points and 10.8 rebounds per game. He managed a field shooting percentage of 57.3% and a three-point shooting percentage of 46.8% which earned him San Fernando Valley first-team honors.
Basketball Career
Young received offers from numerous colleges but he, however, chose to attend the University of Southern California to play for the Trojans. In his junior and sophomore year, he was named to the All-Pac-10 First Team. In the 2007 NCAA Tournament, he led his team to the Sweet Sixteen round where they were beaten by top-seeded North Carolina Tar Heels. After that year, Young decided to go pro, forgoing his senior year and enlisting in the 2007 NBA Draft where he was selected in the first round with the 16th overall pick by the Washington Wizards.
Nick Young played a total of 75 games for the Wizard as a rookie, however, only starting 2. He averaged 7.5 points in 15.4 minutes per game. Young went on to make a total of 335 appearances for the Wizards between 2007 to 2012. His most notable game for the team came on January 11, 2011, in a game against the Sacramento Kings where he scored a career-high 43 points.
In March 2012, Young was traded to the Los Angeles Clippers. He finished the 2011-12 season with the team and helped them secure a playoff position, their first in 6 years. After that campaign, Young signed a one-year deal with the Philadelphia 76ers.
The following season, Young returned to Los Angeles, but this time to the Lakers, wherein his first season he averaged a career-high 17.9 points per game under coach Mike D'Antoni. His performances led to him signing a multi-year deal with the franchise which would have him play in his hometown alongside Kobe Bryant till 2017.
Following the departure of D'Antoni and a few injuries that kept him out of action, Young struggled to get quality game time under coach Byron Scott who he has since that time out-rightly spoken on his discontent. He was later revitalized under rookie head coach, Luke Walton but chose to leave the team by not going for his option to extend his contract at the end of the 2016-17 season.
In July 2017, the now unrestricted free agent signed with the Golden State Warriors with whom he is now hoping to win his first NBA Championship.
What is Nick Young's Net Worth?
Nick Young is said to have a net worth of around $8 million which he has earned through salaries and endorsement deals over his 10-year plus NBA career. In his new one-year contract with the Warriors, Young is set to receive $5.2 million.
With that net worth, it is no surprise that Young can afford to live a lavish lifestyle, paying $3.4 million for a house as well as owning cars like a Ferrari, BMW 7 series and a 1962 Chevy Impala.
Read Also: Is Kevin Love Married to a Wife or has a Girlfriend? Who is his Dad, Family?
His Girlfriend and Baby Mama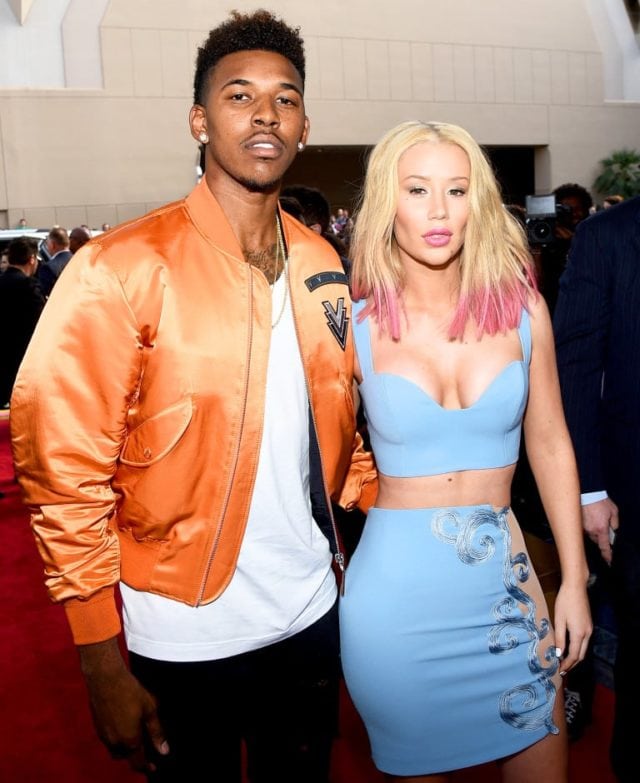 It is not clear if Nick Young is in any serious relationship at the moment. He was previously engaged to Australian rapper Iggy Azalea in 2015, reportedly splashing out $500,000 on a diamond engagement ring. Azalea later called off the engagement following revelations that Young had cheated on her with his baby mama, Keonna Green.
Green, who is the mother of Young's first child, Nick Young Jnr., announced that the pair were expecting a second child which was conceived during his engagement to Azalea. Young and Green met in high school. She was a cheerleader while he played on the basketball team.
Height, Weight, and Body Measurements
Birth Name: Nicholas Aaron Young
Date of Birth: June 1, 1985
Place of Birth: Los Angeles, California
Nationality: American
Profession: Basketball Player
Height: 6 feet 7 inches (2.01 m)
Weight: 95 kg (210 lbs)
Chest: 45 inches (114 cm)
Waist: 36 inches (92 cm)
Biceps: 15 inches (39 cm)
Shoe Size: 9 US (40 EU)