Nina Earl's basketball career took off from her high school days when she recorded 2,291 points, 906 rebounds, 298 assists, and 544 steals. She is well gifted in both basketball and field events and as a result, she participated in the two; but she won more trophies and titles in her basketball career. She tied the knot with her famous college heartthrob – Russell Westbrook and has been enjoying marital bliss ever since.
If she had not found her joy in the game of basketball, music would have been her best career choice as Nina Earl is also a talented singer. Among her many talents, she is also proficient in sign language. There is more to her like her biography, net worth among other interesting facts.
Nina Earl – Bio
The young Nina Earl was born somewhere in California, on January 16, 1989. She attended Diamond Ranch High School located in Pomona, California where she signed up for basketball and track events. Nina Earl never had a dull moment in her high school basketball career and brought her career to a glorious end with impressive records of 2,291 points, 906 rebounds, 298 assists, and 544 steals. She was instrumental in leading her team to a 2006 CIF 3AA championship as well as the 2007 CIF games where she single-handedly scored 35 points. Her wonderful skills/records earned her two CIF Player of the Year Honors and the League MVP for three seasons.
Her exemplary record-breaking outings got her a four-year athletic scholarship with the University of California in Los Angeles (UCLA). In her freshman season, Nina Earl featured in 27 games and recorded a 15-point average. Her fine form continued and she kept increasing in her points through her sophomore season and beyond.
She immediately enrolled for her Master's after her first degree in the same school graduating from the UCLA in 2011 with a degree in Psychology and English where she majored in the former and minored in the latter. From the same institution, she bagged her Master's degree in Clinical Psychology.
As a racing athlete, she participated in 4 × 400 relay race as well as 400-meter race in the CIF League, after her college career, Nina Earl was said to have played basketball for FBC in 2006 and won the Adidas Tournament of champions same year.
It is on record that Nina is not only gifted in sports; she is equally talented in music and has a passion for food and sign language which she has proven her proficiency in the art.
Family
Nina Earl is a daughter to Michael Earl and Jennifer Lyons, and she was not an only child as she has three brothers, namely – Michael, Jonathan, and Benjamin. There is no record pertaining to the occupations of her parents and where they currently reside. Nina is the cousin to a former UCLA footballer – Kenny Easley. It seems athleticism runs in the family.
Facts About Russell Westbrook's Wife
Nina Earl is married to Russell Westbrook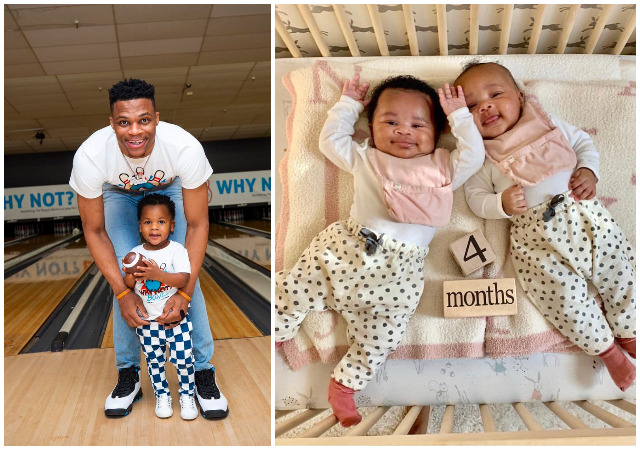 Nina Earl is married to her UCLA school mate and fellow basketballer, Russell Westbrook. The two first met at school in 2007 and entered into a relationship. When Russell proposed, he did so with a ring worth over $700,000. They were pronounced husband and wife on August 29, 2015, in a wedding that was graced by family and close friends.
Their marriage has produced three lovely kids – a son born in May 2017 named Noah and set of twin daughters born in November 2018 named Sky and Jordan.
Russell Westbrook is currently mining his trade in the NBA and plays in the point guard position for the Oklahoma City Thunder where he landed a 5-year contract with the team in 2016 worth $80 million.
See Also: Tony Parker Age, Married, Wife, Girlfriend, Height, Kids, Parents, Affair
Net Worth
The award-winning basketball player has seen it all in the game of basketball which has earned her wealth and recognition in return. Though she has retired from the game, the money Nina Earl garnered from the game was judiciously put into use. She owns and runs a kiddie entertainment centre and a boutique in Oklahoma named Little Ark. Her net worth is yet to be reviewed but she is surely worth millions of dollars.
Height
She has an athletic body with a commanding height of 6 ft 1 inch (1.85m) tall just few inches shy her spouse's height of 6 ft 3 inches.