From The Newsroom to Magic Mike and Mortdecai, Olivia Munn has quietly made a name for herself in Hollywood. Since she started working professionally in 2004, she has made multiple appearances on the big and small screen in both lead and supporting roles. Not only has she been working consistently onscreen since then, but she has also expanded her impact, with a career in modeling, activism, and philanthropy.
From her busy childhood years to how she made her name in Hollywood as well as her relationship history, Munn has lived a fascinating life. We cover everything you need to know about her, starting with the fact that she has a multi-ethnic ancestry, one of which is Vietnamese Chinese.
Olivia Munn Had a Globe-Trotting Childhood
Born on July 3, 1980, in Oklahoma City, Oklahoma, as Lisa Olivia Munn, the actress's father, Winston Barrett Munn, is of English, Irish, and German descent while her mother Kimberly Schmid is of Chinese origin and was born and raised in Vietnam.
Her parents divorced when she was just two and so her mother later remarried a U.S Air Force personnel. Due to his profession, Olivia and her family relocated several times to multiple cities in various countries around the globe. However, as a proportion, she spent most of her childhood years in Tokyo, Japan, growing up on the Yokota Air Base.
Aside from the lack of stability, Olivia did not have a great relationship with her stepfather. She has accused him of being demeaning and verbally abusive.
When Olivia Munn's mother divorced her stepfather, she and her mother relocated to Oklahoma where she completed high school at Putnam City North High School. She later graduated with a B.A in Journalism from the University of Oklahoma where she also minored in Japanese and Dramatic Arts.
Olivia Munn Worked at a TV Station Before Starting an Acting Career
Upon graduation, Olivia Munn briefly worked with an NBC affiliate in Tulsa, Oklahoma before moving to Los Angeles, California to pursue an acting career. She, however, had a stint working for Fox Sports network in 2004 as a sideline reporter for college football and women's basketball. She has disclosed her regrets for initially taking up the job as she never enjoyed it for once.
After quitting the role, Munn made her debut in the movie Scarecrow Gone Wild before starring in a music video for Zebrahead's Hello Tomorrow. She furthered her movie career with roles in National Lampoon's Strip Poker and The Road to Canyon Lake. The actress also starred as Mily Acuna in Beyond the Break, a television drama aired on The N Network.
While searching for her breakthrough in acting, Olivia Munn took some hosting gigs. She was a co-host of the G4 Network show with Kevin Pereira titled Attack of the Show! She also hosted Formula D and an online podcast called Around the Net in 2006. Just before her breakthrough in 2010, she starred in Big Stan and the horror film, Insanitarium.
She Found Fame with Her Roles in Iron Man 2 and The Newsroom
Munn's big break in the film world came in 2010 when she starred in Date Night and Iron Man 2. She then appeared in the NBC TV series Chuck as a CIA agent before featuring in I Don't Know How She Does it, The Babymakers, Freeloaders, and Magic Mike. Her appearance in those films raised her profile, and she got another significant boost with a role on Comedy Central's The Daily Show.
The actress joined The Daily Show as a correspondent in June 2010, and her appearance drew controversy after journalist Irin Carmon accused the show of hiring her for her looks. She was on the show for more than a year, a time during which she helmed the segment, Tiger Mothering.
Olivia Munn's most prominent role, however, came in 2012 when she starred in the HBO show The Newsroom as Sloan Sabbith, an economist who worked for the show's fictional news network, ACN. She starred on the show from 2012 to 2015, appearing in 25 episodes.
Since then, she has made other appearances in films like Ride Along 2, X-Men: Apocalypse, Mortdecai, Office Christmas Party, Ocean's Eight, The Buddy Games, and The Rook. So far, she has starred in over 49 movies and TV shows.
Her work has gained her wide admiration and earned her two award nominations; Outstanding Female Actor in a Supporting Role at the Gracie Allen Awards and Best Actress in a Drama Series at the Women's Image Network Awards.
Olivia Munn has a Diverse Professional Footprint
Olivia hasn't limited herself to acting and modeling alone. She has taken an interest in writing and so in July 2010, she released her first book titled Suck It, Wonder Woman: The Misadventures of a Hollywood Geek.
Munn also has a modeling career. She started modeling in Japan and has appeared in campaigns for Nike and Pepsi. The actress modeled for Neutrogena in 2006 and also appeared on the cover of Foam Magazine, Men's Edge magazine, and in pictures for Complex all in that same year. In February 2017, she appeared on the cover of Playboy magazine and was named The Babe of the Month.
She has since then appeared on an issue of Men's Health and Vanity Fair and featured on the cover for the issues of Maxim and FHM magazine.
See Also: Selena Gomez Age, Height, Weight, Dating, Boyfriend, Parents, Sister
Olivia Munn Has Dated Quite a Few Men In and Around Hollywood
Since Olivia Munn became part of Hollywood in 2004, she has been in a few relationships. From actors to athletes to businessmen, her dating history has a diverse number of personalities from various walks of life. But do not expect her to settle down someday. The actress has expressed disinterest at the idea of being married to one person for life.
Bryan Greenberg (2007-2009)
Olivia Munn and Bryan Greenberg, famous for his role on One Tree Hill, dated for two years between 2007 and 2009. There are no prizes for guessing how they met, as it was most likely at an industry event. As for why it ended, the answer remains unknown.
Chris Pine (2009-2010)
Her relationship with Chris Pine was not a serious one. The two of them were together for five months before calling it quits. They began their relationship in late 2009 and are believed to have ended things in January 2010.
Brad Richards (2011-2012)
Similar to her relationship with Chris Pine, Olivia Munn and hockey player Brad Richards dated for two months. The relationship's potential died shortly after it began when the actress realized she only liked him as a friend.
Joel Kinnaman (2011-2014)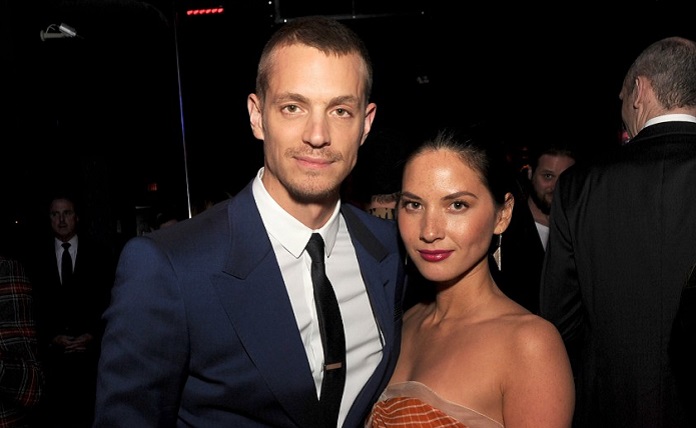 Joel and Olivia did not confirm their relationship until 2012. They reportedly met each other in 2011 and were together for two years, a time during which they had a relatively quiet run as a couple. The duo confirmed their break up which happened a few months before, in April 2014.
Aaron Rodgers (2014-2017)
Munn's relationship with Aaron Rodgers is undoubtedly the most high-profile relationship of her Hollywood career. She began dating the Green Bay Packers quarterback in 2014 amidst distrust and rejection from Rodger's family.
According to sources close to the couple, Rodgers' family believed she wasn't with him for the right reasons. The lack of acceptance drew a wedge between Rodgers and his family, as he chose Olivia over them. However, the relationship ended in 2017 for reasons that include the degree of media attention it brought to their lives.
Alex Gonzalez (2018)
Alex Gonzalez and Olivia Munn dated for three months in 2018. The news of their relationship broke in April and before the end of the year, the couple entered splitsville.
Tucker Roberts (2018-Present)
Olivia Munn has been dating Philadelphia Fusion president, Tucker Roberts, since 2018. The two of them first became a public item in December of that year as they were seen holding hands during a shopping trip in Los Angeles. One year after, they confirmed their relationship with a joint appearance at the November 2019 celebration of A Day of the Dead in LA.