When her nude pictures got leaked on the internet after her phone was hacked, one would have assumed Olivia Munn would call it quits in pursuing a career that would always have her on the spotlight, but rather than cower, the belle took in all the negative trolls that come with such and still kept to her dreams of making it big in the modelling industry. Olivia has continued to thrive as a model and actress. She is popularly known as the "Greek Goddess." Here, you will learn a lot more about the goddess.
Olivia Munn Bio (Ethnicity, Age)
Born on July 3, 1980, in Oklahoma City, Oklahoma as Lisa Olivia Munn, her father Winston Barrett Munn is of English, Irish and German descent, while her mother Kimberly Schmid is of Chinese descent and was born and raised in Vietnam.
Her parents divorced when she was just two and this saw her mother remarrying to a US Air Force personnel who was stationed in Yokota Airbase in Tokyo Japan. It was here that little Olivia Munn grew up. Nevertheless, she had complained countlessly about her stepfather who maltreated her. She has siblings named John and Sara. Her brother, John, works as a physicist while her sister, Sara, practices as a lawyer
Olivia attended Putnam City North High School in Oklahoma following her mom's relocation to the States after her divorce from her second husband. She graduated with a B.A in Journalism from the University of Oklahoma and also minored in Japanese and Dramatic Arts.
Career
Upon graduation, she worked with an NBC affiliate in Tulsa briefly before she went pursuing an acting career and worked with Fox Sports network in 2004 concentrating as a sideline reporter for college football and women's basketball. She has disclosed about her regrets for initially taking up the job as she never enjoyed it for once.
Olivia's modeling career started in Japan where she represented the Japanese Fashion industry. She campaigned for Nike, Pepsi, and Neutrogena in 2006 and also appeared on the cover of Foam Magazine, Men's Edge magazine and in pictures for Complex all in that same year. The model appeared on the cover of Playboy magazine where she earned The Babe of the Month award.
She also appeared on the issue of Men's Health and Vanity fair where she represented them as Hot Young Hollywood and featured on the cover for the issues of Maxim and FHM magazine. Consecutively, Olivia was elected as the second in rank of the Hot 100 women of 2012 by Maxim's readers.
Olivia Munn had her debut in the movie "Scarecrow Gone Wild" and shot as a model for Zebrahead's music video "Hello Tomorrow". She furthered her movie career with a role in "Hedonism II," "Lampoon's Strip Poker" and "The Road to canyon lake." The actress also starred as Mily Acuna in "Beyond the Break" a television drama aired on The N Network.
The Lady was a co-host on G4 Network with Kevin Pereira and also featured in a show named "In Your Pants" and consecutively ran "The Attack of Show" and "Formula" in 2006. In 2007, she acted as an insane nurse in the movie "Insanitarium" as well as a receptionist in "Big Stan."
She was on Microsoft's advert for their search engine Bing in 2009 and also appeared on ABC Family's "Greek." Her big break in the film world started in 2010 when she acted "Date Night" and "Iron Man 2" for which her fame rose and being popular was inevitable. Following this, she made notable appearances on "Chuck" as a CIA agent, with others being "I Don't Know How She Does it," "The Babymakers," "Freeloaders" and "Magic Mike."
Olivia didn't limit herself to acting and modeling alone, she took interest in writing and in July 2010, she released her first book titled Suck It, Wonder Woman: The Misadventures of a Hollywood Geek.
Who is she Dating, Her Boyfriend or Husband?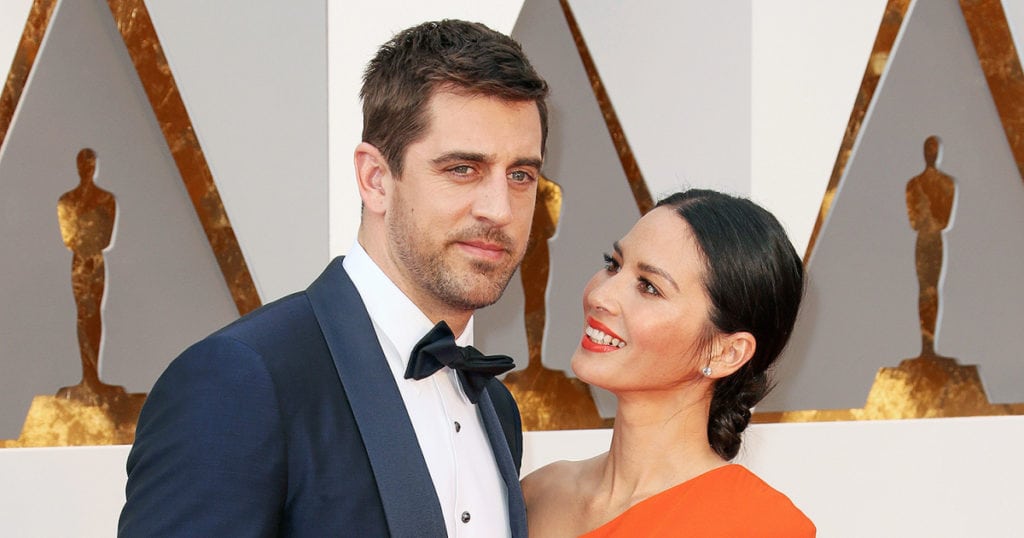 The actress, model, and writer first dated Joel Kinnaman who is an actor; their relationship lasted for two years before it saw no purpose for their continuation and thus they called time on it. She later dated Chris Pine and Mathew Morrison at various times. Olivia may have probably concluded that she had found love with Green Bay Packers quarterback Aaron Rodgers in 2014, unfortunately, their relationship failed in 2017.
See Also: Selena Gomez Age, Height, Weight, Dating, Boyfriend, Parents, Sister
There are no records of who she is dating at the moment or whether or not she has made up with her last beau. She is also not married and has no husband. When she does get her love life steaming again, we will let you know.
Body Measurement (Height)
Being a model Olivia's height is on a check! She has been measured to be of 5 ft 4 inches and has a balance weight of 52kg. She has Dark Brown hairs and hazel eye color. Absolutely, the model's body size is on a sleek, she measures 25, 34 and 35 inches for her waist, bra and Hip sizes respectively.
Olivia Munn's Networth
She is currently worth $ 12 million but we look forward to a rise in her worth especially because of her role in the upcoming "X-Men series: The Phoenix."