Patrick Mahomes is an American football player who started his professional career with the Kansas City Chiefs as the tenth overall pick in the 2017 NFL Draft. Before choosing football, Mahomes is a proficient athlete who played baseball as well as basketball and was a top prospect for the 2014 Major League Baseball draft.
As a matter of fact, he was selected by the Detroit Tigers in the 37th round but did not sign with the baseball team. The quarterback has made a number of NFL records including Youngest quarterback to throw for six touchdowns in a game at 22 years old.
Patrick Mahomes's Early Life and Career Beginnings 
Patrick Lavon Mahomes II was born in Tyler, Texas on September 17, 1995. Growing up in the east-central city, Mahomes attended Whitehouse High School where he took interest and actively played football, basketball and baseball. He finished high school a three-star football recruit and was ranked as the 12th best dual-threat quarterback in his class. Despite his love for baseball, he opted for football, hence his decision to commit to Texas Tech University.
Career Stats and Highlights
Mahomes joined the Texas Tech as a backup to one of his teammates during his freshman season but was later made the starter. While he covered yards and made touchdowns at the football field, he created time for the school's baseball team to stand as a relief pitcher. Throughout his freshman and sophomore season (2014-2015), he played in 20 games, passing for 6,200 yards with 52 touchdowns and 19 interceptions.
In 2016, he decided to leave the baseball team and focus on football for the entire offseason. It worked out for him as he began breaking and setting records including the NCAA FBS records for single-game total offense with 819 yards; the NCAA record for single game passing yards with 734; and NCAA records for most combined yards of total offense with 1,708. For his excellent performance in games during his senior year, Patrick Mahomes won the annual Sammy Baugh Trophy award given to the nation's top college passers, as well as named an Academic All-American 2nd Team by the College Sports Information Directors of America. He finished the season passing for 5,052 yards, 41 TDs and 10 interceptions in 12 games.
As the 82nd annual meeting of the National Football League, approached, Mahomes announced he would not skip his final year of college eligibility to enter the 2017 NFL Draft.
Already projected as a first or second-round pick by the majority of analysts and scouts, he made a great impression at the NFL scouting combine with 60 mph passes. His top rankings as second, third and fourth best quarterback from expert sports channels made a top target for dozens of leading football franchise. During his pro day at Texas Tech, representatives from 28 NFL teams were present to watch him play and subsequently had 18 private workout and visits for teams, including the  Los Angeles Chargers, Arizona Cardinals, New Orleans Saints,  Chicago Bears among others – which was the most for any prospect in 2017.
For his pre-draft measurables, Mahomes weight was 225 lb (102 kg) at a height of 6 feet 2 inches (1.88 m) and dashed 40 yards at a speed of 4.80. Mahomes was the first quarterback selected by Kansas City Chiefs 10th overall and signed with the team on a fully guaranteed four-year, $16.42 million deal including a signing bonus of $10.08 million.
He debuted his pro career with the Chiefs in a Week 17 game against the Denver Broncos. He led his team to a 27–24 victory with 22 of 35 passes for 284 yards and 1 interception.
Mahomes started off the 2018 season as the starting quarterback, using all his enthusiasm and explosive energy to beat the division rival, the Los Angeles Chargers by a score of 38–28 in his first game. During the game, he had 4 touchdowns for 256 yards to earn AFC Offensive Player of the Week. In the following weeks, he broke two records including the NFL record for most touchdown passes through a quarterback's first three career games and the NFL record for touchdown passes thrown in the first two weeks of the season. Patrick Mahomes became the first quarterback after Tom Brady in 2011 to win two consecutive AFC Offensive Player of the Week awards with six touchdowns for 326 yards and no interceptions.
See Also: Landon Collins Mom, Brother, Girlfriend, Height, Weight, Bio
Despite his record-breaking start to the 2018 season, which is highlighted by an NFL record 13 touchdown passes through the first three games, Patrick Mahomes said: "there's still room for a ton of improvement." And that's how the NFL player intends to get ahead in his game.
Interesting Facts About His Family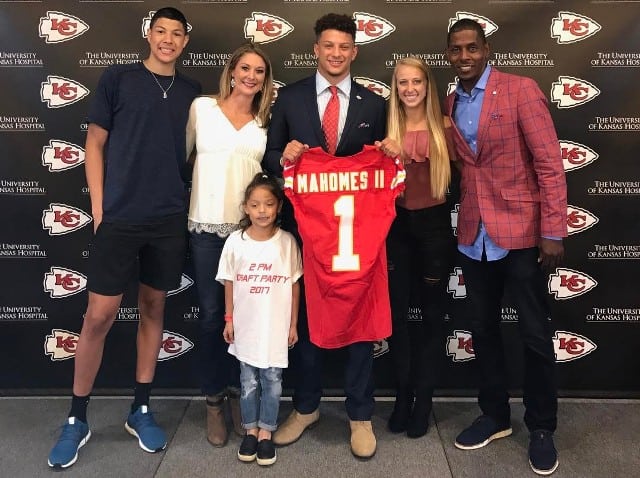 Mahomes is the son of Randi Martin and Pat Mahomes, a former professional baseball pitcher who played in Major League Baseball from 1992-2003; named after his father, it's no wonder where his athletic prowess sprung from.
His success would not have been if not for his mom, Randi, who succeeded in talking him out of quitting when he nearly drowned his shirt and gloves twice after he was switched to linebacker instead of a quarterback position while playing for Pop Warner.
Does He Have a Girlfriend?
The NFL star started dating Brittany Matthews when they were in high school before his emergence as one of the young quarterbacks to reckon with. Brittany played soccer while she was with the University of Texas. She's had a few engagements as a professional soccer player before switching to become a fitness personal trainer.
The 6ft 3in tall athlete doesn't miss a chance to express his love and respect for his family. Mahomes has shared pictures of himself with his parents, younger brother Jackson and little sister Mia, in several occasions on Instagram. He especially adores Mia.