Patrick Mahomes is an American football player who started his professional career with the Kansas City Chiefs as the tenth overall pick in the 2017 NFL Draft. Before choosing football, Mahomes was a proficient athlete that played baseball as well as basketball and was a top prospect for the 2014 Major League Baseball draft. As a matter of fact, he was selected by the Detroit Tigers in the 37th round but did not sign with the baseball team. The quarterback has made several NFL records, including Youngest quarterback to throw for six touchdowns in a game at 22 years old.
Patrick is also lucky in love as he has been in a relationship with his high school sweetheart Brittany Matthews since 2012. The quarterback recently pooped the big question to Brittany, receiving an answer in the affirmative. The duo is expecting their first child and the parents to be are over the moon with the turn out of events.
Patrick Mahomes' Family Has Been Very Supportive of His Career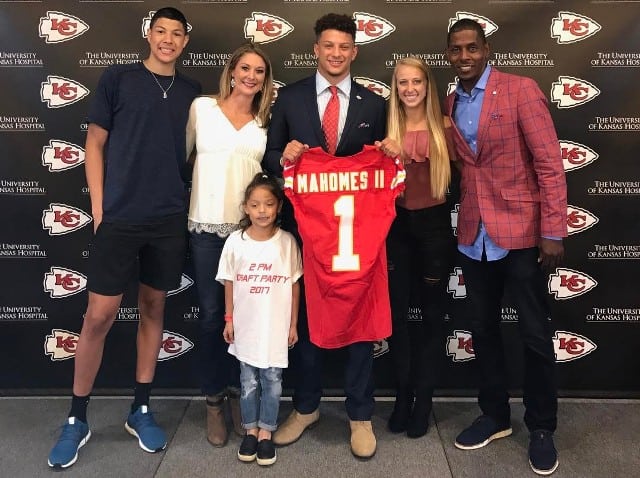 Patrick Mahomes is the son of Randi Martin and Pat Mahomes, a former professional baseball pitcher who played in Major League Baseball from 1992-2003; named after his father, it's no wonder where the quarterback got his athletic prowess from.
Mahomes' success would not have been if not for his mother, Randi, who succeeded in talking him out of quitting when he nearly drowned his shirt and gloves twice after he was switched to linebacker instead of a quarterback position while playing for Pop Warner.
The 6ft 3in tall athlete doesn't miss a chance to express his love and respect for his family. Mahomes has shared pictures of himself with his parents, younger brother Jackson, and little sister Mia, on several occasions on Instagram. He especially adores his baby sister Mia.
Patrick Lavon Mahomes, Sr.
Patrick Mahomes' father was born on the 9th of August 1970. The American former professional baseball pitcher played in Major League Baseball for a period of 11 years that spanned from 1992 to 2003. After he made his major league debut with the Minnesota Twins, the senior Patrick went on to play with several other major league baseball teams like Boston Red Sox from 1996 to 1997, New York Mets (1998 to 2000), Texas Rangers (2001), Chicago Cubs (2002), and Pittsburgh Pirates (2003).
He also pitched in a couple of seasons in Nippon Professional Baseball for the Yokohama Bay Stars between 1997 and 1998. The man equally played for the Grand Prairie Air Hogs of the independent American Association in 2009.
Senior Patrick seems very close to his children even though the family is no longer together. When His son chose football over baseball, the former pitcher was really worried as he viewed the game as a bit too rough where his son can be easily injured.
Randi Martin Mahomes
Randi Martin was born on the 18th of January 1976 in the US and is best known for being the mother of the NFL quarterback, Patrick Mahomes. She has gained more fame from being associated with her second son Jackson. Randi and Pat were high school sweethearts who tied the nuptials in the 1990s immediately after high school. However, they called it quits when their children were still very young but prioritized their children's needs.
While their marriage lasted, she was an integral part of her husband's MLB career. Randi was a supportive wife as well as an all-rounder mother. The mother of three raised all her children as a single mum after her divorce. Hence, she is very close to them and shares a special bond with each of them. Both Randi and Pat maintain a good and friendly relationship to date and didn't let their differences stand in the way of their children's progress. They make effort to appear together during their son's games and even pose for family photos together.
Randi has made several appearances alongside her son Patrick Mahomes and has been noted as one of his biggest influences towards pursuing a career in the sport. She came to the rescue when Patrick was ready to quit football after he was switched to the position of a linebacker instead of a quarterback.
Jackson Mahomes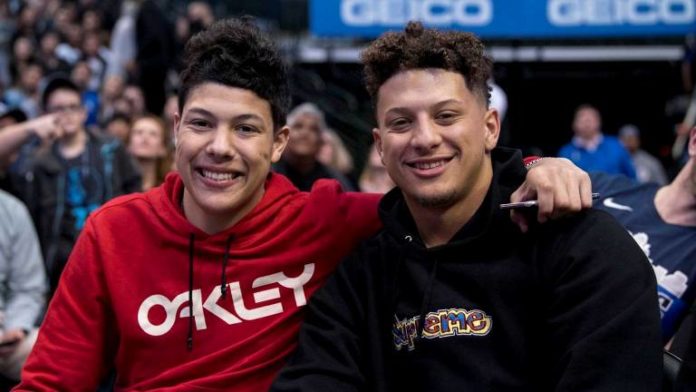 Jackson Mahomes is the football star's younger brother who followed a career path as a social media star. Jackson studied at Whitehouse High School where he played basketball. According to the younger Mahomes brother, one of the tougher parts about having a star athlete older brother is that you will always be cast in his shadows. Jackson said that he got jeers whenever he played basketball games. People kept chanting "You're not Patrick".
Jackson is a Tik Tok star who has amassed over 400,000 fans on the platform. The social media sensation also has a presence on other platforms like YouTube and Instagram where he is recording equal success. The youngster's content is majorly composed of footage of him enjoying the various live games his brother plays. Besides, Jackson also has his clothing merch known as Unathletic. As of 2020, Jackson is a Kansas City resident where he attends college and also owns an apartment.
The Mahomes brothers were not very close during their growing up days, however, they became closer as they got older. Patrick Mahomes and Jackson's closeness is evident in their social media accounts as they always share each other's photos.
Mia Randall
Mia is Randi's last child who was born on the 12th of July 2011. She is Patrick and Jackson's half-sister as their mum had her from a different relationship. However, Randi has failed to reveal the identity of her father to date. She is all over her family's Instagram photos and has her account managed by her mother.
Meet Patrick Mahomes' Girlfriend, Brittany Matthews 
The NFL star started dating Brittany Matthews when they were in high school before his emergence as one of the young quarterbacks to reckon with. The duo met in 2012 when they both attended Whitehouse High School in East Texas. The couple both spent their formative years in Texas which is another thing they have in common.
Their relationship survived even after they both decided to move to rival colleges with Matthews enrolling at the University of Texas at Tyler while Mahomes chose Texas Tech University. On the 1st of September 2020, Mahomes popped the big question to Brittany in a suite in Arrowhead Stadium, the same day he received his Super Bowl Championship ring.
Patrick did it in style with a diamond ring, getting down on one knee on a white carpet lined by red rose petals and surrounded by white flowers and candles. The words "Will you marry me" was written in lights as the Chief's quarterback popped the question.
The couple currently resides in the Kansas City area and Brittany is often spotted cheering her man on at his home games. Recently, on the 20th of September 2020, the duo announced that they were expecting their first child together.
The couple's pregnancy news came a few weeks after Patrick asked Brittany to marry him on September 1st. Matthew later shared an Instagram photo with a sonogram of the foetus with her boyfriend standing at her back and holding her baby bump. Patrick revealed that he now sleeps in a separate bedroom from his fiancee after his teammate Jordan Ta'amu tested positive for COVID 19.
Brittany Matthews Is a Fitness Trainer Who Played Pro Soccer
Just like her boyfriend, Brittany is also an athlete; she played soccer while she was with the University of Texas, playing for UMF Afturelding. According to Brittany, she was impacted by all the coaches she met at UT Tyler which made her fall in love with the game and decided to continue at a professional level.
She's had a few engagements as a pro soccer player which includes playing professionally for an Iceland soccer team. However, her career as a soccer star was short-lived as she decided to follow another career path as a fitness personal trainer.
She is not just a fitness expert, Patrick Mahomes' fiancée equally has a good business head, launching her own personal training business called Brittany Lynne Fitness.
The Chiefs Made Mahomes their Starting Quarterback in 2018
During the 2017 NFL Draft, Mahomes was the first quarterback selected by Kansas City Chiefs; in the first round as the 10th overall. He signed with the team on a fully guaranteed four-year, $16.42 million deal including a signing bonus of $10.08 million.
Patrick Mahomes debuted his pro career with the Chiefs in a Week 17 game against the Denver Broncos as the Chiefs wanted to rest starter Alex Smith and give Mahomes his first career start. He led his team to a 27–24 victory with 22 of 35 passes for 284 yards and 1 interception.
Mahomes started the 2018 season as the Chief's full-time starting quarterback as Smith was traded off. He used all his enthusiasm and explosive energy to beat the division rival, the Los Angeles Chargers by a score of 38–28 in his first game. During the game, he had 4 touchdowns for 256 yards to earn AFC Offensive Player of the Week. His debut career touchdown was realized on a 58-yard pass to wide receiver Tyreek Hill during the first quarter against the Chargers.
In the following weeks, he broke two records including the NFL record for most touchdown passes through a quarterback's first three career games and the NFL record for touchdown passes thrown in the first two weeks of the season. Patrick Mahomes became the first quarterback after Tom Brady in 2011 to win two consecutive AFC Offensive Player of the Week awards with six touchdowns for 326 yards and no interceptions. Mahomes was named AFC Offensive Player of the Month for September.
Feats that Distinguished Him as One of the Finest Quarterbacks in NFL
The chiefs were victorious in the Week 4 game against the Denver Broncos (27–23) where Patrick passed for 304 passing yards, a passing touchdown, and a rushing touchdown. Though they lost 43–40 to the New England Patriots during week six, the starting quarterback passed for 352 yards, 4 touchdowns, and 2 interceptions. However, they bounced back in the next game with the Cincinnati Bengals in a 45–10 victory with Mahomes passing for 358 passing yards, 4 touchdowns, and a single interception.
Next, they won the Denver Broncos 30–23 as Patrick recorded his third consecutive game with 4 passing touchdowns, 303 passing yards, and an interception. The Chiefs lost 54–51 to Los Angeles Rams during Week 11 but the quarterback finished with 478 passing yard (rated most for a single game by any quarterback for the 2018 season), 6 touchdowns, and 3 interceptions.
He made the records in their Week 17 game against the Oakland Raiders, by becoming the second quarterback in the history of the National Football League, to throw for 5,000 yards and 50 touchdowns; Patrick shares this feat with Peyton Manning. The feat also earned him pride of place as one of seven players in the league's history with a record of 5,000 passing yards in a single season. Patrick Mahomes finished second in the league in passing yards, became the first Chief since Len Dawson (1966) to lead the NFL in passing touchdowns, and helped lead the Chiefs to a 12–4 record and their third straight division title.
He Wrapped up the 2019 Season With a Plethora of Titles and Awards
After the Chiefs emerged victorious 31–13 over the Indianapolis Colts in the Divisional Round on the 12th of January 2019, it marked their first home playoff win since the 1993 season. The win earned the Chiefs their first AFC Championship since 1993, allowing them to host the first AFC Championship game at Arrowhead Stadium but they lost 37–31 to the New England Patriots.
By the end of the season, Mahomes bagged multiple awards:
2019 Pro Bowl
2019 Best NFL Player ESPY Award
First-Team All-Pro
Kansas City Club 101 Awards' AFC Offensive Player of the Year
NFL MVP (first winner ever to emerge from Kansas City Chiefs).
The fourth-best player on the NFL Top 100 Players of 2019
The 2019 Season Saw Him Become a

Super Bowl Champion
Playing against the Jacksonville Jaguars for their first game, Patrick threw for 378 yards and three touchdowns. During Week 2, The Chiefs came against the Oakland Raiders, where the quarterback threw for 278 yards and 4 touchdowns in just the second quarter, making the most passing yards in any quarter since 2008; he was named AFC Offensive Player of the Week after he wrapped up the game with 443 yards. He also earned the same title in September.
Patrick Mahomes returned after he dislocated his patella to face the Tennessee Titans in a 35–32 loss in Week 10, throwing for 446 yards and three touchdowns with no interceptions.
He wrapped up the season with 4,031 yards, 26 touchdowns, and just 5 interceptions. The starting quarterback helped lead his team to their second successive 12–4 record in addition to their fourth consecutive division title.
He Is the Super Bowl LIV (2019) MVP 
During the Divisional round of the playoffs, the Kansas City Chiefs went against the Houston Texans and emerge victorious with a 51–31 score. The Texan threw for 321 yards, 5 touchdowns, and 53 rushing yards as he assisted his team to their second successive conference championship game.
Patrick made a mark against the Titans in the AFC Championship, throwing for a 27-yard touchdown and rushing for a 27-yard touchdown; this marked the second-longest run of the quarterback's career as well as the longest in the playoffs. Mahomes ignited a comeback from 17–7 during the second quarter to assist his team to a 35–24 win. His performance helped lead the Kansas City Chiefs to their first Super Bowl appearance since Super Bowl IV in 1970.
During Super Bowl LIV, the Chiefs faced the San Francisco 49ers, trailing 20–10 with 8:53 left in the fourth quarter. Patrick Mahomes led his team on a 21–0 run, leading the Kansas City Chiefs to their first Super Bowl victory in 50 years. The starting quarterback threw for 286 yards, 2 touchdowns, and rushed for another 29 yards and a single touchdown. Consequently, he was named Super Bowl MVP.
Patrick Mahomes Signed a New Contract With The Chiefs in July 2020
On the 6th of July 2020, Mahomes inked a 10-year contract extension with the Kansas City Chiefs. The deal which is worth $477 million comes with another $26 million in potential bonuses totaling $503 million.
The contract is captured in the history of American professional sports as the largest, surpassing Mike Trout's 12-year $426.5 million pact with Los Angeles Angels. Mahomes also made history as the first professional athlete to ever have a half a billion-dollar contract.
The stellar football player has kept up with his remarkable performances. He received his Super Bowl Championship ring on the 1st of September 2020.