Phoebe Robinson is a New York-based comedian, writer, and actress. She is best known as the co-creator and co-host of the WNYC Studios podcast 2 Dope Queens. Just like some other female comedians, she never had any original plans of becoming a stand-up comedian even though, according to her, she took a class on a whim at Carolines on Broadway.
After Phoebe started doing comedy, things did not take off as soon as anyone would want. She could not book any shows, she was broke and things were really hard for her. Consequently, she began considering quitting in 2014 but somehow, she was able to find the strength to soldier on.
Phoebe Robinson's Biography
Born on September 28, 1984, in the United States, the talented comedian grew up in Bedford Heights and Solon, Ohio. She did her high school education at Gilmour Academy and because of her interest in becoming a book writer, she attended college in 2002 at Pratt Institute in Brooklyn, New York City, where she studied screenwriting.
After she graduated from college, Phoebe worked full-time as an administrative assistant at an Internet company, assisting a couple of lawyers. On the side, she also did freelance writing, TV recaps and branded web shoots that pay like $500. She later quit the job in  2013 to work on a pilot for VH1. Unfortunately, the show ended up not happening so she decided to freelance and figure out how to make money. This was how she delved into comedy in 2014 but found herself struggling to make ends meet.
Meanwhile, Phoebe Robinson was a staff writer for Girl Code, an MTV comedy television series that was debuted on April 23, 2013, and airs presently via Snapchat Discover. She was also a staff writer for the final season of Portlandia and worked as a consultant on season three of the television sitcom, Broad City.
She makes regular contributions on the women's magazine, Glamour and has some of her writings published in various newspapers and magazines, including the New York Times, Bitch, Vanity Fair. Phoebe started blogging in 2012 and created a blog named Blaria (coined from "Black Daria"), a platform where she regularly performs a live show, Blaria Live, in Brooklyn and Washington D.C. The blog has also been featured in the Huffington Post.
She created and co-hosts the hit WNYC Studios podcast 2 Dope Queens alongside Jessica Williams. The podcast which was started in 2016 is a weekly stand-up and storytelling show that features Jessica Williams and Phoebe Robinson's friends and favorite female comedians, comedians of color, and LGBT comedians, talking about sex, romance, race, hair journeys and living in New York.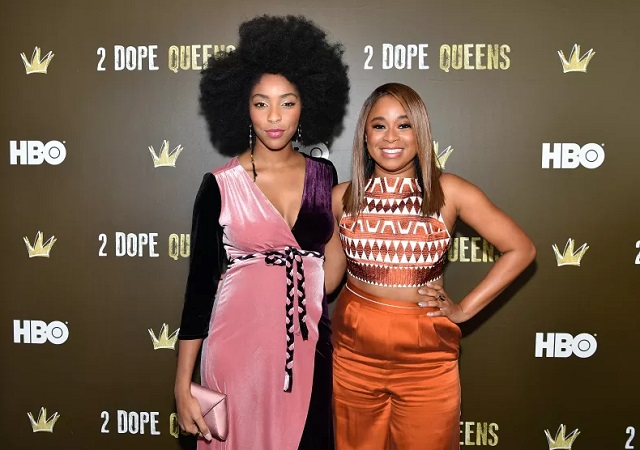 It debuted on April 4, 2016, and was the number one podcast on iTunes the first week that it premiered, remaining so for about three weeks. Based on the success of the podcast, it was turned into four one-hour, critically-acclaimed HBO specials which debuted on the network in February 2018.
Phoebe also created and starred in Refinery29's web series, Woke Bae. On July 12, 2016, her solo podcast, Sooo Many White Guys, debuted. The podcast responds to the predomination of white males in the comedy industry and features women, people of color, and LGBTQ people.
Since starting 2 Dope Queens, Phoebe Robinson has expanded her credits to TV and movies. She featured in the movie In Case of Emergency (2017), appeared on the series Search Party and Broad City, and recently appeared in the Netflix's 2018 comedy, Ibiza, playing the supporting role of Leah. She will also act in the film "What Men Want" next year.
Her television features include NBC's Last Comic Standing, The Today show, Late Night with Seth Meyers, @midnight, Last Call with Carson Daly and Comedy Central's Broad City. She has also appeared on The Nightly Show with Larry Wilmore, FX's Totally Biased with W. Kamau Bell, VH1's Big Morning Buzz Live, among others.
Consequent upon her success so far, different magazines like Vulture, Essence, Esquire,  Flavorwire, Brooklyn Magazine and SF Sketchfest named Phoebe as a comedian to watch.
Her dreams of becoming a writer came to life on October 4, 2016, following the debut her first book titled You Can't Touch My Hair and Other Things I Still Have to Explain. This was followed by her second book, Everything's Trash, but It's Okay, published by Dutton and released on 16, 2018.
Does she have a Boyfriend or Husband?
Phoebe Robinson is in a relationship with a white guy whose real name is unknown. She addresses him just as British Bake Off. The couple sparked dating rumors in 2017 after Phoebe posted a picture of them together with the caption, "Date night! Thanks so much…and all of the thanks to #British Bake Off for planning this amazing birthday wkend for me…" The duo is not yet married but they are living together. They just moved into their new home in Park Slope, Brooklyn, New York, in October 2018.
Family Facts
Phoebe Robinson has kept her family a top secret and as a result, nothing is known about her parents, family background, and siblings.