Everything about Phoebe Tonkin is quite impressive. She is an articulated and focused young lady who has built a successful career as a model and an actress. She has also gone ahead to train others as a fitness enthusiast. Today, Phoebe is not only noted for her impressive acting prowess on sets but also her many advise to her fans who follow her trend on being fit. Careerwise, the actress has been quite successful but when it comes to her love life, it has had a lot of rough rides. The article below gives more insights into her personality.
Phoebe Tonkin's Age and Ethnicity
Having a parent who is sensitive enough to understand their child is one advantage any child could have. For Phoebe Tokin, her parents, Nicholas Tonkin and Jannyfer Tonkin realized that their child, Phoebe Jane Elizabeth Tonkin born on the 12th of July 1989 was an exceptional kid. Having noticed that, they enrolled their kid into a classical ballet, hip hop, contemporary and dance class in order to help her build her dreams. Years rolled by and when she was a teen, she was grounded at her dancing and singing skills. Then, it was with ease she got into the Australian Theatre for Young People (ATYP) school. Nevertheless, she had her basic education at Queenwood School.
Phoebe Tonkin was not born as an only child to her parents; her younger sister, Abby has learned a lot from her as they were both raised together in Australia. The actress is of a white ethnicity and is an American.
Having determined to venture into show business, the actress moved to Los Angeles in order to pursue her dreams. On arrival, she decided to tread the path of a model which became the foundation of her fame. She got several contracts and within a short period of time, she had gained prominence globally. A few of her modeling works includes her stunning appearances in magazines like Girl Friend, Teen Vogue and the rest of them. She took up another course and spiced up her talents portraying as a health adviser leading to the opening of her website Your Zen Life With A Friend.
Phoebe Tokin's journey into the acting world began in 2006 after she successfully passed the auditions for the drama series H2O: Just Add Water the previous year. The show was an Australian children series which ran from 2006- 2010. While playing a role in the drama series, she landed yet another role in the series, Packed to the Rafters. With her remarkable performance in the drama series; H2O, she gained more popularity and she also bagged a few recognitions for her acts in the show.
By the time the show ended in 2010, she got a bigger role to appear in her first movie debut, Tomorrow, When The War Began. The following year, she was one of the pivot stars that played in the movie, The Secret Circle. Her short appearance in the horror film, Bait 3D (2012) is still remembered by many what with her horrifying callous display.
Subsequently, she landed a role in the drama series, The Vampire Dairies (2012) and also played in its sequel, The Originals. Fast forward to 2015, she took up the space of playing as a Nicole Clark in the crime drama series, Stalker. The next year that followed, Pheobe Tonkin appeared in the movie, Billionaire Ransome. Her performance in the movie had her name the lips of a lot of her fans, while her fans were trying to digest her remarkable acting stints she landed yet another role in the drama series, Safe Harbor (2017). Currently, she is dishing out more of her stunning performances in the drama series, Bloom (2018).
Apart from her acting prowess, Phoebe Tonkin has become an extraordinaire fashion icon and as a fitness guru.
Who Is She Dating?
With a stunning look like hers, Phoebe Tonkin has had several relationships with her specs limited to strong influential eligible bachelors who are all celebrated in the entertainment industry. In 2006, she was said to have dated British actor, Tom Felton. The two dated for two years and called it quits. Then, she moved on and found love with American actor Xavier Samuel, what they shared never stayed for a long time and in a short while Phoebe's relationship with English actor, Ed Westwick hit the headlines. She later hooked up with Joseph Gordon-Levitt in 2012 but dumped him after a few months.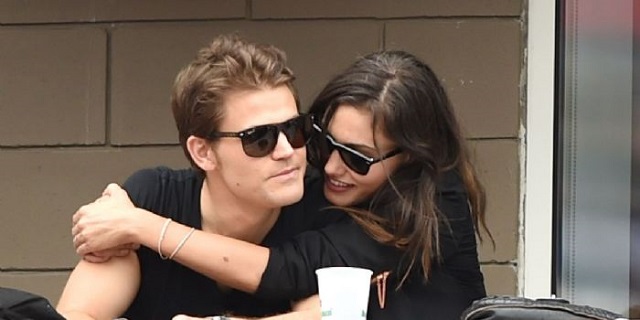 In 2013, she was linked to American actor, Chris Zylka, their love sparkled for only a year before losing its lights. Then her relationship with Paul Wesley seemed to be the longest of all her love tangos. She dated him from 2009, unfortunately, called it off in 2017.
Is She Married?
After her so many heartbreaks, Phoebe is yet to be linked to a new man. Sources say she has found it difficult moving on from her ex, Paul Wesley or she just wants to take her time before falling in love again. She is not yet married and she is currently assumed to be single.
Height
Phoebe Tokin's brags about her time working out. She emphasizes the fact that she has a phobia for fat and has tried everything within her capacity to maintain her slim body build. She is not a very tall woman yet while standing at 5 feet 7 inches, she is such a beauty to behold. She has hidden other facts about her body measurements, however, we would do an update as soon as we lay holds on them.