We have over the years seen social media millionaires, especially on the YouTube social platform. These celebrities cum millionaires have made names for themselves after carving out niches on the internet, and a typical example of one of such exciting media personality on the YouTube is American Minecraft gamer and YouTube star, PopularMMOs whose channel has amassed a large pool of views of about 12 billion and 15 million subscribers. Read on to learn more about the internet sensation.
PopularMMOs' Biography
The popular Minecraft star, Patrick Julianelle Brown whose online moniker is PopularMMOs was born in Connecticut on the 25th day of November 1988. There are really not much to go by with respect to his family background information as he seems to keep them quite private, except for the fact that he has a brother called Billy, even though they do not share the best of relationships. He is also known to have graduated from college with a degree in psychology.
Patrick Brown aka PopularMMOs first took on the name in order to advertise his website. Fortunately for him, the YouTube channel he set up in April 2012 for that sole purpose flourished and became more famous within two years than the website he had earlier set out to advertise that is the PopularMMMOs.com, thus his journey into fame and wealth began.
His first set of uploaded videos are the Runescape and currently, he has over 3600 videos consisting of Minecraft and Roblox gaming videos which have garnered about 12 billion views already even as he has racked up 15 million loyal subscribers. He later moved up by uploading Artlantica, Tera, World of Warcraft, 100 Ways To Die (MineCraft), among other games.
The success PopularMMMOs YouTube Channel probably inspired him into opening 2 others channels which are not as popular as his first channel; PatVsThe World and DungeonNoobAdventure. PatVsThe World has a few uploaded challenge videos like the Habanero, Cinnamon challenges, etc.
What makes PopularMMOs channel interesting is the hilarious ways he and his wife voice their comic commentaries during the games and his innovative ways of incorporating new features in his contents such as the Minecraft Mini games, Minecraft Mods Vs Maps, Epic Proportions and the different characters he plays like Captain Cookie, Bellie, Jelly Bean, Mayor Chad, and the list goes on. No wonder he hit his first 1 million views in June 2014 and 1 billion views in October of the same year.
5 Interesting Facts You Need To Know
1. Net Worth
PopularMMOs is probably one of richest gamers of Minecraft and he has quite a large pool of subscribers of about 15 million and over 36 million viewers. Subscribers and views per uploaded video translates into money and each view are charged between $2 to $5 dollars.
The net worth of the Minecraft celebrity is currently estimated to be within $18 million which is quite a lot for this man. He monthly earning is about $200,000 a month.
2. Personal Life – Wife
The YouTube celebrity is happily married to his longtime girlfriend Jennifer Flagg whom he met in his high school days. They started dating when PopularMMOs was in His senior year and whilst he was doing mandatory community service in a local animal center. The pair were married on 16th May 2015 after dating for 5 years.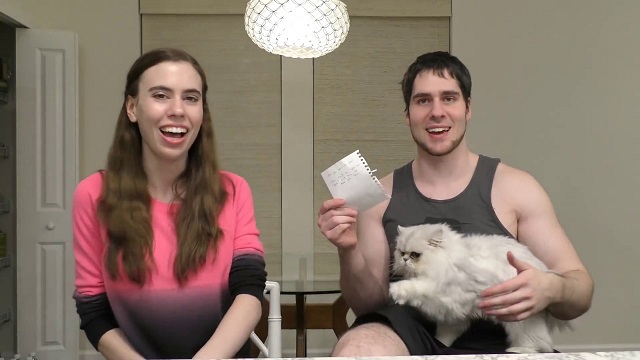 Jen, as she is fondly called by her hubby, was born October 28, 1990, and she also owns her own Youtube channel which she set up in November 2012 called GamingwithJen, the channel as accumulated about 4.6 million subscribers and more than to 3.2 million views and her channel mostly contain games videos. Moreso, she has made several appearances in the uploaded videos of PopularMMOs.
The skillful Minecraft gamer equally earns from her created content videos. Her daily take-home income is pegged at $360 dollars which is quite a tangible amount when it is summed up with the total numbers of subscribers on her channel.
Jen who is about 5 ft 4 inches tall, is a social bee with her Instagram page pooling over 475,000 followers while her Twitter account boasts of over 156,000 followers.
The couple resides together in Jacksonville, Florida with the pet cat Cloud. They are both animal lovers and seem quite taken to themselves. They are enjoying their marital relationship, mostly collaborating in making fun videos which they upload on their channel together.
3. The Couple Do Not Want Any Kids
The couple in a Youtube video admitted that they do not have any children, stating that their Persian white-furred cat Cloud would suffice for now for them. We do not know if their preference will change in the future, we do wish them the best of whatever works for them as a family.
Read Also: Muselk (Elliott Watkins) – Biography, Girlfriend, Net Worth, Age, Height
4. PopularMMOs Height
He has a nice athletic body build and he said in a video that he stands at a height of about 6.1 inch (1.86 m) although media outfit think otherwise and have pegged his height to about 5 ft 6 inches (1.73 m) and he is always exercising, weightlifting and deadlifting of about 610; he once said that he had also benched about 350lbs, executed 200 curls, and done 500 squats which is quite a number to have achieved if you ask me.
5. Favorite YouTube Channel
PopularMMOs has revealed that his favorite YouTube channel is Nerd Alert, a talk show channel that is hosted by Kim Horcher.