Rashad Jennings is no ordinary NFL star but one adorned with an additional title of a reality TV star. After several seasons of impressive play, the former NFL running back moved on to other interests which include winning the 24th season of Dancing With the Stars, among others. From his stints with the Jacksonville Jaguars to the Oakland Raiders to the New York Giants and then to reality TV, here are detailed facts about Jennings' career journey and personal life.
Who Is Rashad Jennings? Age
Rashad Andre Jennings is a native of Virginia born on March 26, 1985. Also raised in his hometown, the African-American athlete had his high school education at Lynchburg Christian Academy and later proceeded to college at Liberty University, Lynchburg.
Though Rashad's athletic inclinations were evident from a young age, the NFL star who was an asthmatic and nerdy kid never really thought he would someday play football professionally. Rashad only began considering the thought of a professional play at Jefferson Forest High School when a scout noticed his prowess on the school's football team and encouraged him to work harder to earn a scholarship.
Rashad who then began working on his body and skills later transferred to Lynchburg Christian Academy (LCA) where he also played on the school's football team. He continued with his stellar performance on the field to the tertiary level at Pittsburgh College and later Liberty University.
Having established impressive records during his college career, Rashad Jennings' chance for the professional play came in 2009 when he was drafted into the NFL in the seventh round as the 250th overall by Jacksonville Jaguars. He played with the NFL side for about three years before switching to the Oakland Raiders in April 2013.
He had a brief one-year stint with the Raiders before transferring to the New York Giants in March 2014. His four-year contract with the Giants elapsed in February 2017 and Jennings spent the whole of that season as an unsigned free agent. However, after a successful eight-year career in the NFL, Rashad Jennings officially retired from the sport in December 2017.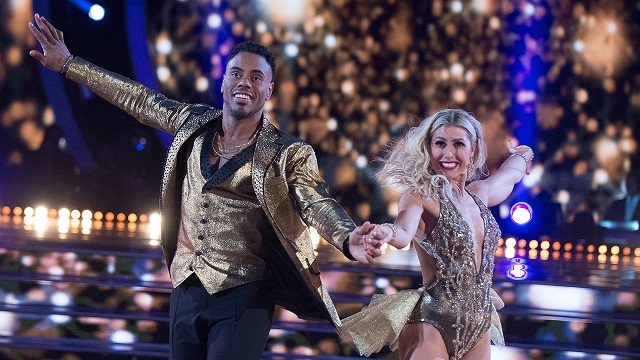 Jennings Rashad is also a reality TV star who competed on the 24th season of Dancing with the Stars in March 2017. Rashad and his partner on the show, professional dancer Emma Slater emerged as winners at the end of that season.
Married, Wife, Girlfriend
Rashad Jennings is one of those celebrities who love to keep details of their personal lives under the radar. But being a public figure, fans and critics alike have remained curious about his love life. Unconfirmed sources have romantically linked him to other stars like Demi Lovato and Angela Simmons. Nonetheless, given the uncertainty of his past and present relationship records, it is safe to say the former NFL star is not married and has never been married… until proven otherwise. The closest inkling fans have gotten into his relationship status was in 2017 when Jennings revealed that he and his unidentified long term girlfriend had mutually called off their engagement way back in 2014.
See Also: Jalen Rose – Bio, Wife, Girlfriend, Net Worth, Father, Age, Height
More recently, Jennings has been seen a couple of times making uncommitted but loving gestures to different people (especially the female folk) at public events. He is presumably more focused on his career and other life goals. In fact, while announcing his retirement in 2017, the former NFL star revealed some of his future plans, some of which include more political involvements, more fun travel/vacation time as well as his Foundation work. Jennings is perhaps currently single and ready to mingle as the reality TV star once admitted that he hopes to get married someday.
Net Worth
The NFL and reality TV star has undoubtedly worked hard to get himself to where he is today. Thankfully, his efforts both in sports and entertainment have brought financial rewards that can afford him a comfortable life. Jennings' salary is estimated at about $2.2 million while his net worth is pegged at $6 million.
Other Interesting Facts
Family – Parents and Siblings
Rashad Jennings is the youngest of three sons born to Albert Orrin Jennings Jr and Deborah Ophelia Barrow. His two older brothers are Butch and Bryan who also played football both in college and professionally. Jennings apparently shares a close bond with his mother Deborah whom he says has always been supportive of his career. Not only did Rashad buy his mom a new home sometime in the past, but he has also publicly stated that his ideal lady is one who is family-oriented, funny and must also get along with his mother.
Rashad Jennings apparently loves music and is also a guitarist. When away from work, one of his favourite ways to relax is by listening to good music and playing the guitar.
Rashad is naturally endowed with an athletic build which was a good advantage for him during his NFL days. The American football running back towers at a height of 6 feet 1 inch, complemented with a weight of 104 kg. His body measurements are chest – 44 inches, waist – 33 inches, and biceps – 18 inches.
Rashad Jennings has an active social media life and has amassed a huge fan base on popular sites such as Facebook, Instagram and Twitter.