Nothing about Rashad Jennings' first few years suggested a career in the NFL was in his future. He was a chubby kid who wore glasses and had asthma. Yet, through hard work and commitment, he found his way to the big league, where he spent eight years before moving on to another chapter of his career life.
With the opportunities and recognition that came with the path that led him to his unexpected success, he has built an even more accomplished life post-football. He now wears several hats as a reality TV star, an author of several books, a motivational speaker, and sports show personality.
Rashad Jennings Retired After Almost A Year As An Unsigned Free Agent
Although he always harboured a dream of playing in the NFL, the possibility only became real after a scout watched him play at Jefferson Forest High School. He noticed his prowess on the school's football team and encouraged him to work harder to earn a scholarship. Before this, the former NFL running back had a subpar GPA and dealt with asthma and an overweight body.
Rashad, who later began working on his body and skills, transferred to Lynchburg Christian Academy (LCA), where he also played on the school's football team. He continued with his stellar performance to the tertiary level at Pittsburgh College and later Liberty University.
Having proven he was capable of elite performances in college, Rashad Jennings' NFL dream came to life in 2009. The Jacksonville Jaguars drafted him in the seventh round of the 2009 NFL Draft with the 250th overall pick.
He scored his first touchdown in the ninth game of the season against the Kansas City Chiefs. Jennings went on to score an additional 22 in 92 games and played for two other teams – Oakland Raiders and New York Giants. Jennings spent four years with the Jaguars before he moved on to the Raiders, where he spent one season before he joined the New York Giants.
After the Giants released him in February 2017, Rashad went ten months without getting signed by a team. With the faith of NFL franchises in him seemingly over, he announced his retirement from the sport on December 8, 2017. He shared the news on Twitter, appreciating the chance to live his childhood dream.
Rashad Became A Children's Author And TV Personality Post-NFL Retirement
Before his NFL career ended, Rashad was already planting the seeds for the next chapter. After the Giants released him in March, he joined the 24th season of Dancing with the Stars as one of its contestants. Partnered with professional dancer Emma Slater, he went on to win the competition, becoming the fourth NFL player to win on the show.
His relationship with the ABC show did not end there. He returned in November 2017 for a trio event with Slater and Drew Scott, and in 2018, was a guest judge in the second week of the 26th season. Later in the same year, he performed in another trio event, this time with DeMarcus Ware and Lindsay Arnold.
He Has Published Four Children's Books
In 2018, while he grew his stardom as a talented dancer on Dancing with the Stars, he published his first book, The If in Life: How to Get Off Life's Sidelines and Become Your Best Self on May 8, 2018. The autobiographical and motivational book covered his journey to the NFL despite having a slow start in life.
The book received positive critical reviews and performed well commercially, reaching the New York Times Bestsellers' list. A year later, he began releasing children's books, as part of The Coin Slot Chronicles series. The first book, Arcade and the Triple T Token was released in 2019.
He released the book's reading companion, Arcade and the Golden Travel Guide, in the same year. Since then, he has published more books, including Arcade and the Fiery Metal Tester and Arcade and the Dazzling Truth Detector, in May and September 2020, respectively.
Rashad Has Also Become A Sports TV Personality
Following his move into the media sphere via Dancing with the Stars, Rashad Jennings soon expanded his presence. He had appeared on shows like Extra with Billy Bush, Entertainment Tonight, and Access Daily while he was on the dancing competition.
Rashad Jennings subsequently leveraged this media savviness to become a contributor on several sports shows. He has appeared on Skip and Shannon: Undisputed, The Herd Live, Speak for Yourself, Total Access, and a couple of others. Asides from sports, he is also a regular on entertainment shows.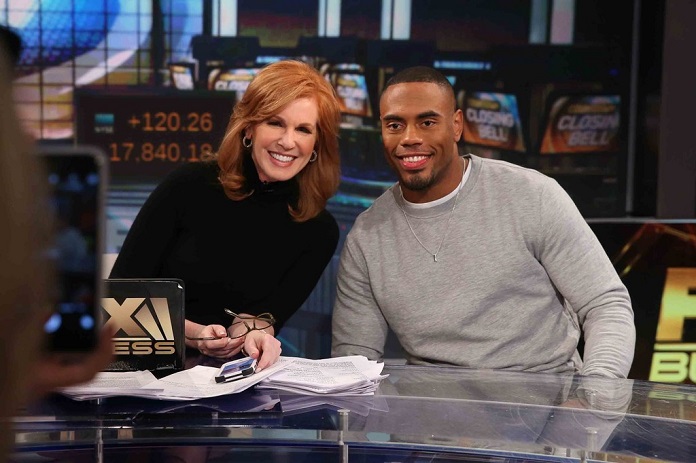 In non-DWTS capacity, he has appeared on Good Morning America, First Coast Living, Rise, NBC LA Live, Winner Cake All, and more. As part of his media footprint, he signed a development deal with Rock Hill Media to create projects based on his children's book series. Between all his media appearances, he has become a TV personality and established himself as a media star.
He Started A Foundation Too
One running theme of Rashad Jennings' ventures post-retirement is to make something of himself outside of his unexpected NFL career. He has also decided to extend that luck and opportunity to others with his charity, The Rashad Jennings Foundation.
The foundation focuses on equipping youths through three main initiatives – Mentorship, Education, and Health. For the latter, the foundation organizes Camp 180, a football campground where current and former professional and collegiate athletes train aspiring athletes. They provide them with the skills and mindset to make their way to the top level.
The foundation's mentorship and education program have a similar effect. It focuses on providing children and teenagers with the skills and people to help them achieve their dreams. The education program has a reading challenge to get students excited about reading.
His Football And Post-football Ventures Have Made Him A Lot Of Money
Throughout his football career, Rashad Jennings made $9.9 million in earnings. He signed three contracts over his eight-year NFL stint, with the biggest being a $10 million four-year contract with the New York Giants in 2014. The deal earned him $2.2 million per year in basic salary and an additional $20,000 in workout bonuses.
After retiring, although not as much as $2 million a year, Rashad has continued earning via his media work and published books. He also makes money as a motivational speaker, clearing between $20,000 and $30,000 in speaking gigs.
He also earns from endorsements. Rashad has partnered with brands like Truist News, United Way, USANA Health Sciences, and more. While they are not particularly the biggest brands commercially, they have kept the income tap flowing for the former running back.
I'm proud to partner with @TruistNews and @UnitedWay to spread this message of hope and inspiration in our communities. Dare to care: https://t.co/QIHGu4N6Zi #TruistCares #LiveUnited #ad

— Rashad Jennings (@RashadJennings) September 10, 2020
In all, his ventures and partnerships have helped Rashad Jennings to an estimated net worth pegged between $5 and $8 million, according to several reports.
Rashad Jennings Is Still Single
Rashad Jennings is one of those celebrities who love to keep details of their personal lives under the radar. But being a public figure, fans and critics alike have remained curious about his love life. Unconfirmed sources have linked him romantically to other stars like Demi Lovato and Angela Simmons.
Sadly, neither party ever confirmed the rumours. The closest inkling fans have gotten about his relationship status was in 2017. Jennings revealed that he and his unidentified long-term girlfriend had mutually called off their engagement way back in 2014.
More recently, Jennings has been seen a couple of times making uncommitted but loving gestures to different people (especially the female folk) at public events. He is presumably more focused on his career and other life goals. For now, fans of the former Giants player can only wait.