Rena Marlette Lesnar popularly in the ring as Sable, is a retired American professional wrestler, actress and model. Starting off as a model, she navigated through wrestling and acting and then back to wrestling. A one-time WWE Women's Champion, Sable is popular for her trademark match finishing dubbed "The Sable Bomb'. In her wrestling career, she has floored not only female wrestlers but superstars like Marc Mero.
You possibly know her as Brock Lesnar's wife but Sable has actually married twice before Brock, alongside lots of other things you probably do not know about her. Here's the biography including facts about Rena Marlette Lesnar.
Sable WWE (Rena Marlette Lesnar) Bio
Sable was born as Rena Greek on August 8, 1967, in Jacksonville, Florida. Growing up, Rena showed interest in several sporting activities including horse riding, softball and gymnastics. Sable also developed a passion for modeling and eventually won her first beauty pageant aged 12. Owing to her success, Rena sidelined sports and took up modeling as a career. She became a professional model in 1990 and worked for a number of fashion agencies and manufacturing companies including L'Oreal, Guess?, and Pepsi. She later modeled for the famous Playboy, appearing as the Magazine's cover three times in her career.
After modeling for a few years, the energetic and active Rena who has an undying love for physical activity switched to wrestling. She made her professional debut appearance as "Sable" in 1996. Her first match took place in March 1996 at WrestleMania XII under the World Wrestling Federation (WWF) company where she accompanied popular wrestler Triple H in his face-off with the returning Ultimate Warrior.
After emerging the champion in several matches for a period of three years, Sable left WWF in 1999. She, however, did not leave on a good note as she was robbed of a title after her final match in the company. It happened that her opponent, Debra was given the title after an Evening Gown Match which Sable obviously won by forcibly removing Debra's gown. The Prank played on Sable by the judges was, however, as a result of an off-stage battle going on between her and WWF. She had earlier filed a $110 million lawsuit against the company, citing sexual harassment and unsafe working conditions. They, however, finally settled the dispute out of court.
Acting, and Wrestling Comeback
Post-WWF, Sable tried her hands in acting and writing. She appeared in a number of television shows and films including The Howard Stern Show, Late Night with Conan O'Brien, Relic Hunter, First Wave, Pacific Blue, Slaves of the Realm, The Final Victim, and Corky Romano. Sable later authored her autobiography titled, Undefeated in 2000. She also published a comic book, The 10th Muse in 2001.
In 2003, Sable returned to World Wrestling Federation (WWF), now World Wrestling Entertainment (WWE). She made her first returning appearance on April 3, 2003, on SmackDown! After a number of matches with both wins and losses, Sable finally left WWE for good, citing her desire to spend more time with her family.
After leaving the WWE, Sable did not quit wrestling as earlier hinted. She rather joined another wrestling company, the New Japan Pro Wrestling (NJPW), making her debut on January 4, 2006, alongside Brock Lesnar. The duo, however, spent only a year with NJPW, leaving in 2007 after which Sable retired from professional wrestling.
Marital Life
Prior to her professional modeling career, Sable married Wyne Richardson in 1986. They had a daughter, Mariah. Unfortunately, Wayne died in 1991 in an auto crash which resulted from drunk driving.
In 1994, Sable remarried. Her second husband was professional wrestler, Marc Mero. Mero met Sable in 1993. He first made her through his manager and later married her in 1994. After marrying Marc, Sable developed an interest in wrestling and her husband started coaching her. A few years after debuting professional wrestling, Sable started amassing much popularity on the ring, a development that instigated jealousy and hate from her husband, Mero. This resulted to disputes and their marriage subsequently ended in 2004. They had no child together.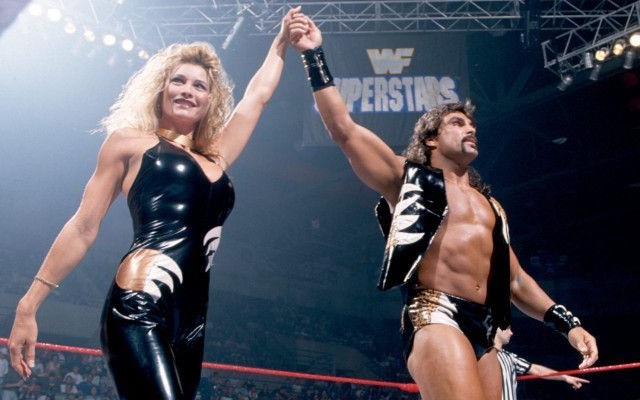 Towards the end of her union with Marc Mero, Sable started dating fellow wrestler, Brock Lesnar. They subsequently tied the knot in 2006. The couple has two sons together, Turk and Duke born on June 3, 2009, and July 21, 2010, respectively.
In all, Sable has three children, a daughter and two sons. She also has a grandchild by her daughter, Mariah. Moreover, she is stepmother to Lesnar's twin boy and girl, Luke and Maya whom he had from a previous relationship.
See Also: Karl Anderson – Bio, Wife, Family, Facts About The Wrestler
Facts About Brock Lesnar's Wife
1. Her second husband, Mac Mero snatched her from fellow wrestler Triple H when he saw the latter maltreating her backstage.
2. Sable got breast implants in 1993 soon after meeting Marc Mero.
3. Sable is almost 10 years older than her husband, Brock Lesnar. While Brock was 26, Sable was 35 at the time they married.
4. She lost a match to Luna Vachon as a result of a deliberate distraction from her husband, Marc Mero who was becoming jealous of her fame in the ring.
5. She later challenged her husband, Mero to a fight on the ring to get a revenge for his previous act. This she did by kicking him in the groin and inflicting a Sable Bomb on him. After the incident, she dropped Mero who then took Jacqueline as his wrestling partner.
6. After feuding with Luna Vachon and Jacqueline, Sable emerged the second WWF Women's Champion after the title was reinstituted into the company.
7. WWF however, considers her the worst female champion ever.
8. Sable is the first and all-time woman who has appeared on the cover of the Playboy Magazine twice in one particular year.
9. Sable is a two-time Slammy Awards winner; namely, "Dressed To Kill" and "Diva Of The Year", both in 1997.
10. She is active on social media the major social media platforms – Facebook, Instagram and Twitter.