Most human beings are easily fascinated with the lives of successful personalities but often fail to appreciate the hard work and difficult times they went through before becoming famous. The truth, however, remains that most celebrities pass through a lot of difficulties to get to their exalted status, and one good example of this is Sofia Boutella.
From the war-ravaged streets of Algeria, Boutella found herself in France, where her family took refuge from the civil war that left Algerians impoverished when she was just 10. In France, she continued with hip-hop and street dance before she was picked for a Nike project, which boosted her career as a professional dancer in 2007.
Since then, Boutella has served as a backup dancer for the legendary Madonna and many other notable artists. This irrepressible young lady has also diversified her talents to the film industry and has featured in notable projects such as The Mummy, Star Trek, and Kingsman: The Secret Service. Boutella is now an A-lister, as well as one of the most enchanting exports from the Arab world.
Sofia Boutella's journey from Algiers to Paris
Sofia Boutella was born on April 3, 1982, in the Bab El Oued district of Algiers, Algeria. Her surname translates into men of the Two Mountains, and she spent the first 10 years of her life in her motherland. A natural entertainer, Sofia began taking Classical Dance classes, where she was tutored on how to dance, at the age of five. She blossomed in the arts for the next five years before the Algerian civil war of 1992 interrupted her childhood.
This war forced the entire family to move to France, and when they got there, the young girl recommenced rhythmic gymnastics and eventually made it the French national team at the age of 18. After a period of focusing on just gymnastics and ballet, Sofia Boutella grew tired of the rigidity of the two disciplines. She, therefore, embraced hip-hop and street dance and eventually became part of the Vagabond group crew that won the battle of the year in 2006.
Dancing for the likes of Madonna, Michael Jackson, and Rihanna
Remaining focused on the game, in 2007, Boutella heard of Nike's project in Paris and auditioned. She eventually got her buzz break as a professional dancer after being picked for the Jamie King choreography for Nike as a role model for femininity and hip-hop.
The breakthrough earned Sofia some other gigs as she moved to America and became a dancer for the likes of Madonna's Confessions Tour and Rihanna. She also managed to combine her dancing career with her education and graduated from Berklee College of Music in Boston, Massachusetts.
As a dancer, Sofia Boutella has danced and appeared in music videos of notable musicians like Chris Brown – Wall to Wall, Usher – Hey Daddy, Ne-Yo – Beautiful Monster, Michael Jackson – Hollywood Tonight, Rihanna – SOS, and Madonna – Hung Up, Sorry, Celebration, and God Control.
Her Enviable Hollywood Career
Dancing has always been Sofia Boutella's strong suit, and it equally served as her entry point into the movie industry. The Franco-Algerian star made her foray into movies by dancing in several films and TV series as a teen. She then decided to focus solely on choreography for the next 15 years or so. Upon reaching her 30s, Boutella decided to give acting another chance and scored her first role in the 2012 drama film, StreetDance 2.
She subsequently got a major piece of the spotlight after her appearance in Kingsman: The Secret Service. This was a 2014 action-comedy about a secret spy organization that is tasked with stopping Richmond Valentine, a wealthy megalomaniac who wants to deal with climate change by eliminating most of the world's human population. Kingsman featured the likes of Colin Firth, and Taron Egerton, while Boutella portrayed Richmond's henchwoman named Gazelle.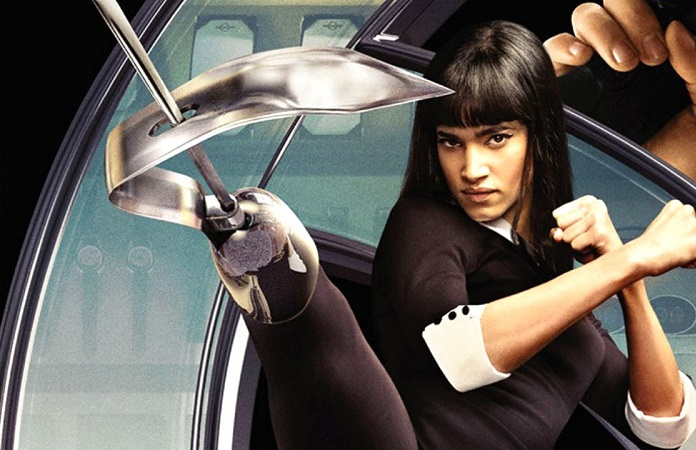 Her portrayal of the kickass Gazelle, who uses her artificial blade legs as her major fighting weapon, brought her praise and fame. Following the success of Kingsman: The Secret Service, Boutella has gone on to acquire an enviable filmography, comprising of movies such as Star Trek Beyond (2016), Atomic Blonde (2017), The Mummy (2017) Fahrenheit 451 (2018), and Hotel Artemis (2018), etc.
The Positive Influence of Her Artistically-minded Family
Boutella often speaks of her family in glowing terms, and the reason is not hard to spot. According to the actress, her parents (jazz musician father – Safy and architect mom) were artistic and open-minded people. They, therefore, encouraged Sofia and her brother, Seif Boutella, to express themselves and live out their imagination.
Boutella's parents did not stop at this juncture. Even though they were Muslims and taught their children about important tenets, they did not shove religion down their throat but allowed them free thinking. Such a progressive way of life has resulted in children who have excelled in their chosen fields of endeavor. Their daughter is now an international film star while their son, Seif, is an accomplished visual effects artist. He has lent his artistry to several films, such as Homeland and My Way, as well as commercials for Pepsi.
Proud of my brother's work! Seif Boutella VFX Supervisor http://t.co/kJrM25Htmrhttp://t.co/rfNS4gmVkn #VFX #Specialeffects #Films

— Sofia Boutella (@sofisia) October 24, 2013
See Also:  Maggie Q – Married, Husband, Height, Age, Net Worth, Parents, Ethnicity
A Look at Some of Sofia Boutella's Romantic Relationships
Sofia Boutella has got talent and an amazing personality that will forever bring her to the attention of male admirers. Though she is not yet married, she has had an interesting array of boyfriends, including French singer and songwriter M. Pokara. Boutella and Pokara most likely met in the course of their work in the music industry and dated in the year 2008. However, they later broke up without much fanfare.
In 2014, Boutella commenced a relationship with Irish actor, Robert Sheehan. She and Robert first met in India on the set of the movie, Jet Trash. They began dating in 2015 and remained together for about four years, during which they attended several public events together. The relationship was, however, not easy due to their busy schedules. They often spent several weeks apart but managed to make things work for a significant period. The whole busy schedule eventually took its toll on their relationship, and they broke up in 2018.
Sofia Boutella has now moved on with her life and is dating American actor, Keean Johnson. Johnson is a native of Colorado and has featured in several movies and TV series, including Alita: Battle Angel, Spooksville, Nashville, The Fosters, and Guidance. Boutella and Johnson commenced their relationship in 2018 but only went public with it in February 2019. Since then, they have been spotted out and about on several occasions. Even though the media have made a big deal out of the fact that the dancer-turned-actress is 15 years older than her beau, the lovebirds couldn't care less and have soldiered on with their romance.