The Vikings wide receiver, Stefon Diggs is one of the National Football League (NFL) players who has handled so well, the responsibilities of being a father at an early age while simultaneously building his career. Passion for what he does has been his driving force right from his days as a student-athlete to the current time he plays as a professional footballer.
Regarded as the second-best wide receiver in the nation and the number one prospect in the whole of Maryland by Rivals. com. It was no surprise that he was selected by the Minnesota Vikings as the 146th overall pick in the 5th round of the 2015 NFL draft. No one can dispute the fact that he is sure one of the best wide receivers in the history of NFL. Well, there is more to this survivor, all the details there is to know about him are documented in the paragraphs below.
Early Life
At birth, the wide receiver was named Stefon Mar'sean Diggs, precisely on November 29, 1993, in Gaithersburg, Maryland. He was raised alongside his siblings at the place of his birth. Ever since Stefon went pro as a football player, he has left a trail of impressive records and performances in the annals of the NFL.
From what we gathered, Stefon Diggs has a keen interest in sports which is not limited to the game of football alone but also track as he is a good sprinter. In his days at Our Lady of Good Counsel, Maryland, he was noted for his remarkable skills in all his games.
As a junior, he recorded 23 touchdowns and 810 receiving yards which earned him the position of the runner-up for the Gatorade Maryland Player of the Year honors. He kept at a good pace and totaled 770 receiving yards, 11 touchdowns, and 277 rushing yards as a senior. On the defense part, Stefon tallied 31.5 tackles, 5.5 tackles for loss, in addition to a sack. In recognition of his exemplary accomplishments, he was selected to the All-Metro first team by The Washington Post. Similarly, Diggs was crowned the U.S Army All American Junior Combine MVP with a few other laurels to his name.
After High school, Stefon Diggs decided to commit to the University of Maryland football team on scholarship. From 2012 through 2014 while with the school team, he was one of the best stars in college football. He earned a few prestigious awards including the Second-team All-Big Ten (2014), PFWA All-Rookie Team (2015) amongst other recognitions.
Stefon is one of the numerous footballers in the NFL who abandoned completing their collegiate career in order to join the big league. The wide receiver joined the Minnesota Vikings after he was selected as the 146th overall pick in the 5th round of the 2015 NFL draft. With the team, he has recorded an impressive number of rushing yards, tackles, and sacks. The Vikings are delighted with his abilities and have also extended their contract with him. Stefon's new contract was signed on the 23rd of July 2018 and will end in 2023.
Family Details – Meet His Brother and Girlfriend
Stefon Diggs has been a responsible son to his mother, Stephanie Diggs and a loving older brother to his siblings. Ever since his father, Aron Diggs died of a congestive heart failure, he has played the fatherly role in their home.
The wide receiver is one of three siblings. He has paved the way for his younger ones and has also trained them in the game of football. Hopefully, the other two will storm the National Football League just like their elder brother.
Stefon is a few years older than his immediate younger brother Darez who was born in 1995. Darez is a graduate from the Friendship Collegiate Academy Public Charter school and also belonged to the school football team. Currently, he plays for the University of Alabama Birmingham Blazers and he is said to be doing amazingly well in most of his games.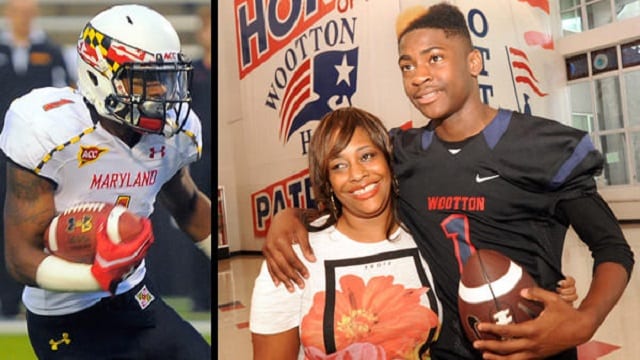 Stefon's other brother, Trevon was born in the year 1998, he was an active player for the Wooton High School but currently plays for the University of Alabama Crimson Tide.
Apart from his brothers, Diggs also has two older half-siblings, a sister named Porsche and a brother named after his late father – Aron Diggs.
See Also: Kirk Cousins Wife, Net Worth, Height, Weight, Bio, NFL Career
On the relationship side of things, the footballer has been linked to so many ladies in the past. To the best of our knowledge, we know he has a daughter with Tyler Marie. We don't know if both are still involved romantically because records have it that he was recently linked to singer Bridgett Kelly.
Height and Weight
It is quite rare to come across any athlete who doesn't measure up to having a perfect body for his or her sports, in this case, football. Often times, most of them fall within the range of 6 feet and above with only a few below that range. This means that having a perfect height, weight, hand size, and arm size is one of the basic considerations in joining any football team.
History has recorded a few athletes who were almost laid off from being footballers because of their being undersized. For Stefon Diggs, he wasn't one of such but all the same he is noted as one of the many NFL stars who are of average height. At 6 feet, he has garnered a lot of recognition with his performances on the field. Of course, he has ensured that he maintain his weight through the years with regular workouts and eating the right food. He weighs 87kg, if his BMI is placed into considerations, he is just as perfect as any healthy athlete would be, body wise.