Stella Maeve is one of the many actresses we watched grow on television. She started her acting career as a teen and has gone ahead to do many wonders in various movie roles and television series. Climbing the ladder of success was pretty slow for her until 2015 when she bagged a role in the Syfy fantasy series, The Magician. Ever since then, her career has taken to the skies.
Unlike so many other celebrated stars who have indulged in other aspects of the arts other than acting, Stella has poured all her might into the acting world, concentrating only on becoming a better actress.
Stella Maeve's Early Start to Acting
The young talented actress was born on November 14, 1986, in New York City as Stella Maeve Johnston. She claims to be part Native American from the Blackfoot and Cherokee people. Details about her upbringing, family, and her education remain under wraps.
However, it is public knowledge that she made her first appearance in Hollywood sometime in 2005 when she featured in the comedy movie, Transamerica. She subsequently landed a spot in the short film, Liminality, that same year. Later on, she played minor roles in the popular TV series, Law & Order: Criminal Intent, Law & Order, and Law & Order: Special Victims Unit in 2006.
Stella Maeve wowed her fans with her performance in the comedy movie, Harold and the crime film, Brooklyn's Finest. She then starred in two episodes of the classical drama series, Gossip Girl where she stole the hearts of many of the viewers of the series because of her incredible performance.
Afterward, Stella gained critical acclaim for her role in the movie, The Runaways, where she acted alongside Kristen Stewart and Dakota Fanning.
She Found Fame with Her Role on The Magicians
Stella Maeve's performance over the years earned her a place in Nylon Magazine's Young Hollywood Issue as one of the 55 faces of the future. It, however, took a while for the magazine's prediction to come true.
During this time, the actress guest-starred in different projects. They include the movie Bones (2010) and TV series Grey's Anatomy (2012). She later gained some recognition for her appearance in the drama series Chicago P.D. (2014) where she starred for five years as Nadia Decotis. A recurring role as Agnes Clark in Golden Boy also pushed Maeve closer to the stardom Nylon Magazine envisioned for her.
Eventually, the prediction came to pass in 2015 when she began starring as Julia Wicker in The Magicians. She played a dual role as Julia and Monster, starring in all 65 episodes of the five-season show between 2015 and 2020. The Magicians did not earn Stella any award nomination, but her prominent role in the series helped it to eight award nominations, including four Saturn Awards.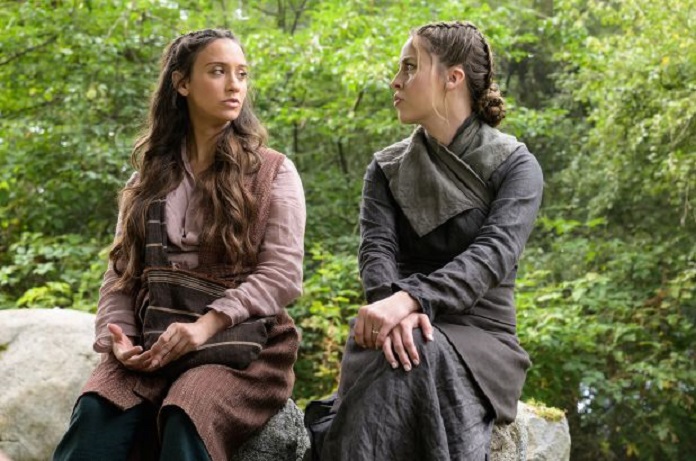 While working her magic on the show, Stella Maeve made additional appearances in films like Take the 10 and Long Nights Short Mornings. She also continued her long recurring role as Nadia Decotis in the Law & Order franchise, and guest-starred in an episode of God Friended Me.
She will also be starring in Manson Girls, as Linda Kasabian, a film about the infamous female devotees who joined Manson's flock in the 1960s. The film is expected to be another fulfillment of Nylon Magazine's prediction for Stella.
The Various Films and Television Series Stella Has Appeared In
So far, thanks to the early start of her career, Stella Maeve has credits in over 40 films and TV shows. She has also received one award nomination, from the Film Independent Spirit Awards for the film, Starlet.
The bulk of her appearances comes via television where she has appeared in 16 TV shows. As for movies, she has 15 feature films to her name, with the remainder (four) of her feature-length film roles being TV movies. Other credits in her filmography include music videos and short films, such as her first onscreen role, Liminality and Royal Blood's Figure it out.
See Also: Adelaide Kane Dating, Boyfriend, Age, Height, Ethnicity, Net Worth
Stella Maeve is in a Long-Term Relationship with Benjamin Wadsworth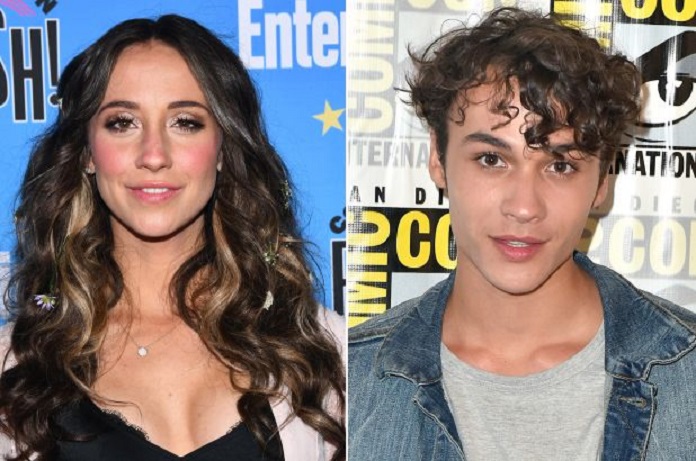 Any woman this beautiful has surely had many men wanting to date her. Often, in most movie roles, Stella plays a romantic, loving girl. So, with these kinds of roles, a lot of fans have poked their nose into her love affair, but like the secretive little girl we all know back then, the actress has succeeded in keeping most of her personal details off the spotlight.
In recent times, however, she has opened up about being in a long-term relationship with Benjamin Wadsworth, a fellow actor who joined the industry much later than her in 2013 and is best known for his role in the Syfy series, Deadly Class.
The two of them are said to have met in 2018 at the San Diego Comic-Con, presumably while promoting their shows. Their little meeting morphed into a relationship and an engagement one year after in May 2019. The engagement announcement is believed to have come after the actress found out she was pregnant as almost exactly nine months later, they welcomed a daughter.
Stella Maeve and Benjamin Wadsworth gave birth to Jo Jezebel Wadsworth on January 29, 2020. As for their wedding, fans might have to wait a while. Stella has revealed they are not big fans of government-sanctioned marriages.
She Has Had a Thing with Other Hollywood Personalities
From all indications, we can gamble on the fact that she is not yet married, but we know about a few of her love escapades. In 2013, the star queen had a publicized fling with musician Kid Cudi. Together, they attended the Los Angeles premiere of the movie, Red 2 in 2013 and displayed a lot of PDA. Unfortunately, their relationship never lasted and came crumbling a few months later.
That's not all. Stella publicly shared a kiss with Jordan Rock at John Varvatos 13th annual Stuart House Benefit, making a lot of fans wonder if what they shared was real. But like her previous relationship, it was nothing more than a fling. Despite this, the two are still very much friends.