The gorgeous Stephanie Mead captured the hearts of millions of fans with her gorgeous look and on-air charm whenever she appears on weather newscast on WISH-TV. Her broadcasting career kicked off during the weathercaster's days in college and today, Mead has built a successful career from which she has equally gained fame and popularity.
Besides WISH-TV, the versatile weathercaster has worked with KMVT-TV and NBC 26. Stephanie's excellent reporting skills at NBC 26, earned her a spot during the Chicago/ Midwest Regional Emmy Awards nomination in 2017 and we would not be wrong to say that the Northern Illinois University alum has come a long way in her career since then.
What We Know About Stephanie Mead's Early Life
Respected for her broadcasting skills as a meteorologist and morning traffic host, Stephanie Mead on several occasions has given Americans the heads up about the weather and traffic every morning and most weekend nights. Mead was born on the 28th of March but has withheld details regarding the year she was born, as well as details concerning her parents and formative years.
However, it is common knowledge that she comes from a family of six with her parent, two sisters Brittany and Emily Mead, alongside one brother whose identity is equally shrouded. Mead spent a better part of her formative years in Chicago with her siblings whom she is obviously close to; Being secretive about her family affairs didn't stop the weathercaster from sharing the family photos on Instagram during Thanksgiving celebration in 2017.
Stephanie Mead was a student at Hinsdale South High School, and according to her LinkedIn profile, she moved on to attend the Northern Illinois University. She did very well in her chosen field of study and graduated with a degree in Geography. Sources have also revealed that the weather enthusiast minored in journalism which gave her the perfect platform and current position in all things weather.
Her Internship at WTVO-TV Channel 17
During Mead's time in school and having known the line of career she wants to follow, the emerging weathercaster interned at WTVO-TV Channel 17 and worked with them for just a period of three months before taking the decision to retrace her steps and focus on education first. Severally, the weathergirl has often times given credits to her days with the news station for teaching her the basics of broadcasting.
Stephanie Mead's decisions to focus on her studies failed when she again took up a job as a forecaster for the Northern Television Center situated in Delkab Illinois. Though the young American had limitations with distance to her place of work, she kept at it until her graduation in the year 2013.
Mead's First Job After Graduation was at a Local News Station Called KMVT-TV
Upon graduation, she landed a job with KMVT-TV – a local news station situated at Twin Falls Idaho, working as a reporter and a weather forecaster; the station serves Southwestern Idaho, Magic Valley to be precise. While at the station, Stephanie worked on programs like Rise and Shine, and her workload got bigger as the media outlet began incorporating more of their news operations to correspond with the expansion of their sister station.
Mead's days at KMVT-TV saw her working under chief meteorologist Brian Neudroff whom she credits with giving her a better knowledge of broadcasting and weather forecasting as he helped her develop some innate skills and confidence. The weather enthusiast subsequently took over from him and began weather forecasting during weekend nights.
Stephanie Mead in a bid to be closer to her family resigned from her job with KMVT-TV and moved to NBC 26 at Green Bay, Wisconsin in April 2015. Like her former jobs, the meteorologist was amazing with the crew giving accurate predictions as regards the weather and good advice on traffic situations. Her profession is known for its own downsides as the weathergirl oftentimes faced work hazards in unfavorable weather conditions like thunderstorms and blizzards; a good example is her live reports during the thunderstorms and blizzards from Lambeau Field. Mead proved to be quite skilled in what she does, winning admiration from viewers in the process. The weathercaster's excellence with NBC 26 did not go unnoticed as she made the nominations for the Chicago/Midwest Regional Emmy Awards.
She is Currently Working with WISH-TV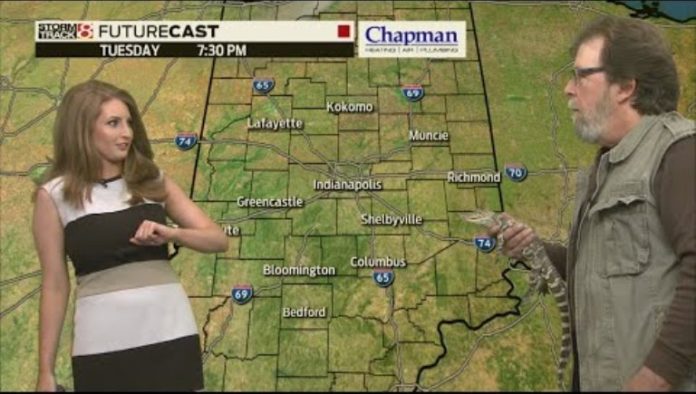 Subsequently, Mead resigned from NBC 26 station in April 2017 after taking up a new position with WISH-TV – a CW affiliate serving the Indianapolis area of Indiana; there, she has maintained her spot as a weathergirl. The workload she took on at WISH-TV is much higher than what she is used to with 76 hours of newscasts per week, all of which are locally produced. She has shared her newscast photos on Instagram.
In addition, Mead took on other responsibilities like being a track anchor for the station's Track 8 Team; the team is charged with the responsibility of furnishing the public with up-to-date news with respect to current weather conditions, especially when it has to do with extreme weather conditions. From what is perceivable, the meteorologist is quite passionate about the weather and is enjoying her job as part of the Track 8 Team. Instances can be seen in videos of the team tracking tornados and storms which she shares on social media.
How Rewarding has Her Career Been?
Sadly, Stephanie Mead's current net worth and salary are still very much a mystery. However, it is estimated that the total of her fortune as of mid-2019, revolved around $1 million all acquired through her broadcasting career as a meteorologist. Mead's annual remuneration is estimated at a minimum of $75,000. It is not in doubt that she has built a successful broadcasting career through her ground-breaking reporting skills and has obviously amassed a reasonable amount of wealth from her reporting deals.
Furthermore, the weather enthusiast has served as a weather girl and anchor right from her college days and has worked with the broadcasting field for several years and still counting.
The Meteorologist is a Married Woman
Well, despite Stephanie Mead's popularity and daily on-screen appearances, she has somehow managed to keep details about her personal affairs under lock and key, well away from the penetrating eyes of the media. However, it is common knowledge that Stephanie is a married woman. The weathergirl is the wife of Todd McMahon whom she was reported to have dated for a long time before they took their marriage vows.
https://www.instagram.com/p/BcyGXkGA6Nj/
The two tied the knot on the 26th of September 2018. Though the venue of their wedding was never disclosed, the ceremony was a small one, attended by family members and very close friends. The couple appears to be doing well at the home front but is yet to have kids. Not much is known about Todd as Mead has been super careful about divulging details regarding their family life.