The Korean-American actor, Steven Yeun has achieved worldwide fame as a result of his excellent display in the portrayal of Glenn Rhee on AMC's horror drama television series, The Walking Dead. This has earned him a few recognitions including the Saturn Award for Best Supporting Actor on Television.
Based on his acting ability, Steven Yeun is well known as a non-typecast actor following his portrayal of different characters in numerous movies. This was proven to be true as he has gone ahead to voice several characters in animated series such as Steve Palchuk in Trollhunters and Keith in Voltron: Legendary Defender.
Read on to find out more information about the talented actor's early life, earnings and family.
Steven Yeun Biography (Age)
The renowned actor was born as Yeon Sang-yeop on December 21, 1983, in Seoul, South Korea. Steven Yeun was the first of two children born to Je and Jun Yeun. His father is an architect. He has a younger brother Brian Yeun. He is a dual citizen of South Korea and America and an old fan of Detroit Pistons. Yeun is a graduate of Kalamazoo College with a bachelor's degree in Psychology in 2005.
Meanwhile, the famous actor developed a strong passion for acting when he was watching his college's drama group, Monkapult, during his first year at Kalamazoo. Soon after his graduation, the South Korean-American actor followed Jordan Klepper to Chicago to become a theatre actor by joining Stir Friday Night, a sketch comedy group made up of Asian-American members. He then followed it up by becoming a member of another theatre group, Second City in Chicago before he moved to Los Angeles in October 2009.
The famous actor made his first TV appearance in a short film titled The Kari Files in 2009 and he further landed recurring roles in many short films including My Name is Jerry. The down-to-earth Korean-American actor's walk to stardom started when he was cast to play Glenn Rhee on AMC's horror drama television series The Walking Dead, from 2010 to 2016. The series gained many positive reviews from television critics and later turned out to become the highest rated TV series in the cable television's history.
Steven Yeun was also featured as Derek Cho in another action horror film Mayhem in 2016. Almost soon after, the Kalamazoo college graduate was cast to play a role in Bong Joon-ho's action-adventure film Okja.
In addition, Steven Yeun got another major breakthrough in the industry when he starred alongside Tessa Thompson, Lakerth Stanfield and Armie Hammer in Boots Riley's dark comedy, Sorry to Brother You. The movie was highly acclaimed as it won multiple awards including Independent Spirit Awards and the 2019 National Board of Review's Top Ten. Later in 2018, his outstanding portrayal of Ben in the South Korean mystery drama film, Burning earned him several accolades. As a multi-talented actor, Yeun has provided voices in several animated series and video games. Some of his works include voicing the characters of Avatar Wan in The Legend of Korra (season 2) and Little Cato in Final Space
Furthermore, Yeun has gone ahead to earn numerous awards and nominations as a result of his fascinating acting skills including Best Supporting Actor in the Greater Western New York Film Critics Association Award, Toronto Film Critics Association Awards 2018 and Los Angeles Film Critics Association Awards for his outstanding performance in the South Korean mystery drama film Burning (2018). More so, he also won Best Actor in the Brooklyn Horror Film Festival for his wonderful performance in Mayhem (2017) and many more.
About His Wife and Son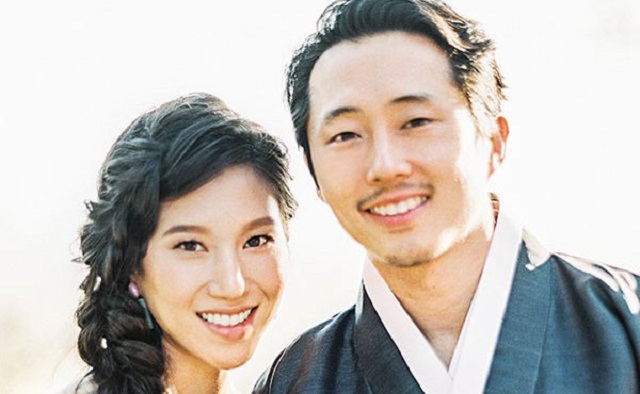 Regarding his love life, Steven Yeun dated the love of his life Joana Pak, a photographer, for seven years before he decided to exchange marital vows with her on 3rd December 2016. Soon after their wedding, the couple was blessed with a son, Jude Malcolm Yeun. Joana Pak however, disclosed through her Instagram in early December 2018, that they are expecting their second child. In addition to that, Yeun further revealed during an interview on the TBS series Conan, in January that they are expecting the arrival of their baby girl.
See Also: Kevin Smith Wife, Daughter, Age, Net Worth, Weight, Height, Bio
Height
The multi-talented actor is definitely not the tallest man in the world judging from his height which is 5 feet 9 inches (1.75 m). In addition, his body weight is about 68 kg (150 lbs) and he has a shoe size 9 (US).
Net Worth
It's no surprise that the renowned actor is living a luxury lifestyle thanks to his illustrious acting career that has been crowned with many awards. Steven Yeun has been able to amass a huge wealth over the years and his financial value is estimated to be around $4 million.