The world was surprised when Google, in October 2015, announced this young Indian American as the CEO of the company. No, it's not that the world felt he didn't deserve it. It was just a little shocking how quickly Sundar Pichai rose from being a product manager to the Chief Executive Officer of one of the biggest companies in the world. A closer look at Sundar Pichai's professional career progression, however, reveals that his rise to the top of his professional ladder was not handed to him; rather, it was very well deserved!
He is a Graduate of Stanford University Born to a Manufacturing Plant Owner.
His full name is Pichai Sundararajan, although he is popularly known as Sundar Pichai. He was born on the 10th of June 1972 in Madurai Tamil Nadu, India. Although born in India, he holds American citizenship gained after spending years in the country.
He was born to Indian parents who lived in a two-room apartment, and it was here that Pichai spent most of his formative years. His mother, Lakshmi, worked as a stenographer for many years while his father, Regunatha Pichai, owns a manufacturing plant that manufactured different electrical components. He also worked with GEC, the British conglomerate, as an electrical engineer. He undoubtedly had a successful work career, and it inspired his son, Sundar, to have one of his own.
Regarding his education, Sundar Pichai received a ton of it. He completed his high school education in India, specifically, at the Central Board of Secondary Education School located in Ashok Nagar. He, however, completed class XII at Vana Vani School in the Indian Institute of Technology, Madras.
After completing his high school, he earned a degree in Metallurgical Engineering from the Indian Institute of Technology in Kharagpur. For those who may not know, Metallurgical Engineering is a branch of material science and engineering that focuses on both the chemical and physical properties of metallic compounds, intermetallic compounds, and alloys.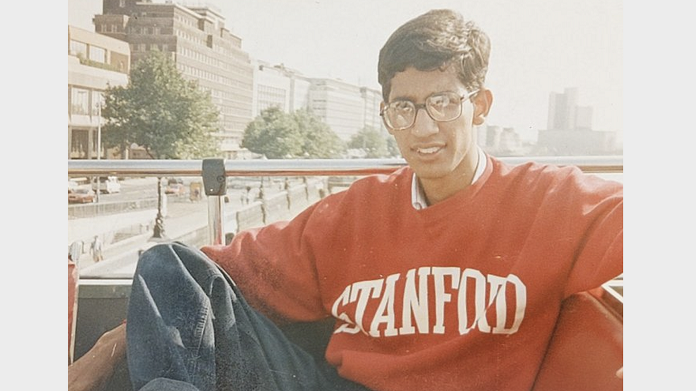 After this, he moved to the United States, where he obtained a Master's degree from the prestigious Stanford University in Material Sciences and Engineering. Not stopping there, he also received an MBA from the Wharton School of the University of Pennsylvania. This intelligent young man left a mark while at school and was named a Siebel Scholar and a Palmer Scholar from both schools.
Although He Started as a Materials Engineer, Sundar Pichai Found Professional Breakthrough as a Product Manager
Interestingly, Sundar's career began way before Google. In 2002, armed with his knowledge in metallurgical engineering, he spent a few months at Applied Materials as an engineer. After leaving the Santa Clara, California-based company, he joined McKinsey & Company. This company offers management consulting services, and Sundar's employment here was no doubt a giant leap for his career.
In 2004, however, Sundar officially joined Google, and he oversaw product management and innovation efforts for Google's client software programs. Some of these products include Google Chrome and Chrome OS. In his role, he came up and developed Google's storage software, Google Drive. He also led the team to develop and improve some of your favorite Google products, including Google Maps and Gmail.
In 2013, nine years after he joined Google, he added another feather to his cap. Then-CEO, Larry Page appointed him as the Product Chief of Android, Google's mobile operating system. He replaced Andy Rubin, the man responsible for turning it into the most widely used mobile OS.
While holding his prestigious role as Vice President of Chrome, he also served as director of Jive Software, from April 2011 and July 2013. About two years after leaving the role and 11 years after joining Google, Sundar Pichai's career took another massive leap.
Sundar Pichai became the CEO of Google in August 2015
What is interesting to know about Sundar Pichai's professional rise is that Microsoft considered him for the role of Chief Executive Officer in 2014. The company, however, eventually went with another person, Satya Nadella. The loss did not matter long as he became the Chief Executive Officer of Google a year later.
He resumed full duties as the CEO on the 24th of October 2015 after Alphabet Inc. had been fully formed. Alphabet Inc. serves as the parent company under which Google exists.
As CEO, Pichai has made headlines a few times, notably in August 2017, when he caught the world's attention when he fired a Google employee. The employee wrote a ten-page manifesto that criticized some of the company's policies on the representation of both genders. Pichai addressed this by condemning the manifesto. He wrote in a memo, "To suggest that a group of our colleagues have traits that make them less biologically suited to work is offensive."
A month before the controversy, Sundar Pichai joined the board of directors of Alphabet, Google's parent company. About two years after, after Larry Page and Sergey Brin stepped down as Alphabet CEO, Sundar was appointed CEO of the entire company, the culmination of a journey that began in 2004.
Since Joining Google in 2004, Sundar Pichai Has Made an Estimated $600 Million in Net Worth
While everyone that works for Google most certainly had big dreams, one imagines Sundar Pichai did not expect to achieve so much so soon. He has a $600 million net worth as of September 2020, which has been rising in tandem with his Google career since 2004.
He reportedly earned $100 million in salary in 2015, with additional income through compensation and bonuses. A year after, his earnings almost doubled, to $199 million. His salary and annual income have been on an upward trajectory ever since totaling $1 billion between 2015 and 2020.
A significant chunk of that $1 billion came in 2018 when he earned $470 million. After becoming the CEO of Google, he received 353,939 shares of stock, vested for five years. When it matured in April 2018, it had a paper value of $380 million.
Following his appointment as CEO of Alphabet, overseeing the entire portfolio of Google and other businesses, Sundar received an additional $281 million in compensation for 2019, with about $240 million of it in stock awards. His salary also increased from $650,000 to $2 million, starting from 2020. With such massive earnings, it is no wonder the Alphabet CEO has a $600 million net worth.
The Alphabet CEO is Married to a Woman He Met at University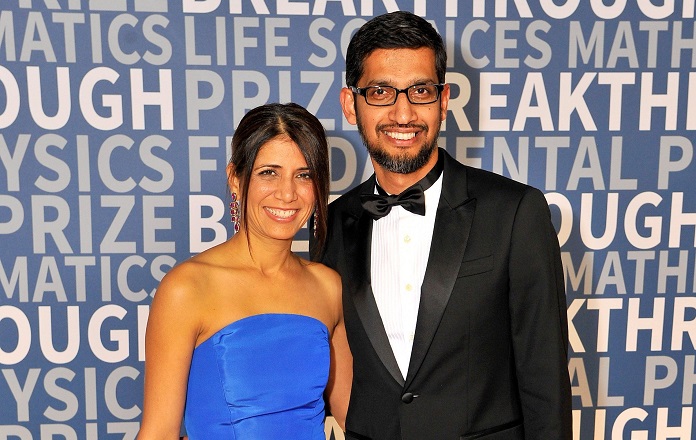 Not only is Sundar Pichai a man with an inspiring story, but he is also a man with an enduring love too. He is married to Anjali Pichai, a chemical engineer from Kota Rajasthan, whom he met at the Indian Institute of Technology Kharagpur. They were classmates and after one thing led to another, began a relationship.
In their senior year of college, Sundar and Anjali got engaged. However, it took a long time for them to get married. After graduation from the institute, Sundar moved to the US for his master's degree. It was a trying time for their love as they once went six months without speaking to each other due to the high cost of international phone calls.
Eventually, Anjali moved to the US and began the process of solidifying their love. We are not sure when exactly they got married, but ever since they did, they have had two children – a boy, Kiran, and a daughter, Kavya. Sunday, Anjali and their children live a quiet and reserved life in Los Altos Hills.
Anjali Pichai is a Business Operations Manager for Intuit
While her husband is the professional superstar, Anjali is no slouch, either. After graduating in 1993 with a bachelor's degree in Chemical Engineering, she worked for six years in India before moving to the US.
In the US, she began her career at Accenture, where she worked as a business analyst between 1999 and 2002. She now holds a position at Intuit, where she serves as Business Operations Manager.
Her position at Intuit is not the only professional accomplishment attributable to Anjali. She notably convinced her husband to stay at Google after receiving offers to jump ship for Twitter and Yahoo. That advice proved valuable as it helped him rise to the top of one of the biggest companies in the world.