American actor Max Greenfield is married to a beautiful lady named Tess Sanchez. Although she works in the film industry just like her husband, she only became popular as a result of her marriage to the actor whose love for acting made him pursue a career in the field as soon as he finished from high school in 1998. Today, Max has become one of the strong figures in Hollywood, gaining popularity for his roles in many films and television series.
Although he has grown to become a regular topic written and discussed on many traditional and digital media outlets, here, we will focus on his wife, so keep reading to discover lesser-known facts about the woman behind the successful actor.
Tess Sanchez Bio (Age)
Tess Sanchez was born in the United States but information about where and when she was born is yet to be made public. Also, nothing is known about who her parents are, whether or not she has any siblings, her childhood, and educational background.
According to Tess Linkedin profile, she attended a private university named Woodbury University located in Southern California. It, however, did not reveal if she studied in the main campus in Burbank or the satellite campus situated in San Diego. She graduated from the university with a Bachelor of Science degree in Business, Management, Marketing, and Related Support Services.
Subsequently, she worked as an independent casting director and later landed a job as Vice President of Talent and Casting at the WB Television Network, Burbank, California. She worked in WB from January 2000 to January 2008 and aided in the discovery of talents for many television series such as Felicity, Slayer, Dawson's Creek, Buffy the Vampire, Smallville, and Supernatural.
She moved over to Fox Broadcasting Company in November 2008 and just two years after she was employed, Tess Sanchez was made the head of the casting unit. This registered her name among the list of youngest executives to serve as leaders of a major network. Working in the capacity, she oversaw casting for the television special, Grease Live! and also such television shows like Wayward Pines, Empire, Gotham, Lucifer, The Mindy Project, Last Man On Earth, and Brooklyn Nine-Nine. She has also worked on shows such as Do Not Disturb, the TV remake of the teen romantic comedy-drama film, 10 Things I Hate About You, as well as the remake of the soap opera, Melrose Place.
In recognition of her outstanding work and productivity in the network, it was announced that Tess Sanchez had been promoted to Executive Vice President (EVP) of Casting in September 2016.
The beautiful lady has been a member of the non-profit organization, Young Storytellers, since December 2016 and currently serves as one of the Executive Board Members. She has also been a member of the Television Academy since April 2009. In January 2005, Tess joined the Casting Society of America and remained there until January 2018.
Celeb Facts About Max Greenfield's Wife
1. Her Marriage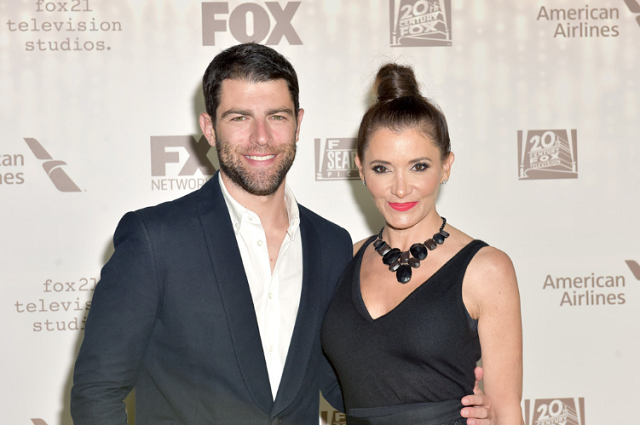 As mentioned earlier, the casting director is married to the New Girl lead actor, Max Greenfield. They got engaged on their five-year dating anniversary and later got married in 2008. In addition to having a successful career, Tess Sanchez is also doing a great job of keeping her home together. Speaking about her in an interview with Elle, her husband revealed that she was in charge of running the household, describing her as the greatest director he has ever worked with. In running the home, Max said, she goes as far as writing a list of chores he must do and ensures that he does them.
Meanwhile, it is believed that Tess presence in Fox contributed to her husband landing his breakthrough role on the Fox sitcom New Girl. It was a double celebration for the couple as this happened around the same time she was promoted to EVP casting.
2. Tess Sanchez's Children
The behind-the-scene strong force is currently a mother of two beautiful children. She gave birth to her first child, a daughter named Lilly, on January 27, 2010, and in April 2014, she confirmed that she was set to welcome another child. Finally, on August 24, 2015, her second child, a son named Ozzie James Greenfield was born.
See Also: Nancy Putkoski – Biography and Facts About Anthony Bourdain's First Wife
3. What's Her Net Worth?
Following her years of working in one of the major television networks in America, Tess Sanchez has no doubt made some good money but her net worth is currently not known. However, a report by the Bureau of Labor Statistics' Occupational Employment and Wages revealed that as of 2011, casting directors received a median annual salary of $70,660. 10% of those directors who are at the bottom, the report said, made $32,010 on the average every year while those in the top 10% where Tess belongs, cashed in an excess of $187,000 every year.
The U.S. Department of Labor further disclosed that California (Sanchez city of residence) and New York are the two states that pay the highest amount to casting directors and this is because of the number of films that are produced in the states annually. Judging by the report, it is obvious that this casting director is well paid for her services.