Some comedians are wildly inventive and they know the best ways to not only inspire fans but win their hearts completely. One of those such kinds of comedian is Ann Kansiime, Uganda's most outstanding humorists. Okay you must have known her as a fun bag who has a great run in Africa's comedy world and of course a sheer genius in comedy but there are things you still don't know about her. Yes! she is not just one of East African's most improvisational comedian of all time who is undeniably admired by many including comedians in general. For that reason, we bring to you lesser known facts about this super talented comedian that you didn't know.
Who is Kansiime?
Kansiime is a Ugandan comedienne, entertainer, and actress. Her full name is Kansiime Kubiryaba Anne. She is also called "East Africa's Queen of Comedy" by some East African media outlets.
Religion
Kansiime is a Christian and lives in Kampala, Uganda.
About Kansiime's Birth:
She was born on 13 April 1987 (28-year-old) in Mparo Village, Kabale District, in the Western Region of Uganda. Kansiime's father worked with a bank and is currently a retired banker, while her mother stays at home as a full-time housewife to care for her family, manage all the household affairs, and do all the house chores.
Read Also: 10 Things You Didn't Know About Vera Sidika
Educational Background
Kansiime schooled at Kabale Primary School for her primary education. She then studied at Bweranyangi Girls' Senior Secondary School in Bushenyi for her O-Level and A-Level education. Afterwards, she furthered her schooling in Makerere University, Uganda's oldest and largest public university where she obtained Bachelor of Arts in Social Science.
Relationship
She is married to Gerald Ojok who is a native of Acholi and they are yet to have any children. Around February 2015, she was in the process of compiling an album of Children's songs, which she plans to release later in 2015.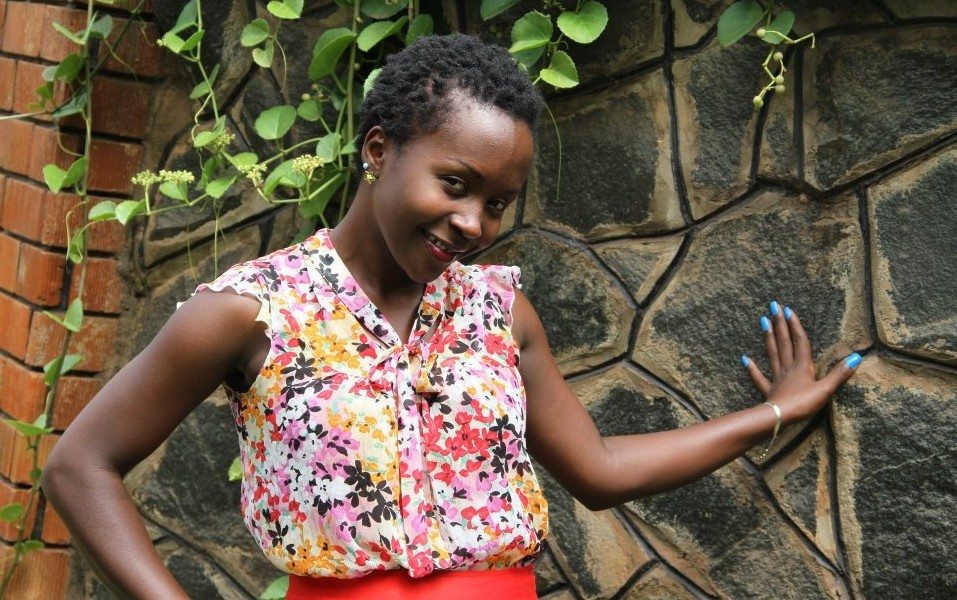 Career Formation
Considered by many East Africans as one of the top comedians out there today, Kansiime started in 2007, while still an undergraduate at Makerere University, she to take part in comedy sketches acted by one of the leading theater groups known as Theater Factory, the fun group who played at the Uganda National Theatre in Kampala's central business district. Afterwards, she joined the next echo-making Theatre Fun, that took the place of Theatre Factory following the group's disintegration. The group currently plays every Thursday evening. The best skits were broadcast on NTV Uganda in the Barbed Wire TV show that later became U-Turn. She featured with Brian Mulondo as a Taxi interview conductor in the MiniBuzz series and offered comic video dramatizations of important problems that random passengers talked about.
Why Her Career Is Skyrocketing Now More Than Ever:
Based on recorded talks she dished in 2014 during one on one meetings, Anne started publishing some of her sketch comedy skits on YouTube. She got affirmative feedback which spurred her on to post more videos. Soon after, she received a key screen breakthrough when Kenya's Citizen TV offered her a slot to produce, star and present a comedy show once a week. She then came up with the Don't Mess With Kansiime comedy show. As at November 2014, her YouTube channel had built a massive fans base with over 15 million views. Her YouTube videos always get hundreds and thousands of views.
Other Accomplishments:
Kansiime has also featured on BBC Focus on Africa and has played packed houses in Blantyre, Gaborone, Kigali, Kuala Lumpur, Lagos, Lilongwe, London as well as Lusaka. Though Kansiime has many acting commitments, she has continued performing and exploring as a remarkable and valid standup comedian. Her style of comedy tends to highlight on aspects of her personal life. According to her "I like talking about things that are going on in life because that's always going to be different and original."
Awards:
The standup comedian has been bestowed with a good number of awards as listed below;
AIRTEL Women of Substance Awards 2014
BEFFTA 2013 (Best Comedian) Winner.
Lagos International Festival 2013 (Best Actress) Winner.
Social Media Awards (Favorite Celebrity) winner
African Social Awards Malaysia (ASAM) – 2013