Thomas McDonell is a multi-talented American who is building a career in three different kinds of art all at the same time and seems to be near perfect in them all. He is a performing artist, working in Hollywood as an actor and a musician. Also, he is a visual artist with a lot of artworks to his credit. He is, however, most popular as an actor especially for his role as Finn Collins on the television series, The 100.
Thomas Mcdonell Bio
The super-talented actor was born with the full name Thomas Hunter Campbell McDonell on May 2, 1986, in Manhattan, New York. He is the son of an Ashkenazi Jewish descendant named Joanie (mother) and a Scottish/Swedish descendant, Terry McDonell (father).
While the actor's mother works as a writer, his father worked as an editor of the Time Inc. Sports Group, directing every single editorial content as well as the running of the weekly sports magazines – Sports Illustrated/SI.com, GOLF Magazine/GOLF.com, Sports Illustrated Kids/FanNation.com, and other international editions of the Sports Illustrated magazines. His brother, Nick McDonell, chose to follow his mother's footsteps career-wise; he's a writer.
As a kid, Thomas and his brother were sent to live with their maternal family in New York at a time when their parents were having issues in their marriage and did not want it to rub off negatively on their children. They later joined their parents who had moved to Andover, Massachusetts, and there, Thomas studied in a boarding school where he was first introduced to acting.
He succeeded in his academics and also exhibited great talent in drama while also playing hockey. However, he was forced to stop playing sports due to a leg injury he sustained in his 8th grade that took about three months to heal. Also a musician, Thomas began honing his music talent by taking part in musical plays every Sunday in church and besides singing, he also plays a number of musical instruments.
After his graduation from high school in 2003, the actor attended New York University where he studied Fine Arts and graduated with a degree in Theater major. Upon his graduation, he pursued a career in acting. According to the actor, he was always 'secretly' interested in acting because he liked movies a lot.
Being an actor has not stopped Thomas McDonell from doing music and working as a visual artist. He has toured different places and has also performed live before a large number of people. He is a member of a band known as Moon and is the group's lead singer and also a guitarist. His artworks have also been exhibited in and outside America.
Movies and TV Shows
After working on his first film, The Forbidden Kingdom (2008), alongside Jackie Chan, Jet Li, among others, Thomas McDonell was convinced that he was really going to build a career in the industry. In 2010, he appeared in the movie Twelve, and also featured in the "Broad Channel" episode of Law & Order: Criminal Intent.
The following year, he played the lead role as Jesse Richter in Prom, a romance-comedy movie made for teenagers and in 2012, he featured in the movies Dark Shadows and Fun Size, playing the roles of Young Barnabus Collins and Aaron Riley respectively. From 2012 to 2013, he had a recurring role on ABC's Suburgatory, playing the role of Scott Strauss, Tessa's boyfriend, in 4 episodes of season 1.
In 2014, he acted in the movie Life After, but his scenes were eventually deleted. The same year, he portrayed the character of Trevor in Where the Devil Hides, Freddie Diaz in I'm Obsessed with You, and also played an unknown role in the canceled comedy, Things I Hate About Life. 
From 2014 to 2015, Thomas McDonell was a co-star in the first and second seasons of the CW series, The 100. He appeared in 8 episodes of the first season of The Long Road Home as Spc Carl Wild in 2017 and then followed it up the next year with an appearance in an episode of LA to Vegas and Good Girls.
He is in a relationship with his American actress girlfriend -Jane Levy
Thomas Mcdonell is probably not yet married but he is in a serious relationship with American actress, Jane Levy, born on December 29, 1989, to an artist mother named Mary Tilbury and Lester Levy, a musician.
Jane studied at Sir Francis Drake High School, San Anselmo, California, and later moved on to Goucher College where she spent just one semester before going over to the Stella Adler Studio of Acting in New York City. She became popular after she was cast in her first lead role in March 2011 as Tessa Altman on Suburgatory, which aired on ABC from 2011 to 2014.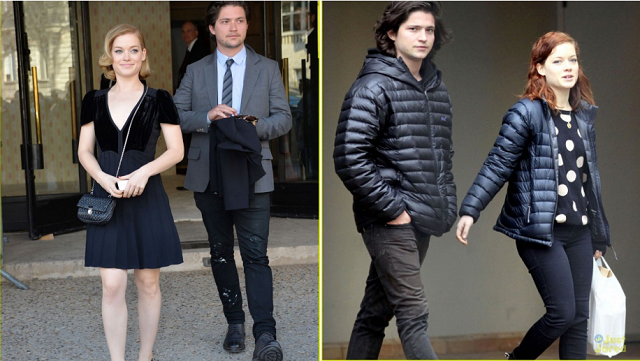 The actors started dating in October 2011 and have always flaunted their relationship in the media, attending events together. On the 11th of March 2015, both of them were present at the Miu Miu show which took place in Paris, France, during that year's Paris Fashion Week.
Meanwhile, on 8 Jan 2015, Thomas announced that he would be getting married in a few months via his Twitter account but years have passed since then and there has not been any news of the actor tying the knot. Although there is no proof yet, some sources have it that Thomas McDonnell and Jane Levy might have gotten married secretly and chose to keep the information away from their fans and the media.
The actor's relationship with Jane is his first public relationship but it is not so for his partner. Jane Levy was once married to Portuguese actor Jaime Freitas but the union lasted for only seven months. The duo got married on March 3, 2011, separated on October 31, 2011, and divorced in 2013 after Jane filed for divorce on the basis of irreconcilable differences.