Tim Kaine is a United States politician and member of the Democratic Party who was famously Hillary Clinton's pick for Vice President in the 2016 elections. Prior to being his party's VP nominee, the Harvard Law School graduate was serving as the junior senator from Virginia in the Upper Chambers of Congress. He has also held the position of Lieutenant Governor of Virginia and also and Governor of the same state.
Early Life and Politics
Tim Kaine was born Timothy Michael Kaine, the oldest of three sons to Mary Kathleen (née Burns) and Albert Alexander Kaine, Jr., on the 26th of February, 1958 in St. Paul, Minnesota. At around the age of two, Kaine's family moved to Kansas, where he was then raised.
Due to the family's strong religious beliefs, Kaine attended the Roman Catholic church owned Rockhurst High School. Upon graduating, he enrolled at the University of Missouri where he took three years to complete the requirements for a Bachelor of Arts summa cum laude degree in Economics. Kaine then became a fellow at Coro Foundation, after which he enrolled at Harvard Law School. During this time, Kaine did some missionary work in Honduras before returning to complete his studies and graduate with a Juris Doctor degree in 1983. He then moved to Richmond, Virginia where he got admitted to the bar in the following year.
Kaine first worked at the Richmond-based law firm of Little, Parsley & Cluverius, P.C before taking up the position of director at another law firm; Mezzullo & McCandlish, P.C. At around this time, he began teaching legal ethics at the University of Richmond School of Law before deciding to enter politics a few years later by running for councilman in 1994. He spent two terms as councilman from Richmond's 2nd District before he was elected mayor in 1998.
In 2001, Tim Kaine successfully ran for Lieutenant Governor of Virginia after which he again successfully ran for Governor of Virginia in 2005. In 2008, he was the first governor to back the then-Senator Barack Obama's presidential bid, a move that ranked him high on the possible vice president shortlist. Obama ended up not picking him as he went on to serve as the chair of the Democratic National Committee while still maintaining the office of governor.
Family – Wife and Kids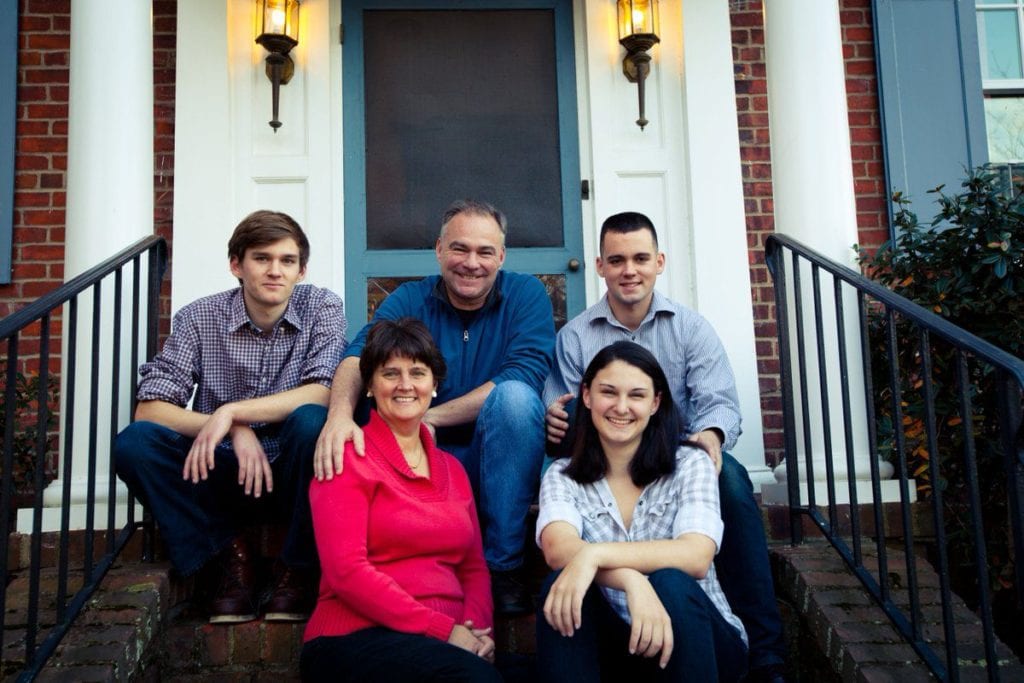 Tim Kaine is married to Anne Bright Holton, a former judge on the Virginia Juvenile and Domestic Relations District Court who also served as Education Secretary of Virginia. She is also the daughter of A. Linwood Holton Jr., the 61st governor of Virginia.
Ms. Holton was born on the 1st of February, 1958 in Roanoke, Virginia. She attended Princeton University where she graduated with a magna cum laude degree in public and international affairs before going on to acquire her law degree from Harvard Law School, where she met and fell in love with her husband.
After law school, Kaine and Holton got married in 1984. She opted to keep her maiden name as she first went to work as a law clerk before becoming an attorney for the Legal Aid Society in Virginia. In the mid-90s, she became a judge but had to step down after her husband was elected to office. She maintained the position of the First lady before serving as Education Secretary under Governor Terry McAuliffe's administration after her husband left office.
Together, Kaine and his wife have three children; first is Nat, a United States Marine who was born in 1990, Linwood Michael who was born two years later in 1992, and Annella who was born in 1995.
Read Also: Who Is Senator Bob Corker, Net Worth, Spouse, Personal And Political Life 
Other Interesting Facts
Tim Kaine is very fluent in Spanish. He learned to speak the language during his nine-month stay in El Progreso, Honduras where he was helping Jesuit missionaries run a Catholic school. He further became the first politician on a presidential ticket to deliver a speech in fluent Spanish.
As an attorney in Richmond, Virginia, Kaine mostly represented clients who were discriminated against on the basis of race or disability. He famously won a $100.5 million settlement from Nationwide Mutual Insurance Co. from one of his cases, although that figure was later cut down to $17.5 million after the case was overturned on appeal.
Tim Kaine is a staunch Roman Catholic. He is personally against abortion, however, he is not willing to support legislation that prohibits women from making that decision for themselves.
In 2017, he was awarded the Knight Grand Cross of the Order of Isabella the Catholic by the Spanish government.