Tina Majorino is an American film and television actress who ventured into acting when she was younger. As a child protégé, she stole the heart of many with her remarkable performances and has not stopped making waves with her spellbinding acts as an adult. She built quite an interesting resume as a child actress but took a five-year sabbatical leave from the screens due to unrevealed reasons. She returned and never slacked in her performances on set. Of a truth, Tina has appeared in a lot more movies and has played perfectly in most of them.
Although it has been a while she took up a movie role, she is still very much celebrated and has a lot of her fans looking forward to her next movie role. Read on to find out more!
Tina Majorino's Bio and Age
Born as Tina Marie Majorino on the 7th of February 1985 in Westlake California, Tina is the youngest of the two children born to Sarah and Robert Majorino. Her father, Robert worked as a realtor while her mom supported her family in every little way she could. She shares a close bond with her elder brother, Kevin and even went ahead to form a band group, The Am Project, with him. She is of mixed ethnicity – Italian, Cuban, English, Scottish, German, Filipino, and French.
Regarding her education, Tina has chosen to keep that part of her life off the spotlight, however, it is no hidden fact that she ventured into acting when she was way younger. Sources also say that she initially wanted to become a singer and also took up singing classes when she was seven.
Her first steps on the screen began with taking up roles on television commercials which later led to her role as Sophie in the ABC television series; Camp Wilder (1992). Two years after that, she made her first appearance on film in the movie, When A Man Loves A Woman (1994) and subsequently played a perfect role in the drama series, Corina that same year. Following the next year, Tina Majorino played the role of Enola in the action movie, Waterworld, and also won the heart of many with her acting stints in the 1999 television film, Alice In Wonderland.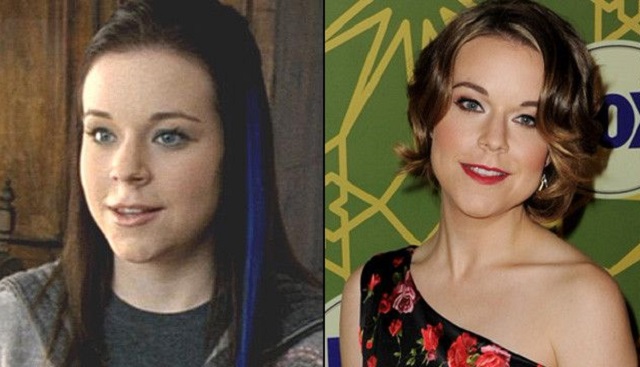 After her acts in the film, Alice in Wonderland, Majorino stayed five years away from the screens and resumed when she turned 18. She made an acting comeback in the movie, Napoleon Dynamite and also played a recurring role on UP's drama Series, Veronica Mars. In between the period she worked on the series, Veronica Mars, Tina Majorino also starred on the television series; Big Love with Waterworld. She later appeared on Lifehouse music video, Blind.
In 2009, Tina played the role of Addy Fisher in the film, The Deep End, was consistent in the series until it was canceled after six episodes. She later landed the recurring role of Special Agent Genny Shaw on Bones in 2011 following her appearance in the music video Fuckin Perfect by Pink. In the reprised version of the film, Napoleon Dynamite, Tina featured as Deb and also appeared as vampire Molly in season 5 of the horror series, True Blood. Tina took her acting skills to Grey Anatomy but had her character killed off in season 10 of the drama series.
What Is Her Net Worth?
For her many works, Tina Majorino has been noted for her excellence on set. It is no false that she has basically made most of her incomes from her numerous acting escapades. As of the day this article was written, the American actress is believed to have an estimated net worth of $1.5 million.
Is Tina Majorino Married?
Regarding the actress' marital status, no one truly knows these facts. She has never revealed details of her personal life and has kept every one of her fans in the dark. Even from past records, there are no traces of anyone romantically involved with Tina or are there any hoaxes pertaining to her relationships. In fact, a lot of her fans who had asked her about her relationship stories are yet to get a reply.
Also, she has avoided answering most questions regarding her personal life details on most public platforms. To the best of our knowledge, Tina Majorino is currently assumed single.