Tom Selleck is a veteran Hollywood actor and movie producer who achieved mainstream success as a result of the scintillating characters he portrayed in Magnum P.I. and Three Men and a Baby. The actor, who is well known for his thick mustache, further gained a following for his recurring appearances in the Jesse Stone movie series, where he played the role of a Police Chief. He also featured as NYPD Commissioner Frank Reagan in the notable hit crime drama series; Blue Bloods.
Read on as we unravel to you other interesting facts about the multiple award-winning actor's life, career, earnings, and personal relationships.
Biography (Age)
Tom Selleck was born into the family of Robert Dean and Martha Selleck in Detroit, Michigan, on the 29th of January 1945. His father was into real estate investment while his mother was a homemaker. He has 3 siblings; Robert, Daniel, and Martha, and is of English ancestry.
Soon after his birth, the Selleck family relocated to Sherman Oaks, California. Here, he attended Grant High School of which he graduated from in 1962. After that, he was awarded a basketball scholarship to attend the University of Southern California (USC), where he acquired a degree in Business Administration while playing for the USC Trojans Men's basketball team. Later on, he pursued a career in acting at Beverly Hills Playhouse.
Professional Career
Tom Selleck made his first on-screen appearance on The Dating Game in 1965 while he was still in college. Soon after, he featured in Pepsi-Cola commercials. He later followed it up by playing minor roles in movies like; Myra Breckinridge and The seven minutes. During this time, he also starred in a good number of mini-series, TV series, and TV movies.
Selleck got his first major hit in Hollywood when he was cast to play the leading role of Thomas Magnum in Magnum P.I. After that showing, he went on to appear in movies like Terminal Island, Three Men and a Baby, Divorce Wars: A Love Story, High Road to China, Three Men and Little Lady, Meet The Robinsons and others. For TV series, he appeared in Sarge, Magnum P.I., The FBI, The Rockford Files, Concrete Boys, Las Vegas, Jesse Stone series among others.
Interestingly, Selleck's outstanding performances have earned him multiple nominations and awards. His wins include a People's Choice Award, a Primetime Emmy Award, and a Golden Globe Award.
Tom Selleck Family – Wife, Daughter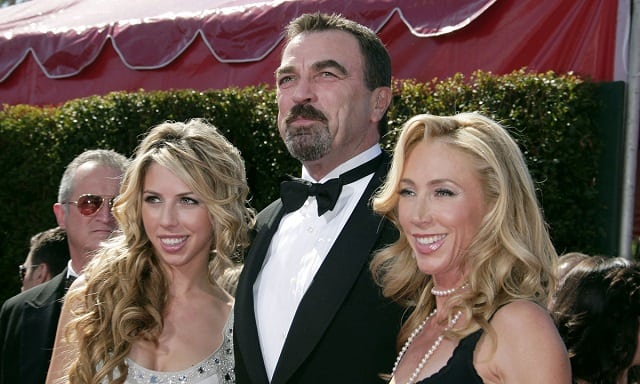 In regards to his love life, the talented actor has been married twice, first to model Jacqueline Ray and now to Jillie Mack.
Selleck married his model wife in 1971. During the course of their marriage, he adopted her son; Kevin Shepard who was born in 1966. The two remained together for 11 years before unfortunately deciding to part ways by divorcing in 1982. Around this time, Selleck reportedly started a love affair with Mimi Rodgers, but the two parted ways about a year later.
Five years after having signed the divorce papers from his first wife, Selleck decided to again exchange marital vows with his longtime girlfriend, Jillie Mack. The couple wedded on August 7, 1987, and have gone ahead to welcome a daughter of their own named Hannah Margaret Selleck.
During the course of his second marriage, Tom Selleck has found himself to be a target of different rumors of divorce by numerous publications. It was reported that the actor's marriage to Mack was in crisis and heading for divorce, but these stories ended up to be false as the pair have remained happy together ever since.
Net Worth
As an actor who has spent more than three decades in the entertainment business; acting in various blockbuster movies and appearing in commercials for brands like Close Up toothpaste, Right Guard deodorant, and American Advisors Group Campaigns, among others, it should not come as a surprise to find out that Tom Selleck has acquired enormous wealth for himself. According to Celebrity Net Worth, the Emmy Award-winning actor has an estimated net worth of $45 million.
See Also: Pierce Brosnan Wife, Daughter, Son, Family, Age, Net Worth
Is He Gay?
By all indications, Tom Selleck is very far from being interested in people of his own gender. As stated above, the veteran actor is happily married to a member of the opposite sex. There are also no concrete stories that have revealed or ousted him to have been involved in a love affair with a man.