American professional golfer Tony Finau is known for his skills and tenacity, which has taken him places in sports. He fell in love with golf as a child, after watching Tiger Woods win the 1997 Masters Tournament. Woods' victory became the start of a journey that led Tony Finau to the PGA Tour and turned him into a household name in golf.
Although his newly exploded popularity suggests Tony is a new name on the circuit, he is far from being one. This has prompted a closer look at his life, starting with his journey to the PGA Tour, which began in Salt Lake, Utah.
Tony Finau Excellent Amateur Career Paved Way to the PGA
He was named Milton Pouha "Tony" Finau at birth on September 14, 1989, in Salt Lake City, Utah. He is the son of Kelepi and Revena Finau. After watching the '97 Masters tournament, he developed an interest in golf.
His father, Kelepi, worked as a bag handler for Delta Airlines, so he could not afford the necessary golf equipment to give Tony standardized training. Regardless, he improvised, and Tony began playing with the aid of a mattress around their home.
Tony's relentless drive on his family's makeshift golf course eventually led to the start of an amateur career at the age of seven. Along with his younger brother, Gipper, their first tournament was a junior event at the Jordan River course in August 1997. By the time he reached high school, he was a coveted student for programs in his local high school. He attended West High School and led the team to its first golf championship in 114 years. When Tony joined the school, it did not have a golf team.
Aside from the championship, Tony also won the Utah State Amateur tournament. Following his performances as an amateur, he received scholarship offers to play college golf, including one from Stanford University. He also received a scholarship offer to play basketball for Weber State and Utah State universities. However, he abandoned the prospect of a college career after receiving an outside offer by a businessman.
The businessman offered $50,000 for Tony to play in a made-for-TV golf event turned Tony into a professional player. He finished in the final round of the tournament, winning $100,000 and sponsorship with Callaway. He also played in mini-tours like the Gateway Tour, NGA Hooters Tour, and many others. In 2009, he competed in The Big Break and finished second.
He Won His First PGA Tour Title Nine Years After Turning Pro
After turning pro in 2007, Tony Finau began the hard journey of making it out of the PGA Tour qualifying school. Over the next four years, he failed to do so. He played in the Canadian Tour, the Gateway Tour, and eGolf Tour, but none of them were successful outings for the golfer.
Things became further complicated in November 2011 when his mother died from a car accident. The accident, combined with his struggle at making ends meet, forced Tony into a hospital for a stomach ulcer for five weeks. He was also unable to swing a golf club for an additional eight weeks. Faced with the prospect of quitting, Tony Finau decided not to and continued playing golf in honor of his mother.
The decision not only kept him in the sport but also became transformative. He won every tour in the qualifying school, and in 2013, eventually made it out to the Web.com Tour, a step below the PGA Tour. He won the tour in 2014 and qualified for the PGA Tour for the 2014/2015 season, eight years after he turned pro. Tony became the first Tongan or Samoan descent ever to achieve the feat. In his first season in the PGA Tour, he finished in the top 10 five times.
Tony's Life as a PGA Tour Player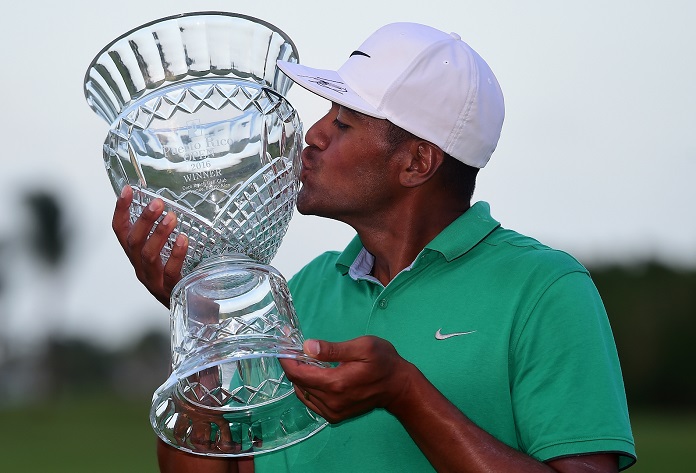 In March 2016, he won his first PGA Tour title at the Puerto Rico Open, nine years after he became a professional in 2007. He won after a face-off with Steve Marino. Since reaching that high, Tony Finau has recorded additional victories as a pro-golfer. He made his first Masters appearance in 2018, after qualifying by reaching the Tour Championship in 2017.
Finau placed 10th during his first Masters Tournament. His first U.S. Open debut in the same year saw him finish fifth, which to date, is his second-highest finish in a major championship. Tony Finau has also competed in the Ryder Cup and the Presidents Cup as part of the U.S. team. The U.S. team won the 2019 Presidents Cup, giving Tony his first major trophy as a pro golfer.
Despite a Lack of Major Victories, Tony Finau Has Made A Lot of Money
Even though Tony Finau is yet to reach the height of Tiger Woods, the man whose victory made him fall in love with golf, he has done pretty well for himself financially. The Tongan pro-golfer has accrued a personal net worth of $3 million, as of 2019. After qualifying for the PGA Tour, he made $2.1 million in his first season in Golf's highest league.
In his second season, when he won his first PGA Tour at the Puerto Rico Open, he won an additional $1.8 million. Tony Finau's earnings from golf continued in the third year, earning $2.8 million after making it to the FedEx Cup finals. In 2019, he made over $1.4 million, after finishing in the top five of the Masters Tournament. So far, since he became a pro, Tony Finau has made his $3 million estimated net worth from more than $8.1 million in total earnings.
See Also: Who is Jim Furyk? His Bio, Wife, Family, Age, Net Worth
His Marriage to Alayna Finau and Family Life
Although he seems so entangled with his professional life, Tony Finau always makes out time for his family. He is married to Alayna Finau. There is currently no information about the wedding date. But the two are presumed to be in a long term marriage that has yielded four children so far. Their children are Leilene Aiaga, Tony, Sage, and Jraice.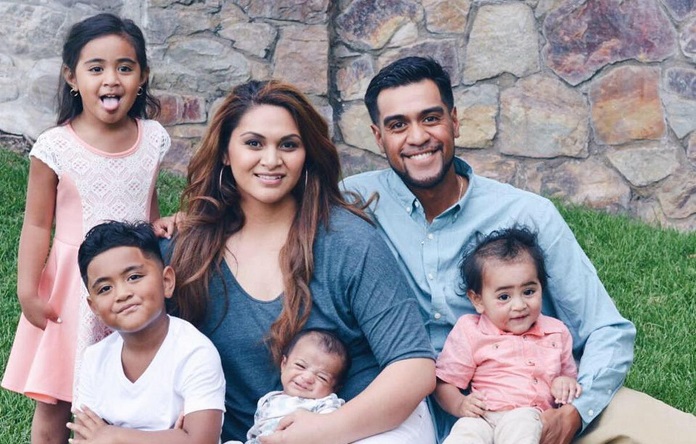 His family has been a major supporter of the golfer. Although Alayna Finau often has to stay home to tend to the children, she and the kids have shown up in the big months for Tony. They once famously celebrated with Tony at the Masters after he shot a hole in one.
As a family, Tony and his wife live in Utah, where they raise children and run the Tony Finau Foundation, an organization focused on helping local youths and families in their community. He and his wife are also religious; they attend The Church of Jesus Christ of Latter-day Saints.
His Family and Ancestry
Tony Finau was born to Kelepi Finau and Ravena Finau. He possesses American nationality, as well as Tongan and American Samoan ethnicity. He has a brother Gipper Finau who is also a golfer but is yet to make to the professional level. As golfers, Finau has competed alongside his brother Gipper on The Big Break in 2009.
Other than his brother, Tony Finau is also related to Jabari Parker and Haloti Ngata of the NBA and NFL, respectively. He is the cousin of Jabari, a power forward for the Sacramento Kings. He is also cousins to Haloti Ngata, a retired football defensive tackle for the Philadelphia Eagles, Detroit Lions, and Baltimore Ravens.