Trace Adkins is one of the most successful country music artists in America today. The singer, actor, TV personality and author is blessed with a rich baritone voice that can lull any recalcitrant baby to sleep. Want to know more about this down to earth guy whose life story sounds like a Hollywood plot? We have got you covered.
Trace Adkins Age & Biography
Trace Adkins, full name Tracy Darrell Adkins, was born on the 13th of January 1962 in the town of Sarepta, Louisiana. His love for music was cultivated and nurtured by his father who taught him how to play the guitar at a very young age. His journey into country music started while he was in high school. He joined a Christian band called the New Commitment which produced a couple of albums and played at local gigs.
After high school, Trace Adkins attended The Louisiana Tech University, however, due to certain reasons, he did not complete his college education. Instead, he worked various jobs while also playing music on the side. In the 1990s, Trace moved to Nashville, Tennesse, which is the hub of country music. While there, he continued playing at various bars and was eventually signed on to Capitol Nashville record label in 1994.
Career
Trace Adkins rolled out his first album "Dreamin' Out Loud" in 1996. The album was a hit and several of the songs made it to the Billboard Top 100 Country Chart. Since then, Trace Adkins has never looked back. In the course of a career spanning 22 years, Adkins has released 12 critically acclaimed studio albums as well as two greatest hits compilation. Trace has also been a commercial success, selling 11 million copies of his albums. Some of his hit tracks include Ladies Love Country Boys, Honky Tonk Badonkadonk, You Are Gonna Miss This (which won the Academy of Country Music award for single of the year in 2009).
Trace Adkins is also at home in front of the camera. He has taken part in many TV shows and movies such as NBC's Celebrity Apprentice which he won in 2013. His movie credit includes The Lincoln Lawyer, Mom's Night Out, Deepwater Horizon, I Can Only Imagine etc. Trace Adkins is a true patriot who does not joke with anything that concerns the United States Military. He has performed several shows for officers and men of the US Armed Forces. His favourite charity involves raising money for wounded soldiers and veterans.
It must be noted that Trace's life has not been a bed of roses. he struggled with alcohol addiction and had to go to rehab twice, in 2001 and 2014. However, he is currently doing much better now.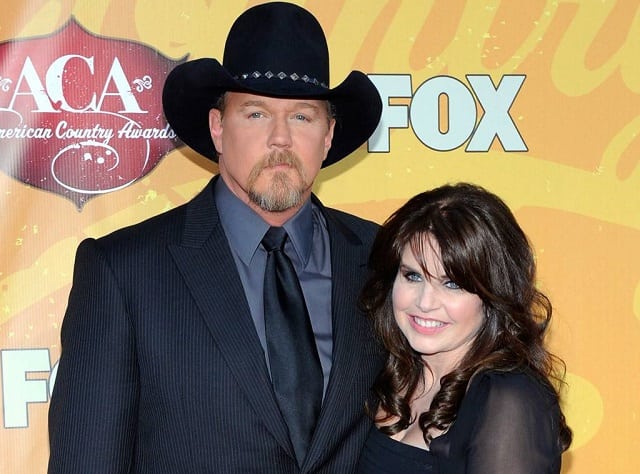 Who Were Trace Adkins's Ex-Wives and Did They Have Kids?
His father's name is Aaron Doyle Adkins (now late) while his mother's name is Peggy Carraway. Trace has a brother known by the name Clay Adkins.
Trace Adkins has walked down the aisle thrice and has also been divorced as such. His first wife was Barbara Lewis. Not much is known about when they got married or when they divorced but it seems the two got married after Adkins dropped out of college. The marriage produced the first two of Trace Adkins' five daughters namely; Tarah and Sarah.
Trace Adkins got married again in 1991 to Julie Lauren Curtis. The marriage lasted for 2 years and ended in bizarre circumstances. Julie shot Adkins with a gun following an altercation. He, however, survived and filed for divorce in the aftermath.
In 1997, Adkins got married to longtime friend and music publicist Rhonda Forlaw who played a prominent role in his music career. The marriage was blessed with three children – Mackenzie, Brianna, and Trinity. They, however, divorced in 2015 after 17 years of marriage.
Adkins is also a granddad, thanks to his two eldest daughters who have a son each.
Height And Other Facts About Trace Adkins
Trace Adkins is one giant of a man. He stands at 6 feet 5 inches (1.98m) in height. He is surely one of the tallest country music artists in America and has maintained a good body build over the years.
Trace Adkins is one fellow who is easily prone to accidents and injuries as he has suffered several during his lifetime. Thankfully he has survived them and lived to tell the tale. For instance, while he was a teenager, the truck he was driving was involved in an accident with a school bus. He injured his lungs, ribs as well as his nose which had to be reattached. Also, while in college, a knee injury ended his football career before it even started.
After Adkins dropped out of college, one of the jobs he worked was at an oil rig. During that period, he accidentally sliced off his little finger while opening a can. This could have also ended his music career but he had the doctors affix the finger at an angle that would enable him to use it to strum a guitar. That was not even the worst. In 1994, Trace Adkins was shot in the chest by his then-wife, Julie. He, however, survived and did not take any legal action, criminal or civil against her.